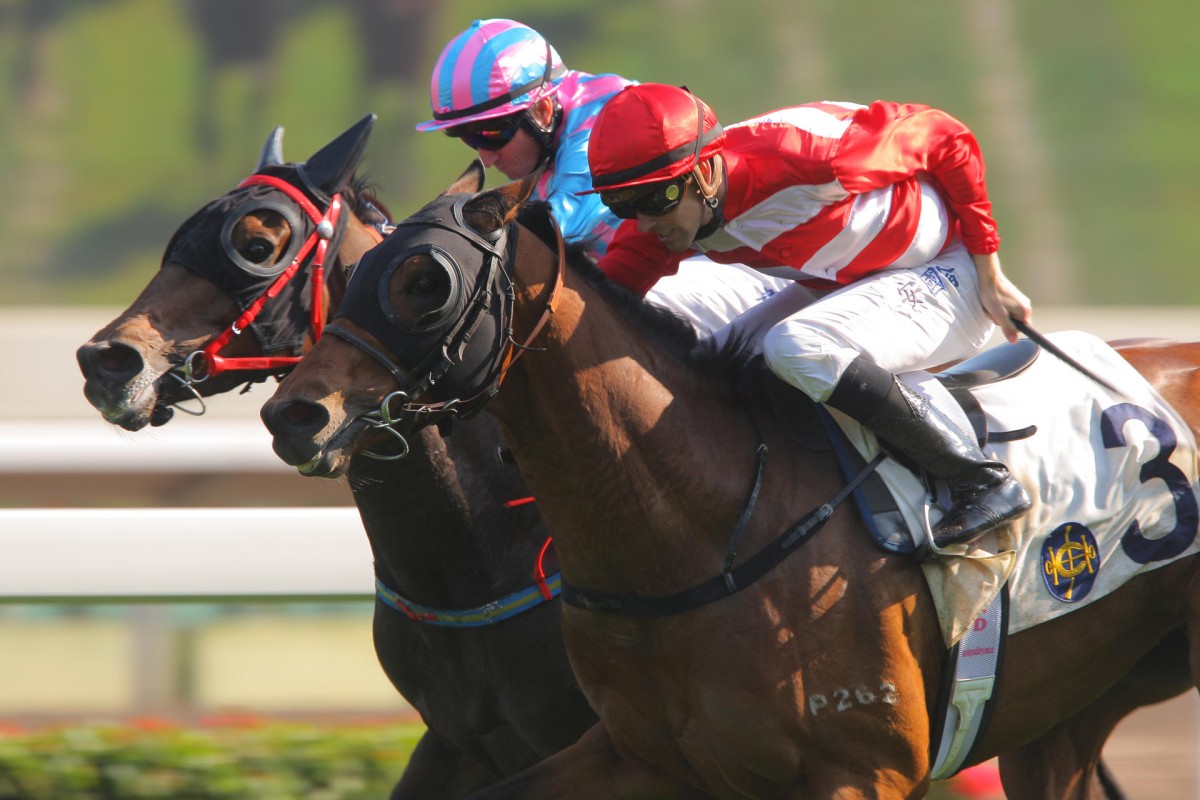 Big-race trainer John Moore dominates both in numbers and quality and Richard Gibson gets his chance to defend the race with the last horse picked for the HK$16 million BMW Hong Kong Derby on Sunday week.
Moore-trained Able Friend and Designs On Rome, jointly rated 115, towered over the field of 14 runners and two reserves announced on Wednesday.
Moore, who has had up to six runners in the Derby in recent seasons, will have four in 2014, with Travel Brother and Secret Sham joining his two favourite candidates, but the race has a worthwhile spread across nine different stables.
[Wayfoong Express] is improving. He wouldn't surprise me in the least if he got some minor prize money
Jockey Club officials had just two decisions to make to sort out the final acceptors, a task made easier by a number of dropouts by horses with the handicap rating for inclusion but little in the way of current form.
On the flipside was in-form Flame Hero, with the Peter Ho Leung-trained gelding put into the race after his owner paid a HK$160,000 late entry fee on Monday. Ho is understood to be seeking Italian jockey Umberto Rispoli, who has won on Flame Hero, to ride him.
Specialist sprinter Bullish Friend was included only as second reserve, despite having the third-highest handicap rating among the final acceptors.
"Bullish Friend had a rating of 105 which was good enough to make the field on paper, but we took a view, like we did with his stablemate Multiglory a few years ago, who I think was rated 109, that his lack of form at the distance didn't warrant his inclusion," said executive director of racing Bill Nader. "Bullish Friend had plenty of chances to prove himself beyond sprint distances, even in a race like the Classic Mile, and he didn't take them. So all we were left with was two runs at 1,400m and he was unplaced both times."
The other choice which had to be made was between Dalwari and Gibson-trained Wayfoong Express, both rated 85, with the latter getting the nod as the 14th runner on the basis of recent form and David Hall-trained Dalwari now waiting on a scratching.
"That was a tough one. Dalwari's first race here was quite good, then he had a tough run last Saturday in the Class Two and he did have form in Europe at this kind of distance," Nader said. "It was a close call, but in the end we went with Wayfoong Express - he's a last-start winner over the course and distance and has won two of his last three."
Gibson sent out hot favourite Akeed Mofeed to win the Derby last year but looked without a runner in this year's classic until the inclusion of Wayfoong Express, who will have Tye Angland aboard. "He's earned his way into the field and deserves his chance," Gibson said. "Wayfoong Express is improving, he's shown himself to be effective at this trip and even though he's going to be an outsider, he wouldn't surprise me in the least if he got some minor prize money."
Gibson said that Dubai World Cup-bound Akeed Mofeed had worked around the left-handed direction this week without any problem in preparation for his trip to the desert showpiece.