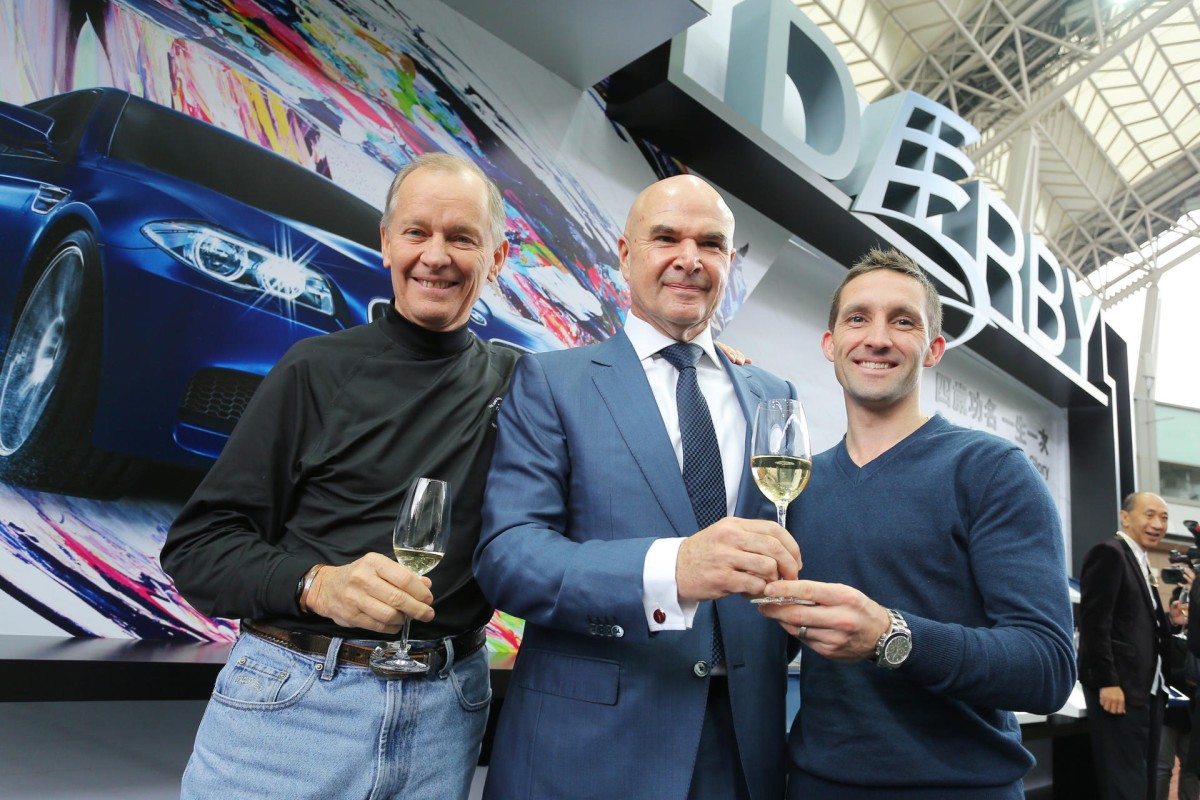 For owner David Boehm, what started as a "lucky first ticket" in the Hong Kong Jockey Club horse permit ballot more than 25 years ago has been parlayed into multiple Group One wins, as well as buying a boutique thoroughbred farm in Australia and building his own quarantine facility there.
It has also culminated in having runners in both Group One races at Sha Tin on Sunday.
Secret Sham and Dan Excel will sport Boehm's distinctive black and white striped silks in the two features - the BMW Hong Kong Derby (2,000m) and the Queen's Silver Jubilee Cup (1,400m) respectively.
He has trained all of my horses and it's a testament to him that I've had a runner in every Hong Kong Group One over the first five months of the season
Amazingly, after Sunday the Australian expat will have had a runner in each of the eight domestic Group Ones so far this season. That is no mean feat for a man with just three horses in the most competitive racing environment in the world and a far cry from the day Boehm was granted an owner's permit the first time he tried in 1988, and said to himself, "What do I do now?"
"I had just arrived in Hong Kong and conventional wisdom was that you had to wait three or four years to get a permit - but there I was, first name on the list, the first time I tried," Boehm recalled. "I didn't know any trainers and I had no clue how to buy a horse, but one of my colleagues was racing a horse with John Moore."
That began an association with Moore that has stuck solid to this day: "He has trained all of my horses and it's a testament to him that I've had a runner in every Hong Kong Group One over the first five months of the season. John and I have had a fantastic association," he said of the trainer who prepared Group One winner Happy Zero and other quality horses for him over 20 years.
The association with Moore also brought about Boehm's interest in Muskoka Farm, a stunning 113-hectare property with 200 stables, featuring a 2,000m turf track, on the banks of the Hawkesbury River in Sydney.
Under the guidance of the farm's former owners Bob and Wendy Lapointe, who have retained an interest and still take care of day-to-day operations, Muskoka Farm had already been developed into a world class horse breaking, pre-training and spelling facility. But when Boehm and fellow horse owner Anthony Cheung Hin-shun bought a majority share in late 2011 they saw an opportunity to build what has become a state-of-the-art 18-horse capacity export centre.
"Our focus was increasingly becoming a business of bringing good horses from Australia to Asia, in particular Hong Kong - and that's why we set up the quarantine centre. We weren't happy with what was on offer elsewhere," Boehm said. "We have had 100 horses come through so far, and Secret Sham was actually the first horse that ever walked into the quarantine centre. So our first customer has been quite a success with four wins so far and now a start in the Derby. Of course, Able Friend came through Muskoka, so we have helped one of our toughest rivals a bit as well."
Neil Callan rides both horses for the 57-year-old Boehm - the jockey saying Boehm is "just a genuinely good person". "David is very loyal and does a lot of work in the community with The Hub Hong Kong, a centre for disadvantaged kids in Sham Shui Po," he said. "His horses aren't the favourites on Sunday but they can run cheeky races. I wouldn't swap Secret Sham for any horse outside the top two, and Dan Excel is so consistent. Even though this is on the short side for him, he is just a galloping chequebook - he collects a prize every time out."