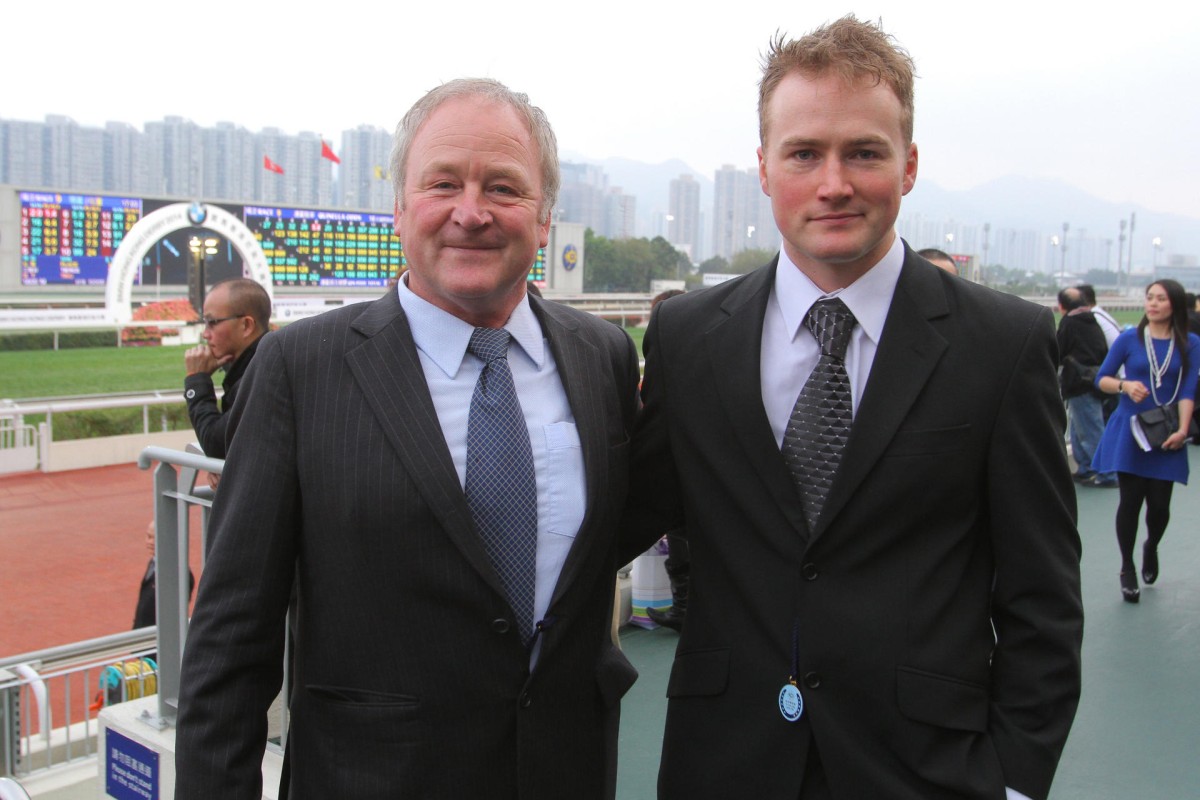 Nearly 12 months ago Irish trainer Pat Flynn sidled up to John Moore on a visit to Sha Tin and made a bold prediction about his former charge Designs On Rome that turned into prophecy in Sunday's BMW Hong Kong Derby.
"I told John Designs On Rome was one of the best horses he would ever have, and that he was the best horse I'd ever trained," Flynn said after watching Designs On Rome's electrifying victory trackside with son and assistant trainer Mark.
"Today he went out there and proved us right."
I told John Designs On Rome was one of the best horses he would ever have, today he went out there and proved us right
Flynn prepares a small-time stable in Carrick-on-Suir, South Tipperary, and said there were no regrets in selling the son of Holy Roman Emperor to current owner Cheng Keung-fai - but turning a €10,000 (HK$108,000) yearling purchase into a rumoured €1 million sale would usually take the edge off any second thoughts.
"We are sellers, it's what we do - so it's lucky for them and lucky for me, too," Flynn said.
"This is great for all of the people who have had anything to do with the horse, from Moyglare Stud who did the deal to sell me the horse, to Coolmore who stand Holy Roman Emperor, and for Peter and Ross Doyle who brokered the deal for me. It's hard to imagine the tough gelding who fought out one of the all-time two-horse wars and came out on top was once a young horse described in various dispatches as weak, lean and feminine.
It was those physical characteristics that meant Designs On Rome was passed-in at auction as a yearling after not reaching a reserve of €18,000.
Flynn had already fallen in love with the horse, and couldn't believe it hadn't made more - hence he hadn't even bothered to bid or even watch the horse go through the ring, and he quickly made a deal with the vendors to secure his prized possession.
"I'd trained a lot of horses and nearly 700 winners, and all of the good ones have their special traits, but this fella had them all in spades," Flynn said.
"I rang my wife and told her, we've just bought an absolute champion, we are going to keep him for ourselves and race him in our own colours and he will be the best horse we have ever had.
"From day one, I loved him and so did everyone in the yard. He proved he was a special horse - and he did it again today."
Bloodstock agent Alastair Donald helped Moore find the then two-year-old, meaning he has now been involved with the purchase of three Derby winners for the trainer after success with Viva Pataca (2006) and Collection (2009). "He was quite an unfurnished horse when we got him, but that meant there was a lot of physical development left there," Donald said of the 2014 victor.
"We have had some previous success with the sire and we were sure he would run 2,000m."