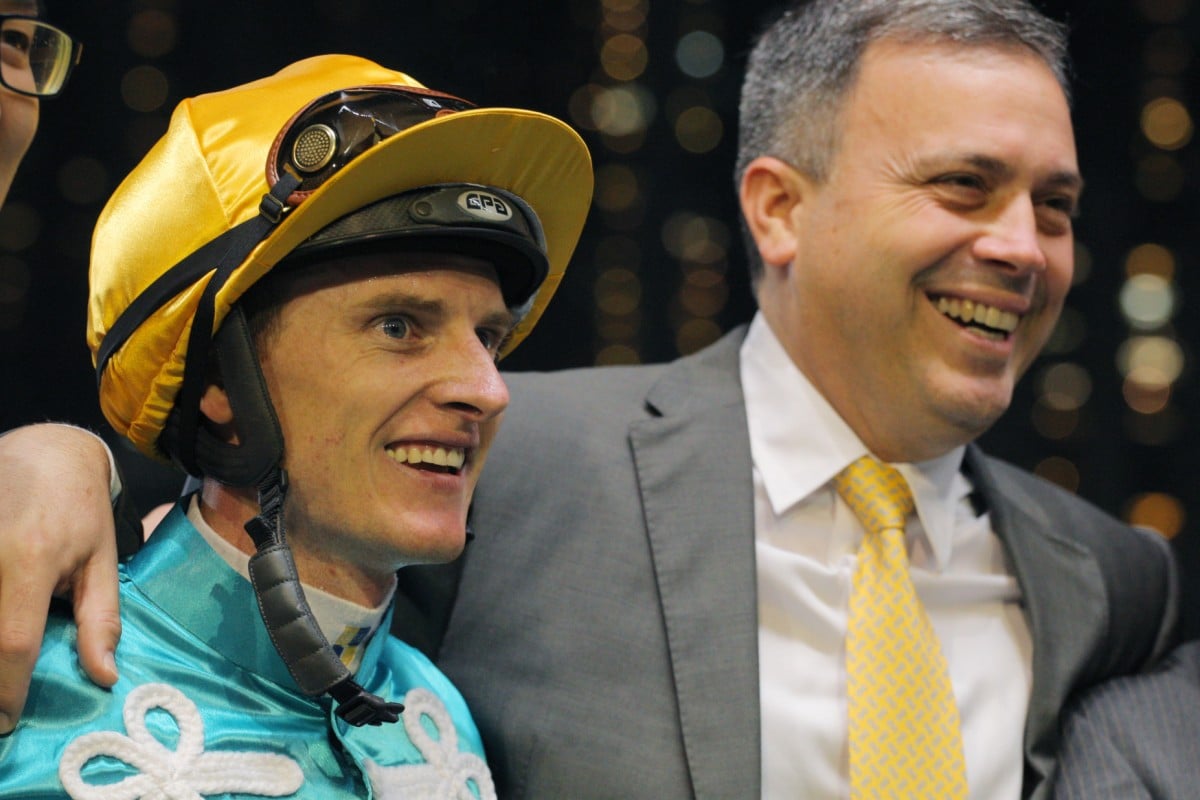 You have to feel for Zac Purton. He has put together stretches of form so scintillating in the past few seasons that good judges were throwing around the "best in the world" tag, but the Australian's double at Happy Valley on Wednesday night was a reminder it doesn't matter how brilliantly he is riding, the fate of his Jockeys' Championship challenge is inextricably linked with the success of the stables that support him.
Caspar Fownes supplied one of the wins that took Purton eight clear of the suspended Joao Moreira with just under a third of the season remaining. It's not an insignificant margin, but Fownes knows better than most how hard it is for a jockey he supports to take the title.
I have had a moderate season, but if I can get on a run then Zac has more of a chance of getting on a run, gaining some momentum and keeping it interesting
In 2009-10, it was Brett Prebble high-tailing it out in front at this stage of the season, looking certain to deny Douglas Whyte his perennial crown. Whyte ran him down with a demoralising late-season surge.
And even though Prebble was the beneficiary of 26 wins from Fownes that term, it was one of his horses that went the way of Whyte that proved pivotal. Whyte attracted the Class Three ride on the then 66-rated Super Satin at Happy Valley in an early-season Class Three. Fownes' four-year-old won, Whyte stayed on, and he won again – and in the end a Hong Kong Derby was one of five victories for the season.
It was essentially a 10-win turnaround – five more for Whyte, five less for Prebble. It was the same sort of blow Purton received last season when Whyte got on Dennis Yip Chor-hong's All You Wish from his first start – he also won five.
Yip and Fownes are Purton's two biggest allies among his motley crew of supporters, and neither are having a big season. But the lack of firepower from the pair in 2013-14 – Fownes has 31 wins so far, and last year's surprise champion Yip has just 23 – gives hope they could both have a resurgence in the season's final trimester.
"I have had a moderate season, but if I can get on a run then Zac has more of a chance of getting on a run, gaining some momentum and keeping it interesting," Fownes said.
"And if he manages to keep riding 12 to 15 winners a month, that takes him to over 100 wins. What more can you do?"
On its own, Purton's season stands alone as one of the best on record so far – 75 wins from 57 meetings, but he isn't even favourite due to Moreira's freakish talent.
In Moreira's favour is the fact he rides light – 11 of his wins have been at 118 pounds or less, which is uncharted territory for the heavier Purton. Then there's support and the fact Moreira is everyone's darling – and if you ask some of the spurned jockeys, even the club's darling, too.
Purton brought up 400 Hong Kong wins on Wednesday – a remarkable achievement for someone who has done it the hard way. There was no Moreira-like red carpet when Purton came here, just 50-1 shots trained by locals.
And still, despite everything, he doesn't ride for the powerhouse trainers. A breakdown of those 400 hard-earned victories reveals he has ridden just 22 wins for the top three trainers by wins in that same period – John Size, Tony Cruz and John Moore – and 13 of those were for Moore, who he no longer appears to ride for.
Most believe this is Purton's best – and perhaps only – chance to win before the Moreira era really begins. But reflecting on the brash Australian's achievements from a singular perspective – that is, focusing on his riding record, without the unfair comparisons to Moreira – it is clear Purton is a champion, and most certainly the pick of those who love an underdog in this championship fight.