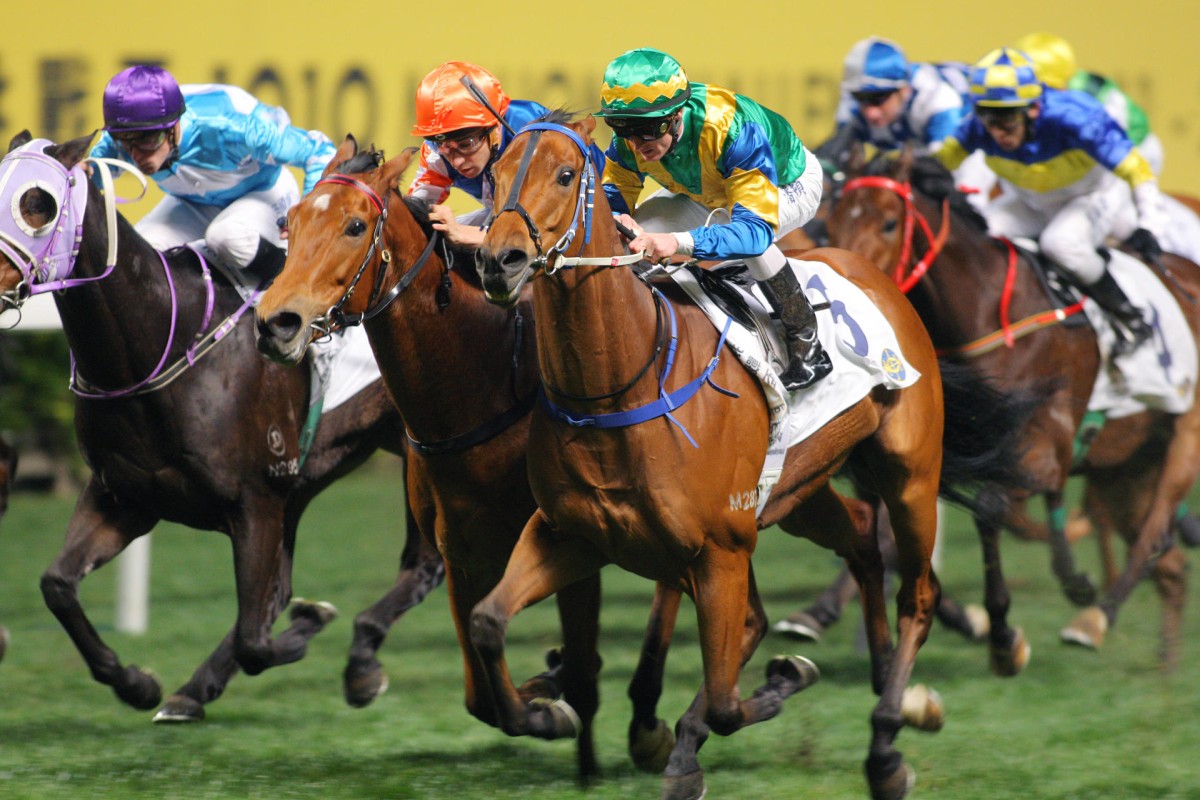 So just how is the jockeys' championship poised at this delicate stage?
In the simplest of terms, Joao Moreira arrived in October with Zac Purton on 13 wins, so he has pulled back just two in six months, but there have been many twists and turns in the stewards' room. The Magic Man's suspensions have certainly added to the tension of the contest.
But if both he and Purton manage to stay out of chief steward Kim Kelly's way, all indications are for a bitter duel to the wire, and the widespread presumption of recent months that Moreira is going to storm home comfortably doesn't really stand scrutiny.
With 23 meetings left - and around 220 races - the mathematics of their respective seasons is some kind of road map to the finish.
Purton is on target at his current rate to have somewhere just north of 640 rides - potentially more than any jockey in any season. Douglas Whyte's 2005-06 year, with 114 winners from 645 rides, set the record for both wins and mounts.
In the past seven years only two riders have even had 600 rides - Whyte with 601 and Brett Prebble with 600 in that epic finish to 2009-10.
With only two days out suspended, Purton has had 461 mounts, averaging a tick under eight per meeting and giving him scope for 640-650 rides in all. At his strike rate of about 17 per cent - and for all the ebbs and flows of fortune that has seemed a reasonably good representation of the season he has had - that would put his winning total clearly over 100 but short of Whyte's record.
Whyte can look forward to something around the same number of rides left in the term, around 180, but he would have to be winning those at an unrealistic rate of more than 21 per cent to even get to a century.
Purton is on target at his current rate to have somewhere just north of 640 rides - potentially more than any jockey in any season. Douglas Whyte's 2005-06 year, with 114 winners from 645 rides, set the record for both wins and mounts
Purton, meanwhile, can see his win rate drop sharply, or miss a few meetings with suspension, and still get to 100.
Then there's Joao.
Moreira averages nearly 10 per cent more rides per meeting than Purton: his 307 mounts have come from just 35 meetings, while Purton's 461 have come from 58.
That means Moreira can expect to have another 200 mounts in the season and of better quality, with the average odds of his rides more than two and a half points shorter than Purton's, which is why he has been able to maintain a better than 20 per cent strike rate virtually since he arrived.
The maths is simple - 20 per cent would equate to at least 40 winners still to come, and a full season tally of 109 wins.
But stay riding and maintain 22 per cent - which feels unrealistic in the Hong Kong environment, but he has done it for six months - and that would put his total out of reach for Purton and threaten Whyte's record.
One suspension for Joao, though, changes the equation considerably since his next ban, under the current policy, will be four meetings.
That chops his likely rides back by about 35, and his likely final win to just scraping home past 100 and then Purton has the whip hand.
Conjecture? Of course, but there is a certain amount of maths that nobody escapes - it's why the biggest, most expensively located buildings around the world's great cities belong mostly to insurance companies.
We are all slaves to probabilities and the bell curves of this world, but if it wasn't already clear, any suspensions will play the major part in this outcome. And those have a lot of randomness about them.
---
Group One globalisation impacts on HK features
As pleasing as the quality of the Audemars Piguet Queen Elizabeth II Cup entries might have been last week, there is no getting away from the increasing difficulties of attracting leading horses to so many international events.
Five QE II runners from overseas is a neat, worthwhile roll up, though they still have to get here at this stage and that is never a given for the full compliment of invitees.
Sydney made its bold bid to enter the fray last Saturday with "The Championships", adding one more venue to the possible international options available to the elite runners.
Cutting through the spin from the organisers, and their apologists, it was basically the same horses we might expect at any autumn carnival in Sydney – ie, the best of Australian and New Zealand runners – plus two from further afield and, with respect, neither regarded as superstars in their own back yards.
In fairness, though, the idea was only floated five months ago, which is very little time to organise and no time at all to get into the minds and hearts and plans of overseas connections. The latter could take a decade, even if the problems with Australian quarantine are ever overcome or even addressed.
And Dubai's two main turf features going up from US$5 million to US$6 million next year will be sure to keep the pressure on Sydney and the tug of war over quality visitors for races offering very good money but still significantly less than Meydan.
At least the QE II Cup and Champions Mile programming is attractive to horses who are up and running for Dubai and then looking around for their next target, especially as they dovetail into Singapore or the Yasuda Kinen in Japan. There is a good time flow to them, and we still struggle to get numbers.
We look forward to Wednesday's announcement of the Champions Mile selections – it promises to be a tremendous race again this year – but if the visitors are thin on numbers, it will be just another reminder that the ever-widening globalisation of Group One racing is often its own enemy.