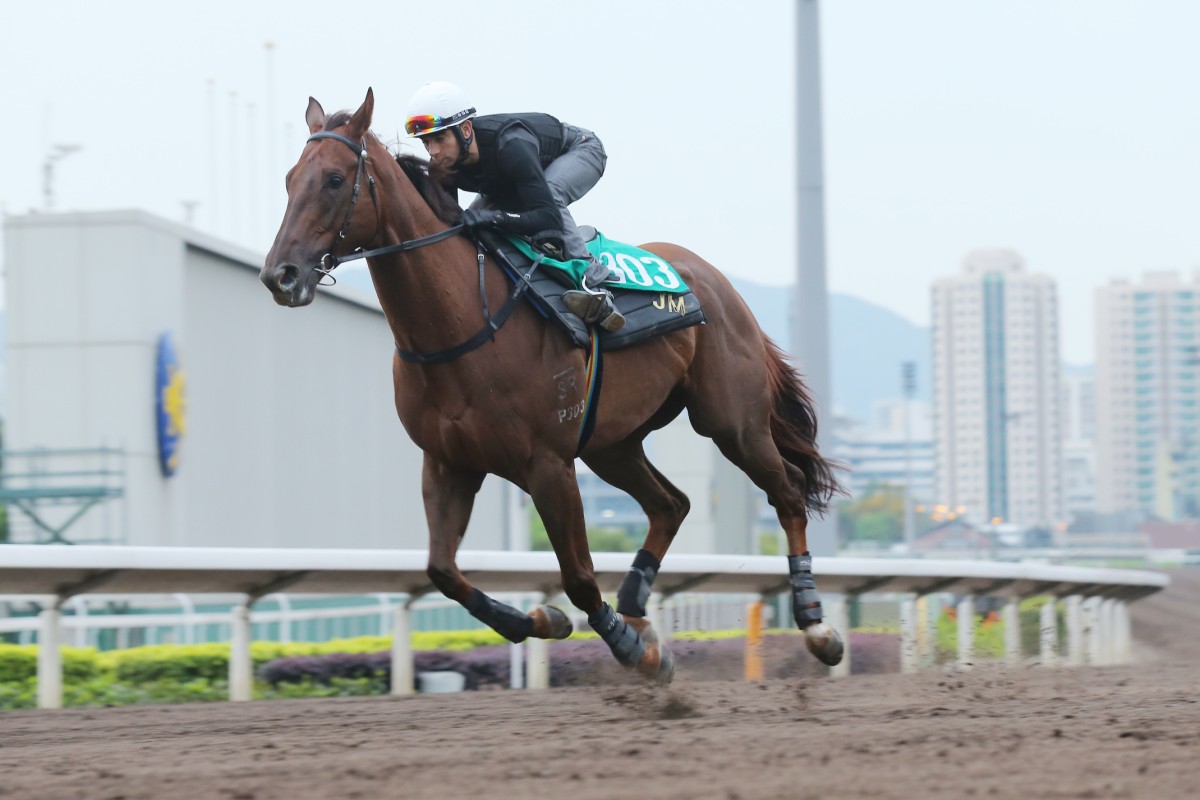 Fate has played its first card in Sunday's Champions Mile, demanding that John Moore-trained Able Friend must be the first winner of the race from a double-figure barrier draw if he is to claim the HK$12 million Group One.
Moore has won the last four Champion Mile races, but could not hide his disappointment at the difficult draw - gate 14 - which was conducted at the Jockey Club with the rest of the race programme and not in a public presentation like many of the season's biggest events.
"I wish they'd find a sponsor for this race - I've had some luck picking the barriers at the public functions they've had, but when [owner] Cornel Li Fook-kwan asks me why I picked him the outside barrier, I'll just have to tell him it isn't my fault. It's the computer's fault," Moore said.
When [owner] Cornel Li Fook-kwan asks me why I picked him the outside barrier, I'll just have to tell him it isn't my fault. It's the computer's fault
"I was hoping for six to eight with Able Friend, but we'll just have to deal with this now. It's a good thing the mile start has a good stretch of country down the back of the course before you turn.
"Everyone has to get in, and three deep with some cover in midfield certainly wouldn't worry me. Just somewhere that Able Friend can relax and be in a position to use his great turn of foot."
In 13 runnings of the Champions Mile, there has been no winner, and very few placegetters, drawn wider than barrier nine. None has won coming from the outside of any field size, with Moore's Able One the nearest in 2007 when he jumped from seven in a field of nine.
Moore was much happier with Dan Excel's luck when last year's winner of the race, from barrier one, came up with a middle draw in gate seven this time.
"He's an on-pace runner. He can lead or take a sit, depending on the pace, and it just depends on who else wants to go early," the trainer said.
The big winners at the draw were Tony Cruz-trained Blazing Speed, well suited by gate one where he can get cover, and Richard Gibson-trained Gold-Fun, who has the pace to use barrier two.
"I couldn't be happier. The low draw suits Gold-Fun and I guess the outside has made the task a bit trickier for Able Friend," said Gibson.
One of the regular pace runners in the race will jump from barrier four, Helene Spirit, but the other pace is out wider with Flame Hero (11) and highly rated South African visitor Variety Club in 12.
"He generally goes forward, but he has been ridden off the pace and won at home in South Africa," said Trevor Brown, who is travelling with the Mike de Kock-trained galloper.
"We'll have a think about what we might do, but Anton Marcus knows the horse well and it will be up to him."
The hopes of Irish visitor Gordon Lord Byron also suffered a blow with barrier 13.
"I was hoping for something in the middle and it isn't ideal, but I'll discuss it with the trainer and we'll work out a game plan," said jockey Zac Purton.
Trainer John Size was comfortable with gate three drawn for Real Specialist and welcomed an improved draw for Glorious Days.
"That's OK -perhaps from barrier eight Glorious Days might be a spot closer than he was in the Hong Kong Mile and the Stewards' Cup from wide gates, but I think everyone pretty well knows what to expect from these two horses," Size said.