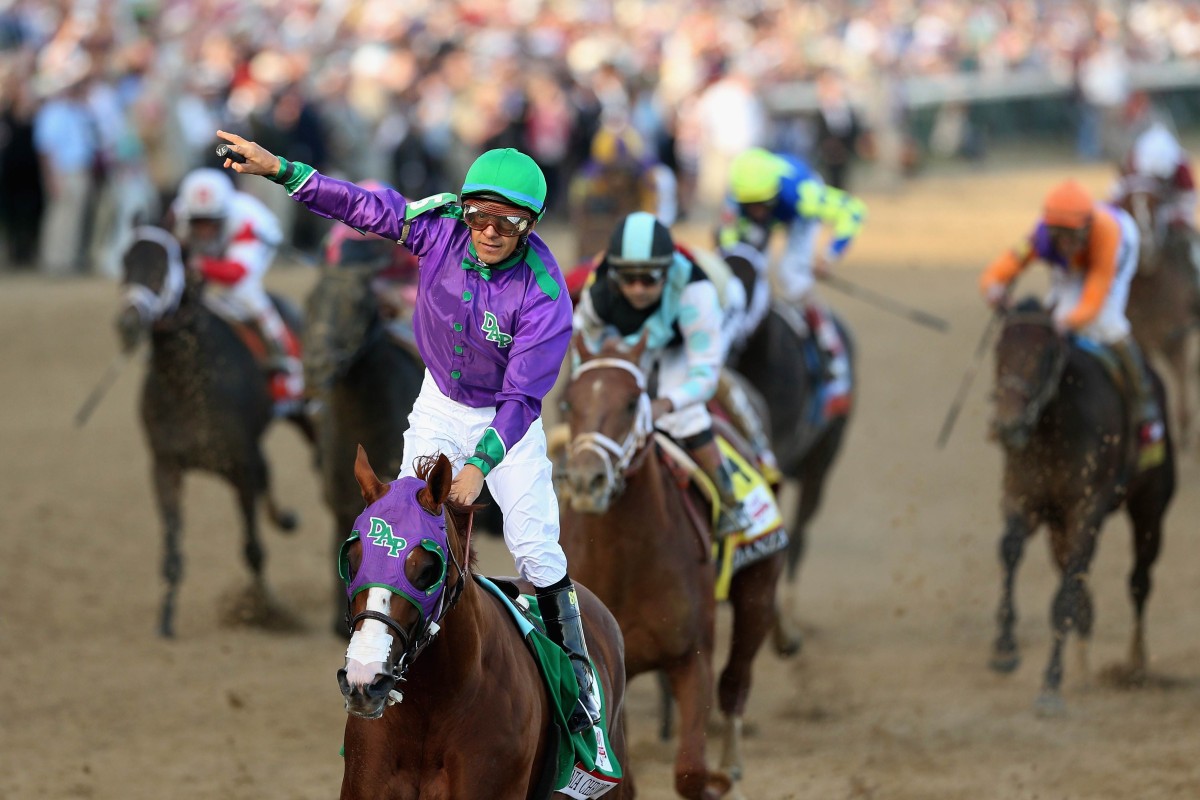 California Chrome made it look easy, pulling away down the stretch to win the Kentucky Derby by one and three-quarter lengths.
In a sport dominated by wealthy owners and regally bred horses from Kentucky's bluegrass country, this was a victory for the little guys. Owners Perry Martin and Steve Coburn bred a US$8,000 mare to a US$2,500 stallion to produce the winner of one of the world's most famous races with their one-horse stable.
"This is just a dream come true and a great birthday present,"' said Coburn, who turned 61 on Saturday.
Sometimes you don't get a lot of respect. We're in Kentucky and you know most of the Derby winners are bred there and few outside of Kentucky
California Chrome ran one and a quarter miles in 2:03.66 after the chestnut colt was sent out as 5-2 favourite by the crowd of 164,906, the second-largest in the Derby's 140-year history.
Art Sherman, 77, became the oldest trainer to win the Derby, 57 years after he travelled from California as an exercise rider for Derby winner Swaps. He watched that race from the barn area; this time he smelled red roses in the winner's circle.
Sherman was all smiles after the race. "He gave me the biggest thrill I ever had in my life," he said.
California Chrome has the unlikeliest pedigree for a Derby champion. His mother, named Love the Chase, won just one race. She was purchased by Coburn and Martin, a move that prompted a trainer to call them "dumb asses" for getting involved in racing.
Feeling inspired, they named their operation DAP Racing, which stands for Dumb Ass Partners. Their silks include an image of a donkey.
Coburn lives near Reno, Nevada, rising at 4.30am for his job as a press operator at a 13employee company that makes magnetic strips for credit cards and driver licences.
Martin lives on the California side of the border near Reno, running a laboratory that tests high-reliability equipment, like car air bags and medical equipment.
Coburn and Martin's partnership is based on a handshake, and their wives are friends who enjoy the sport, too.
The group came up with California Chrome's name by drawing it out of a hat. The horse had not even been out of his home state until last week.
"Sometimes you don't get a lot of respect," Sherman said. "We're in Kentucky and you know most of the Derby winners are bred here and few outside of Kentucky."
Sherman visited Swaps' grave near the Derby museum earlier in the week and whispered a prayer: "I hope he's another Swaps."
He sure was.
California Chrome extended his winning streak to five races, won by a combined 26 lengths. It was the second Derby win for jockey Victor Espinoza, who rode War Emblem to victory in 2002.
"I thought he rode him perfect," said Sherman, a former jockey. "I was riding the last 70 yards with Victor, so I think he was riding two. He had a lot of weight on him, I can tell you that."
Espinoza had California Chrome sitting comfortably in third in the 19-horse field as Uncle Sigh and Chitu set the early pace. California Chrome made his move on the final turn in tandem with Samraat. It looked like those two would decide the outcome, until California Chrome sped away to become the first California-bred horse to win the Derby since Decidedly in 1962.
"This horse has so much talent," Espinoza said. "By the three-eighths pole I knew that was it. I could see other horses struggling a little bit, and he was just smooth."
Commanding Curve, a 37-1 shot, rallied for second, with Danza third. Wicked Strong was fourth and Samraat finished fifth.