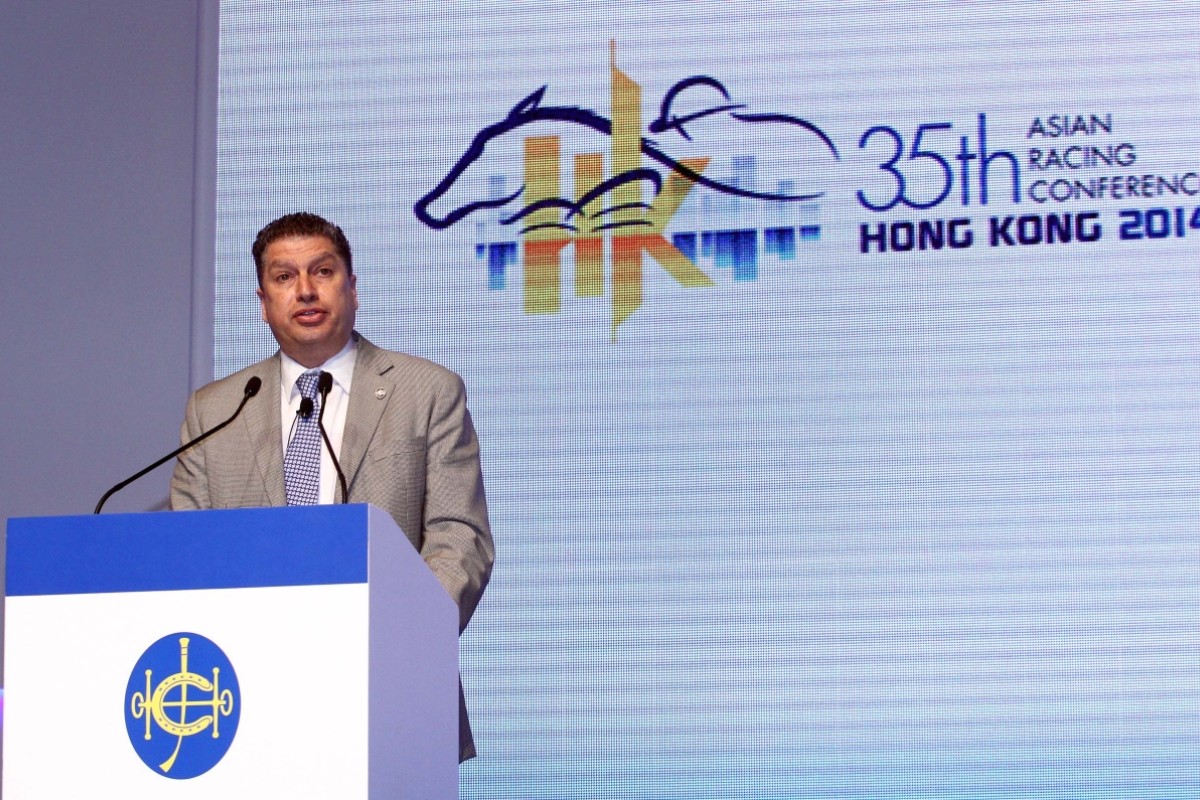 The Hong Kong Jockey Club will support a move to introduce a new category of black-type races, so-called Super Group One races.
In an Asian Racing Conference session titled "The Pattern: Now and in the future" on Tuesday, Super Group One races were floated by the Jockey Club's executive director of racing Bill Nader, who expressed his support for the proposal.
"I am fully in favour, and although we haven't formally discussed the idea of Super Group Ones, Hong Kong will be in favour," Nader said. "It ties in with our conference theme, in that we would be creating a platform to further connect with the customer."
The Super Group One proposal advocates a new status to recognise races which consistently have a rating higher than a standard Group One race, or those which are more prestigious or historic than an average feature.
There were 459 Group One races run worldwide in 2013, but Nader argued it was inconceivable, for example, that the world's top three races as determined by the International Federation of Horseracing Authorities (IFHA) - the British Champion Stakes, the Prix de l'Arc de Triomphe and the Prix Jacques le Marois – should be considered on par with obscure or weaker Group Ones in smaller jurisdictions.
"I know some people think 459 worldwide Group One races is not that many, but I feel it is a lot," he argued. "Everyone in racing knows those races which can be distinguished, but to assume the wider consumer knows them is unwise. To recognise them and to identify them in a proper way is a smart undertaking for the global thoroughbred industry. Look at tennis - week in, week out, there are tournaments all over the world, but every tennis player strives to win a grand slam. It's the same with golf - the four majors are the ultimate.
"In horse racing, there are certain races that everyone wants to win, and they should be recognised as such."
Brian Kavanagh, the Chairman of the European Pattern Committee, reported that the group had already discussed and rejected the idea.
"We get asked why we don't identify a subset of races which reflect the elite races worldwide," Kavanagh said. "While that is understandable, it would create practical difficulties. The Committee believes the focus should be on the world's elite horses instead."
And Nader agreed that global support may be hard to come by, judging on the responses of other panellists.
In horse racing, there are certain races that everyone wants to win, and they should be recognised as such
"It's only the beginning of the debate," he said. "There are basically three blocs – Asia, Europe and the United States – and while Asia is likely to be supportive, on what we saw from Brian and Carl [Hamilton, the Jockey Club, United States], it may be a struggle to get worldwide approval. It might be something we raise at the International Grading and Race Planning Advisory Committee (IRPAC) meeting in Paris in October, just to get the discussion moving."
He did, however, admit that there would be difficulties in determining what would constitute a Super Group One race.
"The Melbourne Cup is a good example," he said. "It is an aspirational race, every owner wants to win it. But breeders and purists would argue it shouldn't be elevated because it is a handicap.
"Age-restricted races like the Kentucky Derby would also be a question mark, but they are historic. I think we'd just have to get locked in a room to hash it out."
It may also trigger further global pressure on the United States, which is already under fire for its relaxed stance on medication rules.
"I think it would be part of that discussion," Nader said. "This is new ground – it can be stipulated right from the get-go that all races with the new status would have to be on the same playing field in regards to medication."
Audience feedback was favourable, with almost 60 per cent of participating delegates supporting Super Group One races.