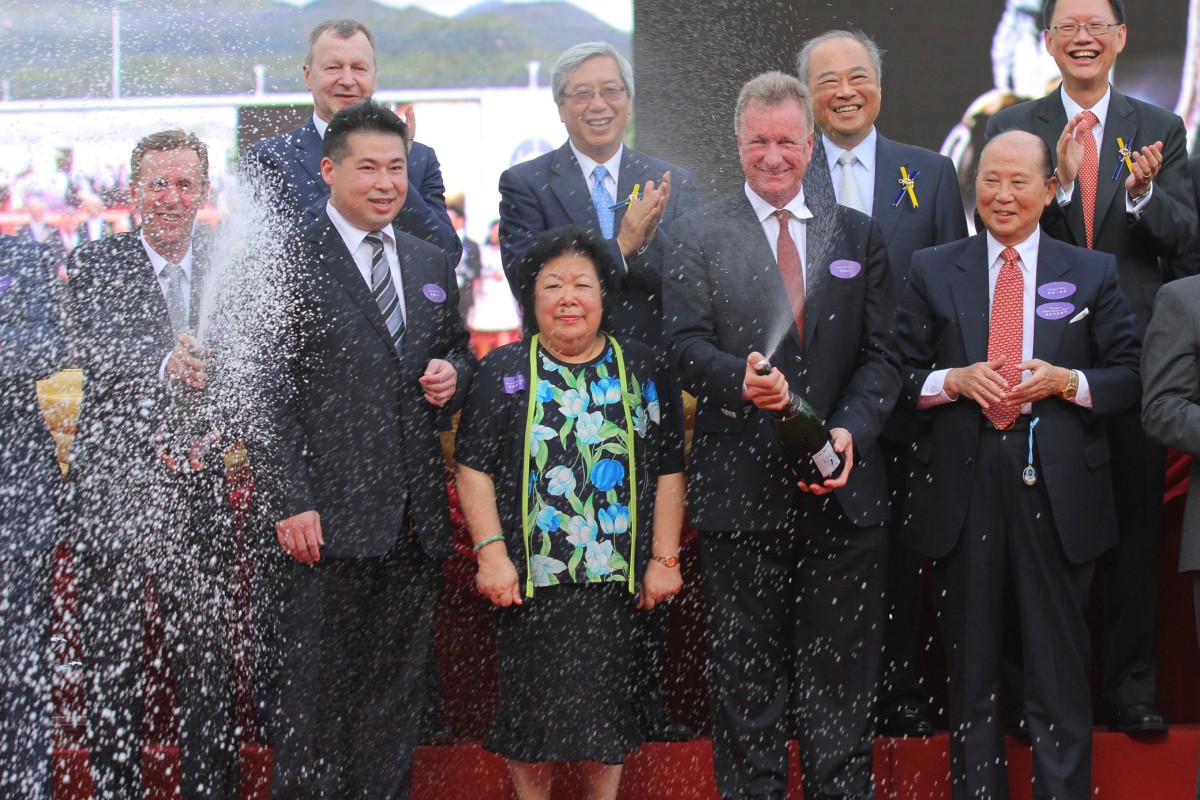 While we've all been obsessing about the battle between Zac Purton and Joao Moreira for the jockeys' championship, the trainers' title has slowly developed into the one that may come down to the wire.
It feels a lot like 12 months ago – all eyes were on Purton and Douglas Whyte's duel before the South African clinically pulled away over the final stretch and the trainers' race became a heart-in-mouth, four-way tussle that eventually hinged on a dramatic final race of the season.
Similarly, Purton could put Moreira away with a two- or three-win haul at Happy Valley on Wednesday and attention will swing to the tussle between John Size, John Moore, Tony Cruz and Caspar Fownes.
Maybe the excellence of Size has simply conditioned us to the fact he will win the championship every year – he has won seven out of 12 after all. There has been a sense of inevitability about the result all season – Size would have too many progressive newcomers and would storm away, but we felt that way last term, too.
This season Size charged to an early double-digit lead – he led by 11 on January 1. But a month later, at the season's halfway mark, the margin had been cut back to six by John Moore, and it has now been reduced to four.
So of the contenders – Size (48 wins), Moore (44), Cruz (42) and Caspar Fownes (42), all former champions – with 16 meetings and 157 races to go, what helps and hurts each of the big four's respective chances, and which horses have to fire for them to be successful?
JOHN SIZE
Wins: 48
Trainers' championships: seven (2002, 2003, 2004, 2006, 2008, 2010, 2012)
What helps Size's chances? Unparalleled patience
Of the four, it seems Size has kept his powder driest and has the most ammunition for a late charge. Horses like Eye On You and Splendid Days are yet to start but have had numerous trials. They are likely to be at short odds to win on debut. Others like Do You Get It, who is yet to be unleashed on the dirt where he excels, and Teofilo Calva look to have a few ratings points in hand and have been kept ticking over. Three-year-old Luger looks a Group horse in the making but when he returns from injury he will still be in Class Three. Besides, it is Size's "turn" to win. Since winning the trainers' championship in his first three seasons, Size has won every second season, and after missing out in 2012-13 he is due again.
What hurts Size's chances? Unparalleled patience
How can patience be a help and a hindrance? Well, last season, eventual champion Dennis Yip Chor-hong, and the man he overtook in the final race, Tony Cruz, employed the cavalry charge tactic. They found any horse with four legs and entered it in as many races as possible. Size refuses to compromise his animals' future for the sake of something that is essentially an ego-boosting grab at personal glory. Championship eight could pass him by, but he won't be joining in the end-of-season madness as his rivals clamber for the crown.
Size's stable also looks like it lacks the numbers in the key Class Three and Four fixtures – he has a lot of horses just starting out at the trials and 10 horses yet to be even given ratings. As well as horses that are still going by their brand names, there's a lot of top end to the yard, too. Twenty of his 58 horses are rated 80 or above, and one of those is the 112-rated Fay Fay. He is taking up a roster spot and isn't even in the country – he is spelling in New Zealand.
Key horses: Luger, Eye On You, Teofilo Calva


JOHN MOORE
Wins: 44
Trainers' championships: two (1994, 2011)
What helps Moore's chances? Moore's not-so-Happy Valley shuts down
Moore has already broken Cruz's record for most prize money won in a season, but he has had little success at Happy Valley – six winners – and that track will be closed for government drainage works from early June. It's not so much that his horses don't perform there as his Valley strike rate of 11 per cent is almost identical to his overall mark. Moore simply has had the least amount of runners at the city track, 55, of any trainer. One reason is that his yard is so laden with high-rated horses and there aren't options at the Valley, but the other is that he prefers Sha Tin. More racing at Sha Tin, even lower grade events, is better for Moore. Also giving Moore a boost is the talented, in-form jockeys at his disposal. He seems to have first call on Joao Moreira and Tommy Berry.
What hurts Moore's chances? Moore's about the moolah
Astute judges consider Moore's 2010-11 championship a minor miracle, and not just for the dramatic last-day surge that saw him overhaul Cruz. Moore's focus is winning big races and money – not winning as many races as possible. There are only three Group races left this season and Moore has 15 horses rated 100 or more. At least four of them won't start again this term, three are overseas, and many of the others will face each other in the limited options available. Moore also has a lot of "next season" projects that won't be rushed for the sake of a championship.
Key horses: Royale Elegance, Stag Knight and What You Dream


TONY CRUZ
Wins: 42
Trainers' championships: two (2000, 2005)
What helps Cruz's chances? The production line
Cruz is the most likely to have the most runners between now and July 6. He has a lot of eligible horses in the middle grades and they'll all be looking for a place to rest come summer. Expect Cruz to keep grinding away and play the numbers game. As proven late last term, the deep end of the season is about quantity, not quality, and Cruz plays this game best with his proven training system.

What hurts Cruz's chances? Burnout
Cruz may have already made his run – he has already had 475 runners this season, the most of any trainer. That is 149 more than Size. There simply may not be anything left in the way of horse flesh come the end of the term. If the limited Mega Champion gets named as a key horse, you are in trouble.
Key horses: Key Witness, Peniaphobia, Real Fit and Mega Champion


CASPAR FOWNES
Wins: 42
Trainers' championships: two (2007, 2009)
What helps Fownes' chances? Hot streak
After a slow start to the season, Fownes is on a roll. Purton is riding in great form and Fownes usually calls on him first. No trainer is better at placing his horses in the right races when it is time to win. Fownes had 12 winners in the month of April, but 11 were at Happy Valley, which leads us to...
What hurts Fownes' chances? Home-ground advantage gone
Fownes considers Happy Valley his home turf and little wonder – 30 of his 42 wins have come there this season. With the Valley shutting down and only four more meetings to go, Fownes will have to focus on Sha Tin, where he has a much lower strike rate.
Key horses: Gun Pit, Supreme King and Bunker Shot