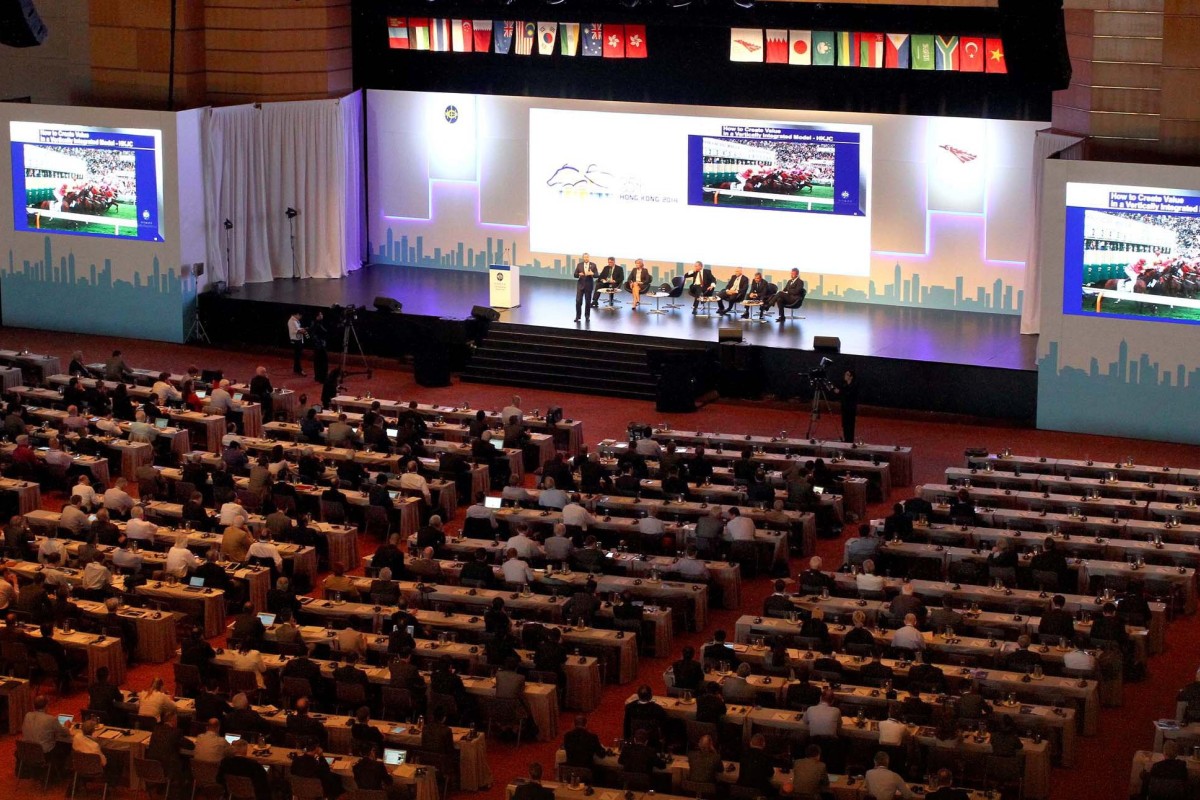 The Asian Racing Conference was as well organised as any we've attended - not unexpectedly, given that Hong Kong Jockey Club was the host - and there was much about it that was superior.
Particularly smart was the distribution of tablet computers to delegates as not only a contact point and a reference to speakers and their presentations, but for interactive use during sessions to pose questions and conduct informal votes.
Every ARC has its discordant or outright wacky moments. In Istanbul in 2012, they ranged from an opening ceremony where the budget had clearly been blown on high-profile entertainment at the expense of comestibles, to our highlight - the Turkish official who declared there was no corruption in their (obviously more democratic) version of racing as the horses wouldn't agree to it.
It took us a while to work out which C was represented by the long, intrusive funeral march music played during the opening ceremony dinner. It was Chopin
There was nothing to match that last week, but there was world body president Louis Romanet and his Kanye West moment as he grabbed a microphone and threatened to hijack a session at which he was not down to speak.
And, while the message to be reinforced in Hong Kong was "Customer, Connect, Compete, Create", it took us a while to work out which C was represented by the long, intrusive funeral march music played during the opening ceremony dinner. It was Chopin.
The ARC is always a place for self-congratulation; the hosts doled it out in dollops and Jockey Club executive director of racing Bill Nader started one presentation with a Muhammad Ali quote: "It ain't bragging if it's true."
It's a line Ali, in turn, stole and tweaked after a quote by 1930s American baseball pitcher Dizzy Dean and Nader might as well have used another Dean line, delivered to an incoming batter: "Son, what kind of pitch would you like to miss?"
For Hong Kong, with all its resources, threw pitches, the hitting of which would fall into the category of "aspirational only" for racing jurisdictions where cost is more of a factor.
Wednesday's Happy Valley meeting was the stage to show off the racing product pushed at attendees all week as the world's best. It hit a hurdle with weather that may have dampened viewing of the Happy Wednesday beer garden, while the 15-minute saga to get the second race started after Plain Blue Banner took off was another unforeseen obstacle. But horse racing includes the weather and unpredictable animals.
More disappointing, and surely more manageable, was the abbreviation of an ARC session connecting racing with popular culture, truncated due to earlier speakers regarding time as a vague concept.
Any conference is a balancing act of the "inside out" and "outside in" viewpoints, as highlighted by HKJC chief executive Winfried Engelbrecht-Bresges pre-conference.
The danger of too much "inside out" is preaching to the converted - racing administrators presenting their own scorecards and marking themselves positively.
The danger of too much "outside in" and its fresh messages from non-racing speakers is a disconnect of relevance, and it isn't always obvious which will fall into this category.
The presentation from Everton Football Club's digital media manager was a case in point. Everton presumably have a budget minor ARC organisations couldn't imagine, yet the presentation usefully focused on ideas that didn't cost a lot. Not every race club can offer Happy Wednesdays, but localised promotions through social media can be achieved cheaply. Still, when we saw the promotion, with Leighton Baines surprising fans with knocks on their doors , we did shudder at the possibilities if Hong Kong horse trainers were employed the same way.
Once again, Longitude's presentation was a highlight - their ideas remain the most interesting new development in wagering, but the process of getting even racing administration people to grasp them is a slow one.
Then there were the Asian Racing Federation (ARF) elections; these have always taken place in a strange, distant way, like news from the front in a long past war. Engelbrecht-Bresges was elevated for the second time to ARF chairmanship, while John Messara, boss of Racing NSW, became a vice-chair, despite having somewhere more important to be during the conference.
In terms of covering the ARC as a journalist, it seems clear the organisers are torn between desire for public exposure and either not knowing how to do it or not wishing to move off a standard format.
These things are largely talk. Plenty of back-slapping, but at least the "customer first, wagering first" theme of this one is something we prefer to hear.
And the final two sessions on racing in the mainland will have done a lot to disabuse the world of its notion that organised racing, let alone racing with betting on it, is near reality there.
Ultimately, conferences are a pooling of ideas and attendees take what will fire their imaginations.
News management is non-existent, insofar as there is anything actually newsworthy. There was plenty that was thought-worthy - filed away as an interesting viewpoint about something, but we would love to see more hooks on which to hang coverage of each day.
But Engelbrecht-Bresges did say the conference, for racing's real customers - punters and fans - was more an engine for changing attitudes and mindsets than a spectator event. (That was backed up by his view that the major event of the ARC was a behind-closed-doors agreement between the ARF and some significant non-ARF jurisdictions to pursue a global policy on medications.)
In that, we suspect the conference lived up to its purpose.