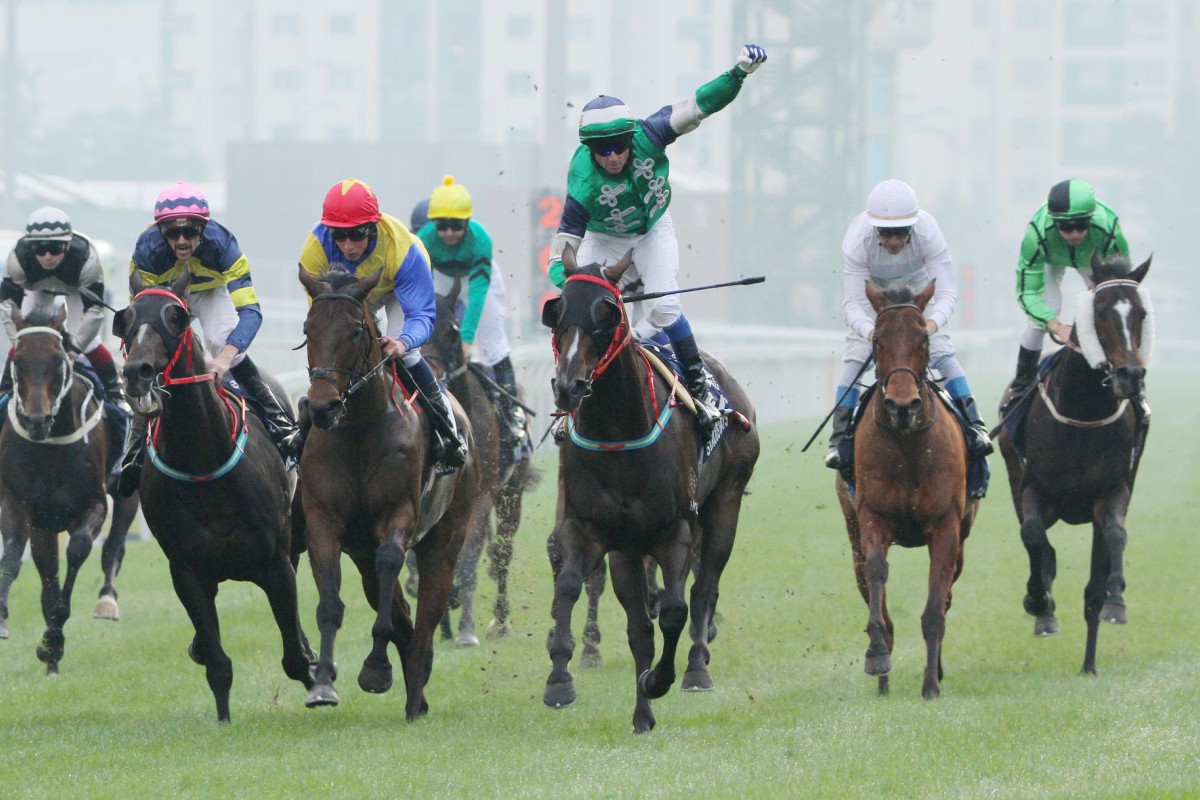 A second Group One double in Singapore makes this the most successful season in Hong Kong's history on the international stage, with four Group Ones and a Group Three overseas, along with four of the six local Group Ones.
We have Glorious Days' attempt on the Yasuda Kinen remaining to add to that tally this season.
John Size has taken a different approach with the Longines Hong Kong Mile winner and Tokyo will be his fourth start of the season, whereas it was his eighth in 2012 and seventh last year, so we'll see what that does for him.
The government-backed future funding for the Sydney extravaganza is now in doubt so it may have been a oncer
Since Fairy King Prawn won the Yasuda Kinen to break ground for Hong Kong horses on foreign soil in 2000, most years have provided at least one win overseas, with a previous best of three in total and never more than two Group Ones.
A total of eight international Group Ones for the season - by eight different horses - is some sort of tally, given the horse population here, and Dan Excel's Singapore Airlines International Cup was the 20th foreign win by a Hong Kong-based horse in 14 years and the 13th since 2009.
Not all them have been Group Ones - that takes you into tricky territory as the Al Quoz Sprint won by Joy And Fun was ineligible for Group One status at that time anyway - but the vast majority have been at the elite level.
And a quick look over the races won shows they have been mostly the same races or the same meetings: four KrisFlyer Sprints from the past six, two Singapore Cups, two Yasuda Kinens, two Sprinters Stakes, four Dubai World Cup night wins and two more in the Super Somedayoftheweek lead-ups to that meeting.
Add to that two winners at the Royal Ascot meeting, although technically Cape Of Good Hope won at York so we aren't sure if that qualifies.
(One of our favourite trivia questions: what do Hong Kong's two Royal Ascot sprint winners have in common? Both ran last in the Derby.)
Which makes us wonder whether fresh targets are required, or even possible, in order to improve on what is becoming a handy strike rate at some familiar assignments, and there are a couple of fresh targets being considered.
All thoughts of Royal Ascot have been put aside for now (although it won't surprise us to see it back on the agenda a year from now if Able Friend and Designs On Rome become what we anticipate they might) and we have Akeed Mofeed possibly heading to Chicago for the Arlington Million in mid-August.
He won't be the first Hong Kong horse to run there (thank you to our readership research team): River Verdon went, but not at the height of his powers.
Akeed Mofeed was missing when free entries closed last week for the Takarazuka Kinen in Japan at the end of June over 2,200m, right-handed at Hanshin.
With a first prize of HK$10 million, it should have looked tempting but it's probably too long a race and too much of a mirage - racing the best Japanese horses at home is an invitation to a black eye.
The last two winners have been Gold Ship, with Gentildonna only third, and Orfevre, when he handled Rulership with ease.
You can see where this is going, though our trainers should be watching with interest if Singapore runner-up Smoking Sun, the only foreign entry left, makes the journey.
Richard Gibson probably had the better idea going stateside, although the Arlington Million is only HK$8 million and it's a long way away, you'd still rather line up against US turf horses.
Michael Chang Chun-wai is rather more ambitious with his idea to take Rich Tapestry to the Breeders' Cup Sprint - the one on dirt presumably, although there is a turf sprint as well for half the money.
Lucky Nine is likely to head back to Japan in the new season, hoping for better luck than in the past, while Dan Excel is being pursued for a Cox Plate tour, the difficulties inherent in which would probably have Don Quixote shaking his head.
Twelve months ago John Moore was extremely keen to take Military Attack for the Cox Plate after winning at Kranji but, between the quarantine and the difficulty in getting races into your horse to get him there fit enough to do himself justice, it's all too hard.
We'll be surprised if it ever happens.
Melbourne was also mentioned for Amber Sky prior to his win in Dubai, and that could resurface as a target once he gets through his summer break.
Trainer Ricky Yiu Poon-fai seems keen to take advantage of Amber Sky's straight-track prowess to test him again at 1,200m, instead of only having options around a turn at the distance here.
We had thought the switch in Dubai from Tapeta back to dirt next year might reduce by two any potential targets there.
And even opened a possibility that people with sprinters could take a second look at Sydney's "The Championships" in preference to the Golden Shaheen.
(Hong Kong's horses that went to the old Nad Al Sheba to race on the dirt - with the sole exception of the redoubtable Bullish Luck - went about 200m before the realisation set in that the surface bore no resemblance to our all-weather at Sha Tin.)
But, to the surprise of no-one, the government-backed future funding for the Sydney extravaganza is now in doubt so it may have been a oncer.
Perhaps that puts the Takamatsunomiya Kinen in Nagoya back in the picture for Hong Kong sprinters in late March.
No horse has been there yet - Sacred Kingdom got colic on the tarmac and Lucky Nine pulled out in the aftermath of the catastrophic Japanese earthquake and tsunami - but, since it's on the same day as the Dubai meeting, it fits the calendar as there isn't a lot for the top sprinters here for some time after the Chairman's Sprint in February.
Once upon a time, the concept of taking a horse overseas for a Group One race was considered lying to yourself at best but, on the back of their most successful year ever, Hong Kong's top horses may spread even further and wider in the year ahead.