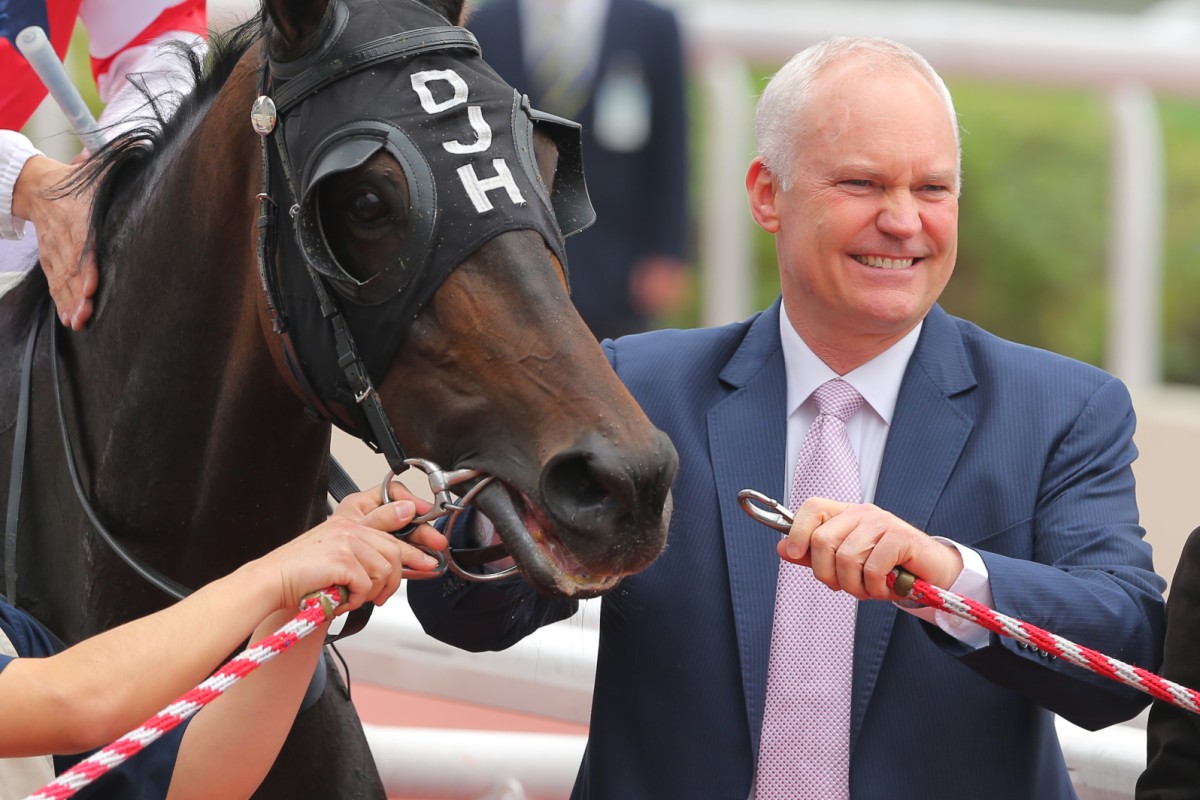 Trainer David Hall last night vented frustration at a fresh wave of high arsenic readings that led to his four horses being withdrawn from the Happy Valley meeting, saying the continuing episode is "extremely stressful".
Gold Tartini, Carry The Zeal, Heroic Guru and Kirov had to be scratched, as a fresh culprit was unearthed by the Hong Kong Jockey Club laboratory.
In an eerie repeat of the rash of zilpaterol positives that appeared almost exactly this week a year ago and were found to have come about from contaminated feed, the high arsenic levels are now suspected to have been caused by one, or both, of two separate sources – a feed supplement and a standard feed.
Last week they took away my supplement, now they've taken half my feed. I hope they've got it right this time so my stable and owners can get back to normal
"This is extremely stressful, not because I've done anything wrong but because I've got all my owners ringing up and asking questions and I have to explain it to them all," Hall said.
"This latest thing is a feed product, supplied, like all of the products we use, through the club, and which I've been using for years without any problem.
"Last week they took away my supplement, now they've taken half my feed. I hope they've got it right this time so my stable and owners can get back to normal."
Hall has six entries for Sunday at Sha Tin, including Bubble Chic in the Group One Standard Chartered Champions & Chater Cup.
"The last time any of my horses ate the feed product was Wednesday morning so, if the club is right about this being the issue, then that should be enough time for the horses to get through their pre-race tests for Sunday."
Gold Tartini and Heroic Guru were also withdraw from last Wednesday's meeting at Happy Valley with high arsenic readings which came to light after stablemate Hit A Home Run returned a preliminary post-race positive after finishing second at Sha Tin on May 10.
Another trainer, Peter Ho Leung, also had horses showing higher than usual arsenic readings, but his horses were allowed to run as they did not exceed the permitted threshold, and the common factor between Hall and Ho was the feed supplement.
That was withdrawn from both of the trainers' yards last Wednesday and further tests conducted, even as more testing took place on regular feeds used by their yards.
"That supplement was tested first, as for technical reasons, a supplement can be tested more rapidly than feed and we were forced to prioritise," said chief steward Kim Kelly last night.
"The supplement was found to have high levels of arsenic. Since that was withdrawn on Wednesday, we had expected to see the arsenic levels come down in the horses and, on Sunday, that appeared to be happening and we believed the problem had been identified.
"But Gold Tartini has now been tested again and his reading has gone higher, and the laboratory has informed us this morning that one of the feeds being tested is also reading high for arsenic. So that was a new concern and that feed has now been withdrawn as well."
Both Hall and Ho used the feed, along with two other trainers, although Kelly said there had been no elevated arsenic readings in horses from those yards.
In the first week of June last year, two horses were disqualified after racing with zilpaterol – a cattle feed supplement – in their systems. Several trainers had enforced scratchings from races over the next week after the drug surfaced in pre-race tests. It was found feed supplied by an American firm, which also made cattle feed at the same factory, was contaminated in manufacturing.