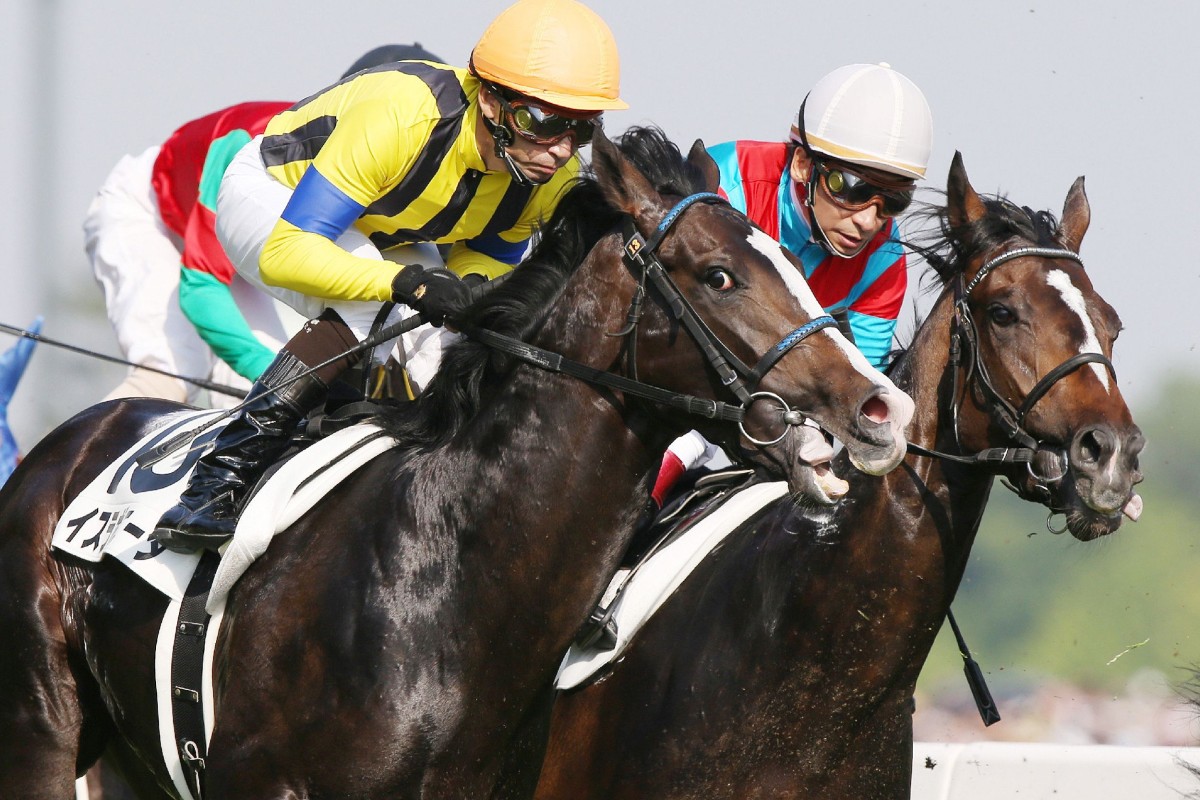 Taking races from three foreign jurisdictions on the weekend had us thinking about simulcasting - yes, we really should get out more.
As the brave new world of commingling expands quietly off set - more of that shortly - what we can see going the other way is making us wonder whether there is a plateauing of interest in overseas racing.
Holdings in the Japanese Derby held firm at HK$25.14 million in bets - down by the shadow of a hair on last year's similar simulcast - while the French Derby figures for the only three simulcasts have been HK$20.76 million, HK$21.36 million and Sunday's HK$19.7 million.
In 2012-13, 103 simulcast races held HK$1.785 billion and the away turnover looks likely to fall short of that this time around
And then there's Macau Hong Kong Trophy day, where the hold was down from almost HK$134 million last year to HK$128.5 million on six races.
In fact, simulcasts generally look quite flat this season. So far, 88 races have yielded a hold of HK$1.5 billion but that is only in line with last season's simulcast holds, at best.
In 2012-13, 103 simulcast races held HK$1.785 billion and the away turnover looks likely to fall short of that this time around.
In the meantime, turnover locally has been up and up.
Using only pari-mutuel holds on local racing, that number is somewhere around HK$86 billion with 10 meetings to go (throw in another HK$10 million per meeting on the fixed-odds Jockey Challenge) at the point where it was HK$78.5 billion last year and it is well on target to be troubling HK$100 billion for 2013-14.
Simulcasting turnover doesn't draw on the same number or depth of sources as local racing, although the Macau figures are something of a surprise given the cross links through jockeys and ownership.
So the jury is out on the outflow of funds on races of interest, while the news is positive on the flipside of the coin as the Jockey Club steps up commingling with the United States this weekend.
The business through TVG on Hong Kong racing started at HK$2.7 million on day one in early April and has climbed to HK$5 million to HK$7 million a meeting, and the club welcomes a second American operator aboard this Sunday, Xpressbet.
There is confidence at Sports Road that the US market could grow to about HK$20 million a meeting next season, or about what Singapore holds on Hong Kong in its domestic-only pools.
Australia is still holding HK$9 million a day in domestic pools, although the market is getting crowded there - bets are now being taken by TABCorp on races in North and South America.
A senior TAB executive said on radio that 24/7 betting opportunities for Aussie punters was within sight. (One observer on Twitter noted that an early US race this week had held the Hong Kong equivalent of $300, but obviously, it's somewhere to start.)
That Australian figure for Hong Kong might jump when commingling begins next season, but the Jockey Club still seems to feel that North America is where the "big" commingling boost lies and the American operators are keen to expand their portfolio of bet types, too.
When we say big, it doesn't really mean Big with a capital B.
Obviously, in terms of HK$100 billion, this is small beer, but growing and certainly worth doing, and testimony to the appeal of a racing product here, which is relatively simple to understand and well regulated and policed.
Whether it is a two-way street on the selected overseas simulcasts is in the hands of Hong Kong punters themselves and the figures have cooled.
---
Aussie riders fit the bill when the SOS goes out
Some of our Chinese language counterparts have thrown out the question - why are the riders called on by the Jockey Club to help out all from Australasia?
Australian-based Tim Clark and Christian Reith and, in a week or so, Mark du Plessis (Zimbabwean-born but happy to answer to New Zealander) have turned up at short notice when numbers in the jockeys' room are finely balanced due to injuries and other absences.
And it is far from unusual.
Of course, South African Anthony Delpech helped out in similar circumstances recently, Robbie Fradd once filled the role too, but it is usually Australians.
We are reaching to think of the last Briton, European, North or South American who arrived for a one or two-off in the same circumstances, though Mirco Demuro's mid-season stint started early for that reason this term and three years ago Neil Callan returned briefly to fill a gap just after his contract had finished.
For an SOS, walk on, walk off, we'd probably have to go back more than a decade to Frankie Dettori on a couple of occasions.
In part, we agree with our colleagues. We'd love to see these SOS calls used to let some promising rider, from anywhere, dip his or her toe in the water with a future longer term contract in mind, but the world doesn't work to suit Hong Kong.
Timing is everything and, at this point in the year, there isn't a huge amount going on in Sydney or Auckland, but just try tearing an eligible talent away from the Group One racing in Britain or Europe to push around Class Threes and Fours in the heat.
And history has taught us, or should have, that "eligible" riding talents in that part of the world are thin on the ground at any time when it comes to handling the style of racing here.
Of all the jurisdictions, Hong Kong racing bears the closest resemblance to that in Australia. Australian jockeys work here, so why shouldn't they be the first option as pinch-hitters?