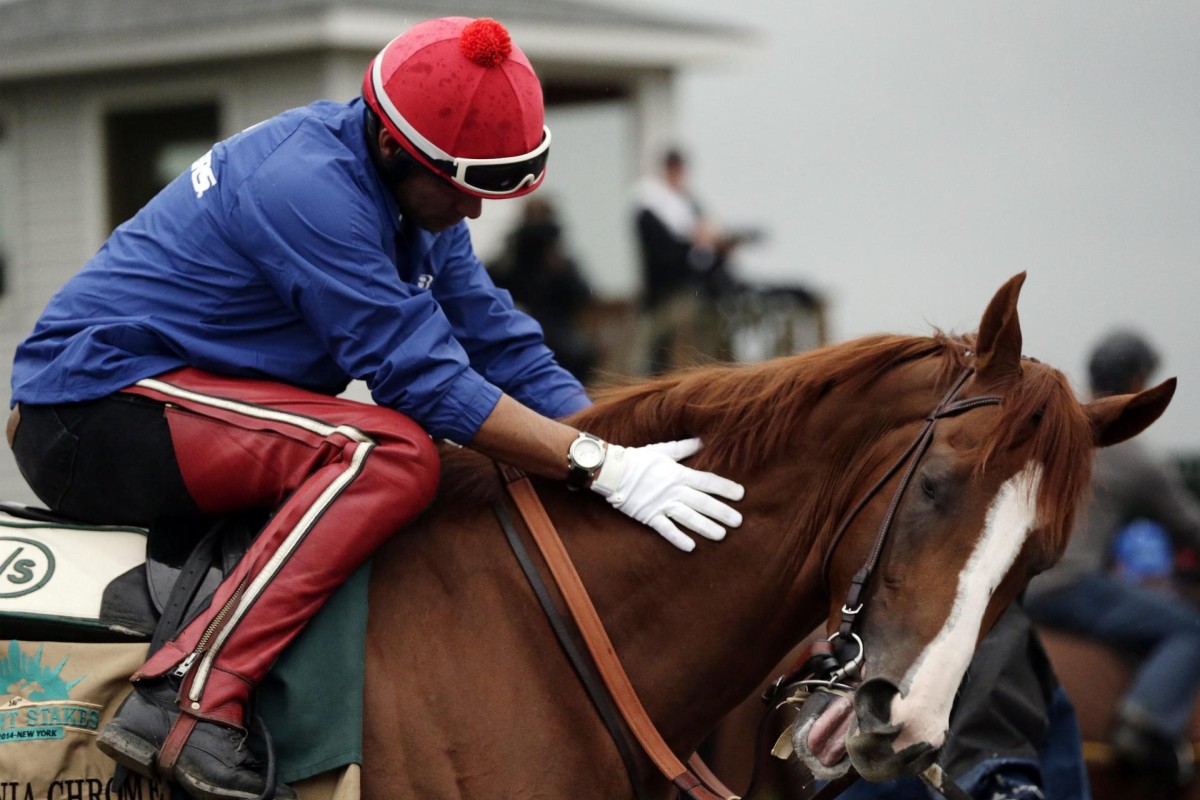 California Chrome's bid for US racing's elusive triple crown culminates with the Belmont Stakes on Saturday, but a fairy-tale ending to his riveting story is far from guaranteed.
The Kentucky Derby and Preakness Stakes winner is the odds-on favourite to win the 146th Belmont. Nevertheless, history is not on his side in the one-and-a-half-mile "test of the champion".
Only 11 horses have achieved the treble, the last Affirmed in 1978. Since then, 12 have won the Kentucky Derby and Preakness only to come up empty in New York.
We know this horse has a hell of a shot at winning the triple crown. And I honestly believe he's going to do it
Steve Coburn, co-owner with Perry Martin of the chestnut with the splashy white markings, thinks his modestly bred colt can do it. "We know this horse has a hell of a shot at winning the triple crown," he said. "And I honestly believe he's going to do it."
California Chrome has won six races in a row, including his Kentucky Derby triumph at Churchill Downs on May 3 and in the Preakness at Pimlico a fortnight later.
He has demonstrated an easy manoeuvreability that helps jockey Victor Espinoza keep him out of trouble and an ability to conserve his energy until Espinoza calls on him.
But, like all the three-year-olds in the 11-strong Belmont field, California Chrome has never raced over one-and-a-half miles.
Septuagenarian trainer Art Sherman believes he can get the distance after seeing California Chrome's run in the Preakness.
"They took pretty good shots at him and he was in a longer drive than I've ever seen him," Sherman said.
"Victor said he had to ask him at the half-mile pole to stay in there when that horse [Social Inclusion] wheeled up alongside of him. He kept up a half-mile run. Usually he just runs the last quarter of a mile."
Sherman was particularly impressed with that performance, coming as it did just two weeks after the Kentucky Derby.
"I said, 'Man, this horse has got to have a big heart', Sherman said. "He really does."
The punishing schedule of the triple crown, three races in five weeks, is often given as a reason for the rarity of the feat, especially since modern-day racehorses are rarely run so frequently.
The past eight Belmont champions skipped the Preakness and in the past 12 years only one horse has won the Belmont after running in both the Derby and Preakness.
For California Chrome, who had never raced outside of his home state until the Kentucky Derby, it has been a gruelling road trip.
Still, Sherman says the colt has maintained his weight well and seems in fine fettle.