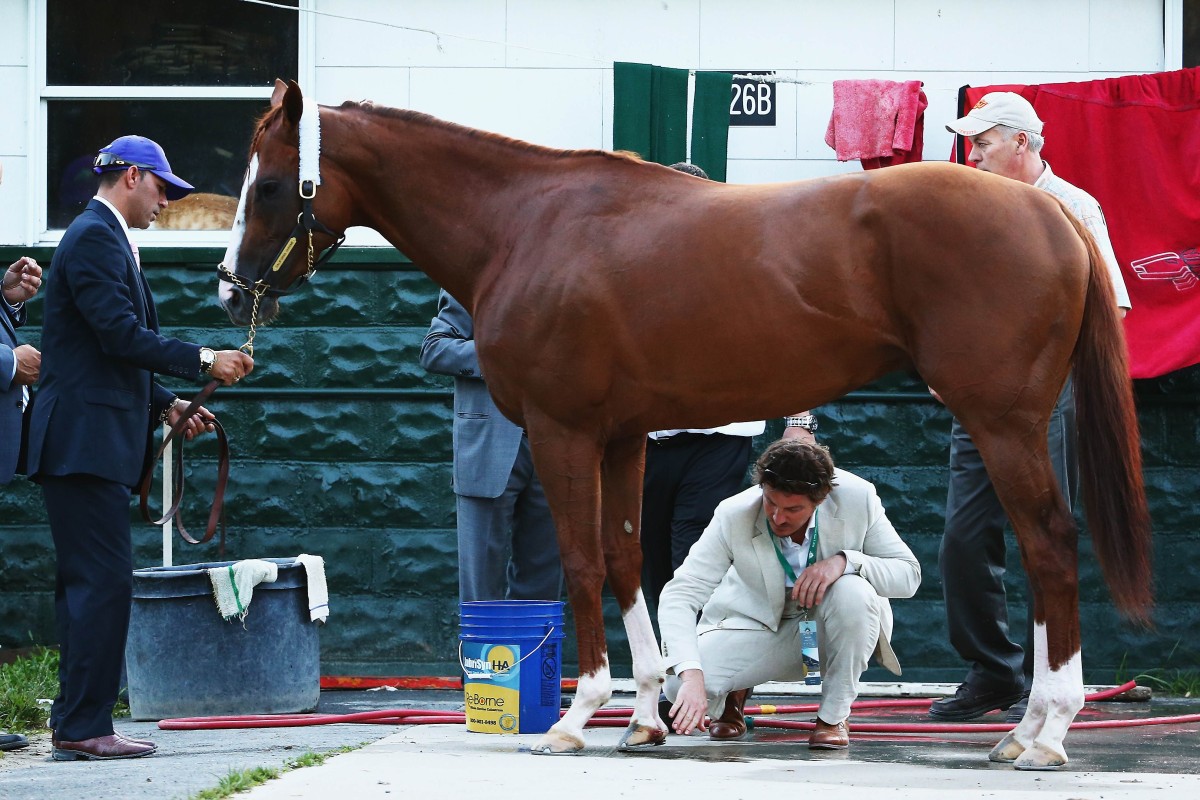 Steve Coburn, the co-owner of California Chrome, issued an emotional apology on Monday for his bitter reaction to his horse's defeat in the Belmont Stakes that cost him his chance at the Triple Crown.
Accompanied by his wife Carolyn, Coburn fought back tears as he apologised for calling the connections of the winning horse Tonalist "damned cheaters" and "cowards".
"Very ashamed of myself," Coburn told Good Morning America. "Very ashamed. I need to apologise to a lot of people, including my wife Carolyn.
I want to apologise to everyone associated with Tonalist ... he won the race fair and square, he deserved the win
"First of all, I need to apologise to the winners. They ran a beautiful race. Their horse won the race. They deserve that.
"I did not mean to take anything away from them so I want to apologise to everyone associated with Tonalist ... he won the race fair and square, he deserved the win."
Coburn also apologised to his co-owner Perry Martin and California Chrome's trainer Art Sherman and the thousands of fans who had been captivated by their horse's fairy-tale success.
Bred for a pittance by two working-class men new to a sport usually dominated by the rich and famous, California Chrome defied the odds when he won the Kentucky Derby then the Preakness Stakes.
He had the chance to become the first horse in 36 years to complete the elusive Triple Crown, which includes the 11/2-mile (2,400 metres) Belmont Stakes, and join one of the most elite clubs in US racing, alongside the likes of Secretariat, Citation and Seattle Slew.
But like so many other great horses who have won the first two legs, but found the extra distance of the Belmont too much after an exhausting build-up, California Chrome managed a tie for fourth.
But Coburn, who had become a media hit with his trademark cowboy hat and brash predictions that his horse was certain to win every race, did not take the loss well and launched into a bitter attack after the Belmont.
But by Monday, Coburn, a factory worker in Nevada, had a change of heart.
"I wanted so much for this horse to win the Triple Crown for the people of America and I was very emotional," he said.
"It's just the emotion of the whole journey coming, all together at one time … I needed to do this [apologise] … because I was wrong."
His wife Carolyn said California Chrome would resume racing later this year after a break and she hoped fans would forgive her husband.
"This horse and our story has given so much joy to so many people. I hope that this 30 seconds isn't going to destroy all that," she said.