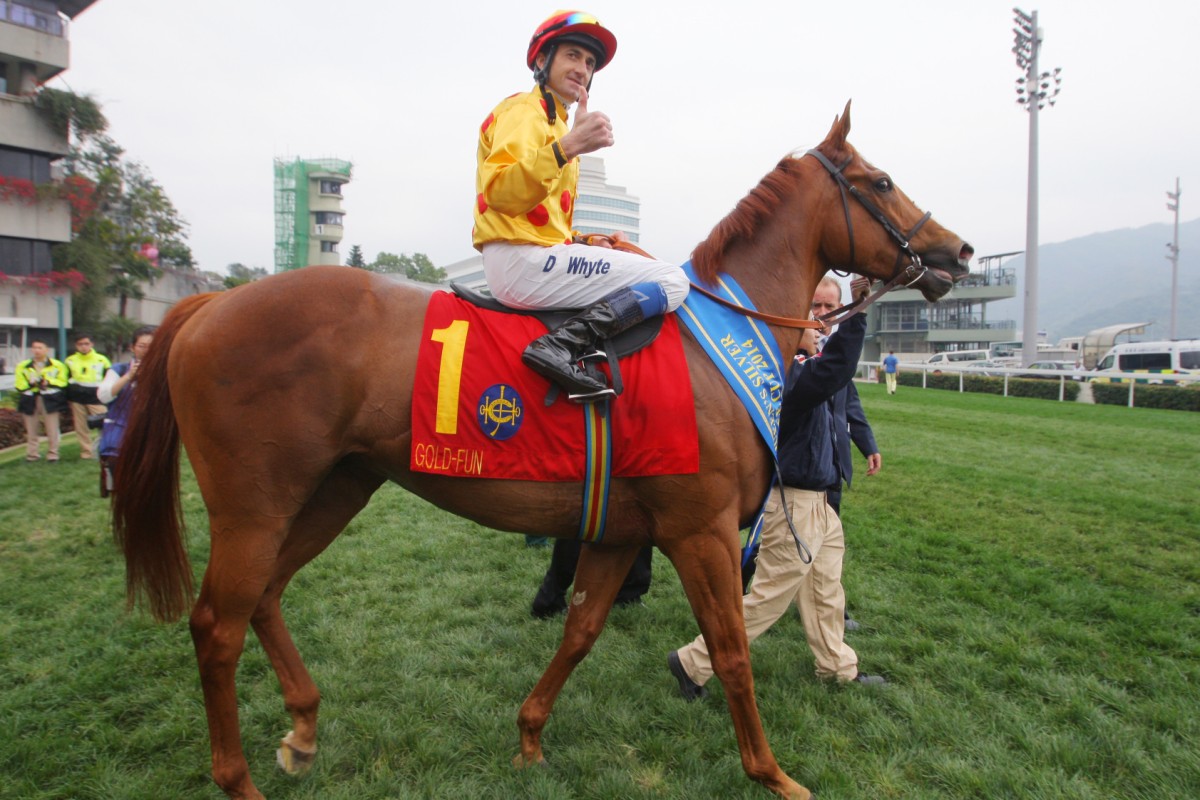 The Hong Kong Jockey Club yesterday announced higher stake money across the board for next season to keep pace with its soaring betting turnover, maintaining its claim as the place with the world's highest prize money per race and setting the tone for future increases.
Total stake money for the 2014-15 season is up by 7 per cent to more than HK$963 million, and the package includes big bonuses for horses winning the Triple Crown or the Hong Kong Speed Series.
There are also significant increases and fresh incentives for feature races and victories in Classes One and Two.
We are very lucky, but these changes will hopefully give owners the incentive to go out there and spend more money
"The increases we announced today are in line with the boost we've seen in turnover - which will top HK$100 billion for the first time this season, and we want to keep pace with that," said the Jockey Club's executive director of racing Bill Nader.
The club stopped short of announcing the keenly anticipated stake money lifts for the Longines Hong Kong International Races in December or the two spring internationals, the Audemars Piguet QE II Cup and Champions Mile, which are expected separately later this month or at the beginning of July.
Of the domestic majors, the BMW Hong Kong Derby and Hong Kong Classic Mile each jump from HK$2 million to HK$8 million and HK$18 million, respectively, while open Group One horses chase huge Triple Crown and Speed Series bonuses.
The Triple Crown (Stewards' Cup, Hong Kong Gold Cup and Champions & Chater Cup) has not been won for two decades and the cash bonus for the feat has been doubled to HK$10 million, although winning two legs - as Blazing Speed did this season - will no longer carry a bonus.
The Speed Series bonus - for winning the Centenary Sprint Cup, Chairman's Sprint Prize and Queen Silver Jubilee Cup - carries the biggest percentage increase from HK$2 million to HK$5 million.
Big-money trainer John Moore smashed the prize-money record this season, earning nearly HK$130 million domestically, and he believes the increases should encourage owners to spend more in a European-tried horse market.
"We are obviously delighted with those changes," Moore said. "We already have amazing prize money.
"We are very lucky, but these changes will hopefully give owners the incentive to go out there and spend more money. It's harder to buy quality horses at a decent price in Europe now, with the Australians also there trying to buy horses for the Cups."
Nader said the changes were weighted towards higher quality races to address a weakness in the number of horses rated above 80 - with a Class One handicap now worth HK$2.2 million, up 10 per cent, and a Class Two up more than 7 per cent to HK$1.5 million.
Also aimed at addressing a lack of numbers at the top end is the new High Achievement Bonus Scheme, which replaces the Private Purchase First Win Bonus Scheme.
The bonuses are now open to Private Purchase Griffins (unraced imports) and Hong Kong International Sales Griffins, as well as Private Purchase horses that have raced elsewhere.
If a horse can win in Class Two before the age of five, connections will receive a HK$750,000 bonus, plus HK$250,000 if they can win again in Class One.
"We want to incentivise owners to look for quality young horses," Nader said.
"The very top end is healthy, as we saw with wins in Dubai and Singapore, and winning four of the six international races here - but we see an overall weakness in horses rated 80 and above."
Meanwhile, jockey Howard Cheng Yue-tin will miss the rest of the season with a hand injury. Cheng had missed the majority of the term after struggling with a shoulder problem following a fall at Happy Valley last June.