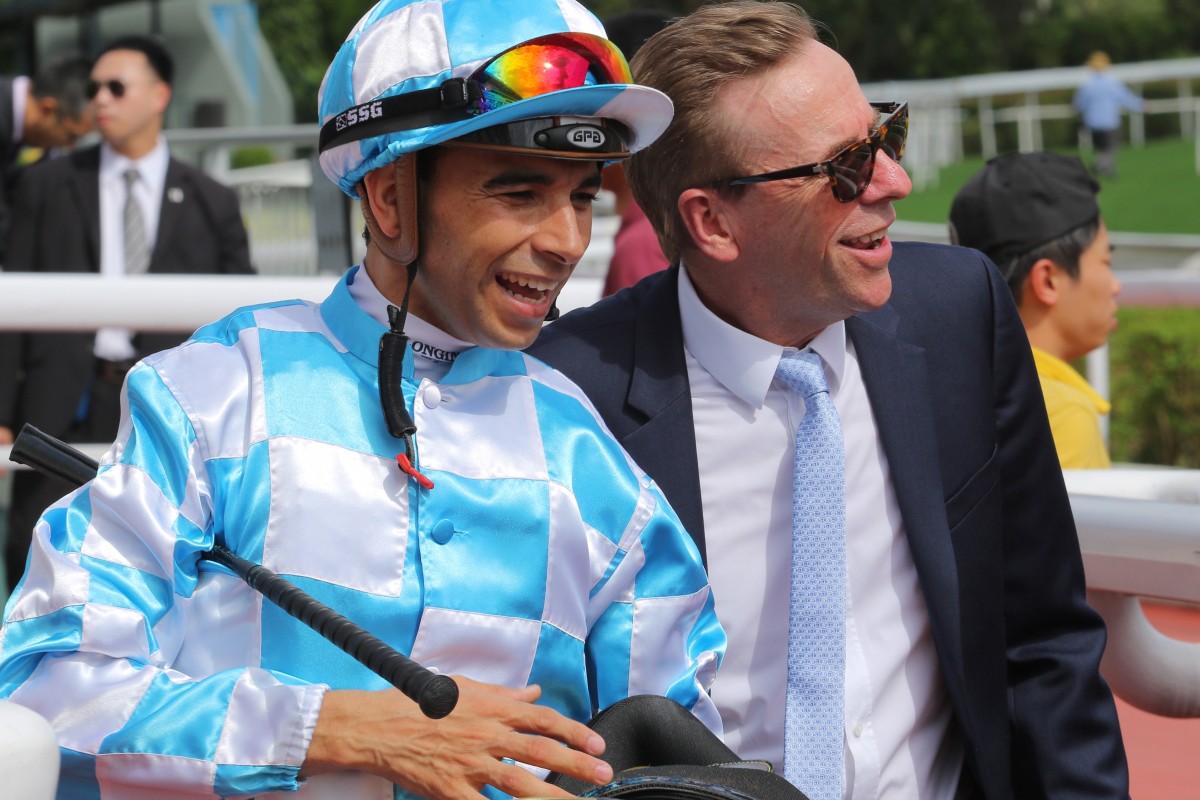 Joao Moreira added another treble and another daily Jockey Challenge to his tally and it seems that nobody can stop the Brazilian Magic Man - unless it's Kim Kelly.
Moreira piloted winners for John Size (Diego Kosta), Penang Hall (David Hall) and Tony Millard (Secret Command) to take his win total to 38 with just two months, 17 meetings, or 160 races of the season gone. To date, he has missed just one day's racing, when his flight back from Sydney was rerouted to Taipei in the typhoon last month, but that is about to change after Kelly's panel found fault with Moreira's last winning ride on Secret Command.
CHECK OUT ALL OF KENNETH CHAN'S PHOTOS FROM SA SA LADIES' PURSE DAY
The Brazilian will serve a three-day careless riding ban after November 21, resuming December 3, which will slow him down but it will hardly bring the runaway train to a stop.
Diego Kosta's namesake may not be travelling too well at the moment but the equine version continued his rise up the ranks, stepping up to 1,200m and proving too strong in his maiden victory despite a big betting move on the horse which had downed him last start, Dancing Flames.
"They're going to have some fun with him, he is a lovely horse who keeps improving every time he steps out," said Moreira. "John did the preparation, told me how the race would go and I just finished the job for him."
Size said the move from the straight to a bend had looked the right progression for Diego Kosta after the three-year-old went down fighting hard last time.
"He's got a terrific temperament, he's a quiet sort of a horse and with that in mind I thought he'd be suited by the slightly slower tempo - going up to 1,200m and around a turn isn't quite as busy as the straight," Size said.
"I wasn't thinking about whether we could beat the favourite or not, I was just concerned that my horse went out and did what he was able to do and he did that. He's shown some ability right from the start and usually horses which show that precocious sort of talent have some upside to them."
Secret Command, part of a winning double for Tony Millard, had been racing here for more than a year without a victory and it was Moreira's moves at the 400m to extricate him from in between horses which earned him the stewards' ire.
But it also got the grey an overdue victory and the Brazilian doesn't think it ends there.
"He could be one of those who wins one then puts another win or two next to it because he has been unlucky a few times," he said. "Tony asked me to ride him more quietly today because he has been up on the speed before and hasn't finished his races off, but ridden quieter he went to the line strongly this time."
Moreira was not the only victim in the stewards' room, either, with Nash Rawiller copping a ban and apprentice Kei Chiong Ka-kei earning the first enforced holiday of her local career.
Chiong received a two-day penalty for causing interference on Jolly Good Star in the fourth, while Rawiller's three-day ban for his ride on Right Call will commence after November 25 and he will return from December 7.