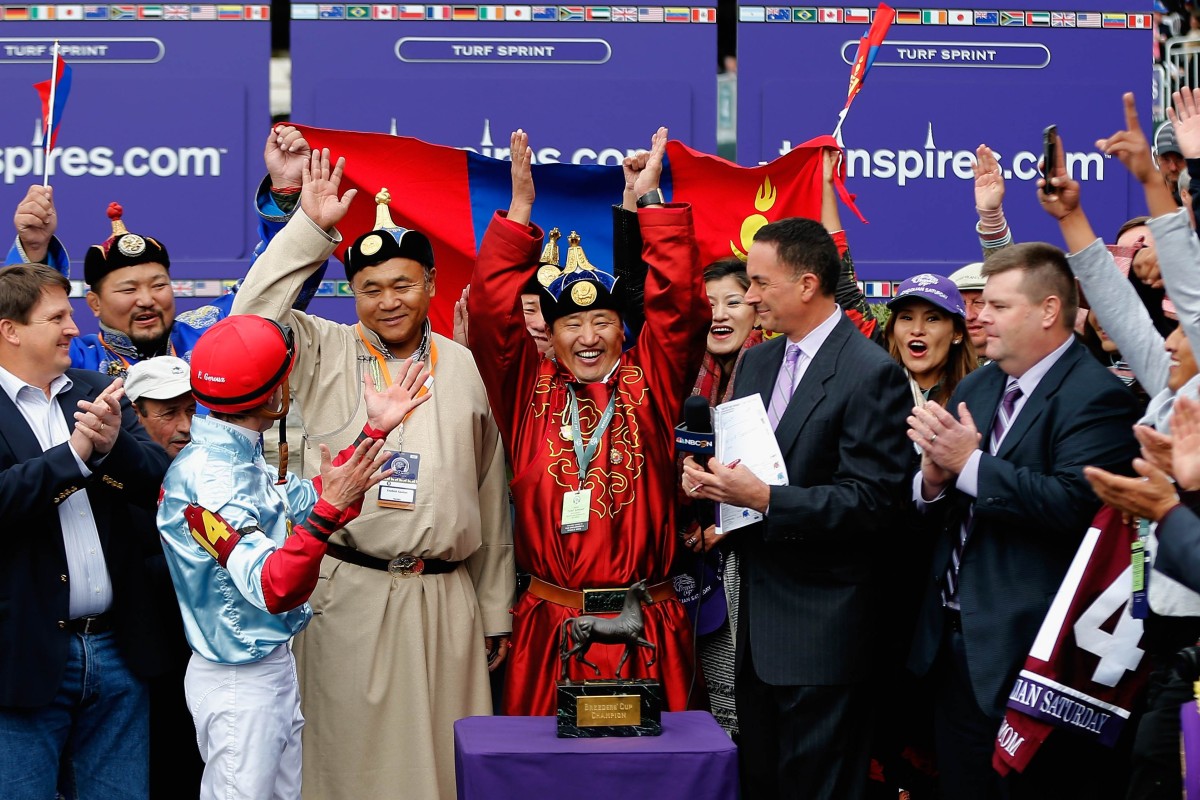 With just over one month until international day it is time to present our wish list – what we want for Hong Kong racing's biggest day on December 13. Consider this the racing writer's equivalent of a letter to racing's Santa Claus.
For everyone to show up that has said they are coming
First of all: we know this never happens. For any major carnival, the list of "possibles" is invariably a lot longer and more impressive than the final fields – and that goes for most major meetings. Add to that the end-of-year timing of the Sha Tin showpiece and it means HKIR can be something of an afterthought for trainers nursing tired horses that have already peaked. Still, if every trainer follows through on a promise to come to Hong Kong there won't be enough stables to keep them in, let alone races to run in. Is it just us or does every second post-race interview end with, "We are considering Hong Kong in December?"
Chautauqua, Straight Girl and Sole Power versus the locals in the Hong Kong Sprint, Gailo Chop playing catch-me-if-you-can with Free Eagle, Criterion and Designs On Rome in the Cup. Coolmore's Highland Reel up against last year's winner Flintshire and ageless warrior Cirrus des Aigles in the Vase … which leaves us with the Mile and our next wish.
Please don't be scared off by Able Friend
Sure, Able Friend is a frightening proposition at home, but hey, second prize is still more than HK$5 million – that's worth nearly a million local dollars in our favourite cheap South East Asian holiday destination, Australia, and more than $650,000 Benjamins stateside. Already it seems the connections of Beauty Only have decided enough is enough and are headed towards the 2,000m of the Cup – much to the chagrin of jockey Neil Callan, who rides Blazing Speed in that race and has been left to sort through the scraps for a mile ride. Besides, it's a horse race and anything can happen. Remember Able One in 2010? Able Friend's owner Cornel Li Fook-kwan certainly does – his horse was favourite and was scratched behind the gates.
The Wizard versus Blizzard: round two
Ricky Yiu Poon-fai was apparently pondering a surprise shot at the Hong Kong Sprint with Blizzard after the four-year-old upset the applecart by beating everyone's horse to watch Thewizardofoz last start in a cracking race. Blizzard heads to Sunday's Panasonic Cup now, apparently foregoing those ambitious plans, but let's hope the traditionally strong Class One handicap on the HKIR undercard features a second bout between these two. Ideally, it comes six weeks out from the Classic Mile.
We want a Mongolian hat and epic press conference
Two weeks ago, racing was crying out for an iconic post race press conference moment – the NBA has Allan Iverson's "We talkin' 'bout practice, man?" speech...
...and the National Football League has Dennis Green's hilariously angry "We are who they thought they were…" desk-pounding rant.
If only the unflappable John Size fired up like that after a favourite was beaten.
Then the Melbourne Cup gave us Michelle Payne's wonderful "Get stuffed" wake-up call, but a few days earlier the connections of sprinter Mongolian Saturday stole the show at the Breeders' Cup – by simple virtue of their awesome hats and silk robes alone.
Now the Mongolian Saturday team are planning to come to the biggest Sunday in Hong Kong racing, and the red carpet should be rolled out for purely promotional purposes – although last-start Breeders' Cup winners add to the overall CV as well.
Let's take a look at this epic press conference in more detail and what we learnt, because if we've learnt anything at all, sportswriters these days always learn five things – not three, or seven, or just one thing. Always five.
1. Mongolian Saturday's trainer Ganbat Enebish is a punter
We start off with a simple, softball question for Ganbat: "What's been going through your mind these last 10 or 15 minutes?"
Ganbat: "I thought he would come first or second so I bet win and place, only."
At this point everyone laughs, but he quickly snaps into serious mode as if to say, "I'm hurting inside, that's not a joke for you to laugh at." He is clearly seething at having not gone win-only on the 33-1 shot.
We love this guy already – he is the Mongolian Caspar Fownes, but with an awesome hat. Here he is, having won one of the biggest races on the planet and he is beating himself up for taking insurance. He will fit right in at Sha Tin.
2. Ganbat is still learning
He has been training five years after deciding to diversify his interests outside 20-kilometre endurance racing in his homeland. He said of how he and owner Ganbaatar Dagvadorj got into racing: "We are old horseman in Mongolia, we owned 100 and he owned 200 horses … Some people say Mongolian people are born to ride – Mongolian people are raised on horses. We were talking and said, "Why don't we try a bigger market?"
3. Ganbaatar Dagvadorj isn't a businessman – he IS a business, man
Asking an elaborately dressed "businessman" at a racing press conference, 'How did you make your money?' is a bit of a dangerous curveball – I mean, nobody seems to ask Chechen dictator Ramzan Kadyrov where he got his money when he rocks up decked out in military fatigues and starts splashing cash at the Dubai World Cup. Happily, it not only appears as though team Mongolia is legit, but the question would have been better phrased to Dagvadorj: "Is there a way you don't make money?"
Construction, mining, food, distilleries and oil to name a few of his money-making endeavours listed by his interpreter, plus Mongolian franchise rights to Ramada and Holiday Inn hotels and fast food outlet Burger King.
Judging by this foray into racing, the old line of, "The best way to make a small fortune out of racing – start with a large one," may not have been translated into Mongolian yet. Speaking of Mongolian words – for an English speaker are there any harder names to spell? Dagvadorj is one thing, but the owner's brother's given name is apparently Tserenjigmed – which at first glance reads like the result of someone spilling coffee on their keyboard and furiously trying to wipe it off.
4. Mongolian hats are all kinds of awesome
Seriously, who do we have to kill to get one of those hats? They are like a temple on your head. Although it is probably not wise to wear one within a kilometre or two of a lightning strike.
5. Beautiful women love fast horses
OK, we kind of knew this already, but cut to nine minutes and 30 seconds in and we get a one-by-one intro to the Mongolian six-person entourage – which, it turns out, contains Dagvadorj's wife, a former Miss Mongolia.
Ganbat delivered the last line of the presser on how his friend Dagvadorj managed to marry Miss Mongolia: "Because beautiful women love fast horses." Some things translate perfectly.