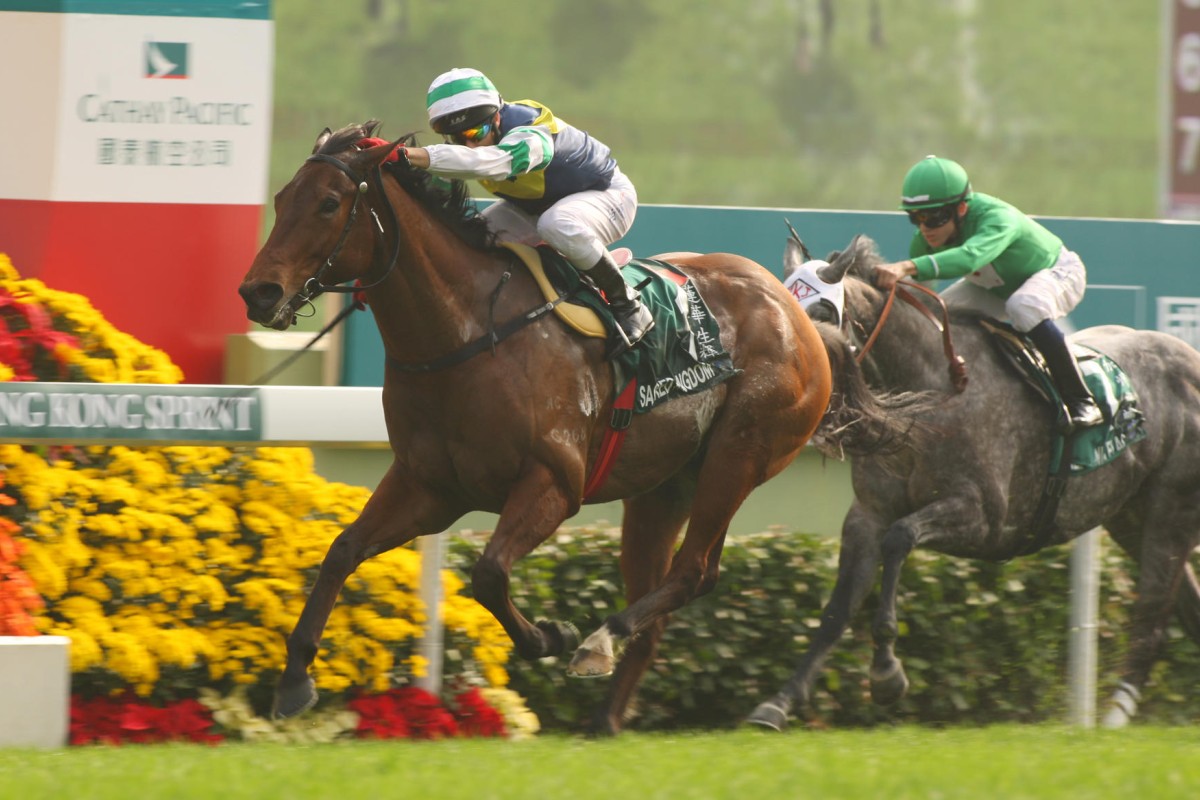 Whatever else happened when Chautauqua came out of the Longines Hong Kong Sprint, we were left with shifting tides and questions as far as the world's premium location for producing turf sprinters.
In Strathmore and Not Listenin'tome we were left with the only Australasian-bred runners in the race, the lowest roll-up in the history of the event as that group attempts to regain a race it dominated for so long.
Australasian-breds made up the field in the Hong Kong Sprint, often half or more, and, more to the point, they won
In the first running of the Sprint in 1999, just four of the runners were Australasian-breds but Australian-bred Fairy King Prawn prevailed and set in motion a path which continued unswervingly for more than a decade.
In increasing numbers, Australasian-breds made up the field in the Hong Kong Sprint, often half or more, and, more to the point, they won.
And, as the calendar year's final chance to make a claim on "world's best sprinter", the Hong Kong Sprint winner did often finish with that title if impressive enough at Sha Tin and the likes of Silent Witness, Absolute Champion and Sacred Kingdom certainly were that.
We're being a little generous and including New Zealand-breds, as many Australian stallions stand in that country, so there's a lot of the same gene pool involved.
If we left out Kiwi-breds, the group would lose only one Hong Kong Sprint winner, Aerovelocity, but losing the most recent winner would give the trend a stronger look - no Australian-bred winner since Sacred Kingdom in 2009.
J J The Jet Plane from South Africa, Irish-bred Lucky Nine and Japan's Lord Kanaloa preceded Aerovelocity's win over two Irish-breds and a Japanese mare.
And while there have been some excellent recent performances down under by sprinters, including a couple of terrific wins by Chautauqua, the freakish has been missing along with a real consistency.
Turf sprinting in Australia lately has become an international championship in the manner of the baseball World Series, with the "WBS" sash passed around by themselves and amongst themselves, and every time there's been a different Group One winner, a different hand went up.
In terms of world rankings, Chautauqua, even Lankan Rupee, is on top so there will continue to be a certain conceit in Australia about its production of sprinters.
But, with just two Sha Tin reps, the harder, more reality-based view of the betting markets is certainly going to be suggesting that a drought will continue for Australian-breds on Sunday week.
---
Locals stay clear of trouble on the track
Not entirely sure where this fits in, as a plus or minus or whatever, but what good lads the local jockeys are being this season. Racing stewards are not easily pleased so it is nice to report their pleasant surprise at how few suspension the local riders have incurred.
Up to meeting 23 in the three most recent seasons, the local jockeys have led in careless riding suspensions two of three years, but if you're into trends (seems to be a recurring column theme today) this season is the continuation of one not a new one.
In 2012-13 the local riders led 14 bans to nine at this stage over the expatriates. In 2013-14, it was only 10 to seven, but 12 months ago the expats held a slender "advantage" 13 to 12. That has been blown out of the water this term though, with only six of the 25 careless riding suspensions handed down to local jockeys.
Alas, a steward's life is fraught with both sides of the coin, though.
If Kim Kelly is happy about the local jockeys, then, of course, his smile is turned upside down when he ruminates on the rising number of careless riding bans for the expatriates.
So the rest of the season should be interesting in the room – in the past, when the local lads have led the suspensions early, the expats have done a sterling job of catching them and then leaving them in their dust as the season got more serious and the stakes were raised.
That doesn't augur well.
---
Turnover down, but should we worry about it now?
It is too early to go Chicken Little on the whole thing and declare the sky is falling in but there are concerning signs for betting turnover this season after six terms of uninterrupted growth.
After meeting 23, we now have a pari-mutuel total turnover that is lower than the season before at the same point and that's the first time that has happened since 2008-09. That was, perhaps not coincidentally, also the last season that turnover dipped, in the wake of the global financial crisis.
Since then, we've seen year-on-year percentage seasonal turnover rises of 12.99 per cent, 6.5, 7.1, 9.0, 8.5 and 5.95, and Jockey Club chief executive Winfried Engelbrecht-Bresges has spoken more than once of the unrealistic expectation that such rises continue for an indefinite period.
If there's a turning point, it seems to have been over the past month and the last three weekend meetings have driven the point home.
On November 14, the pari-mutuel handle was down by almost HK$150 million on a comparison meeting that included two dirt races. On Jockey Club Cup day, the drop was US$170 million and Sunday's Chevalier Cup card dropped almost HK$160 million year on year with the comparison fixture. That's HK$480 million in three successive cards, so it is a small sample but it isn't nothing.
In a strange paradox, turnover on foreign simulcasts seems to be still strengthening in the same period, with the Japan Cup hold on Sunday up around HK$3 million to HK$27 million on the lone overseas race.
Maybe the overseas product is looking more attractive, or at least competitive, at times?
Once again on Sunday, we had 25 horses over 100-1 from 134 runners at Sha Tin.