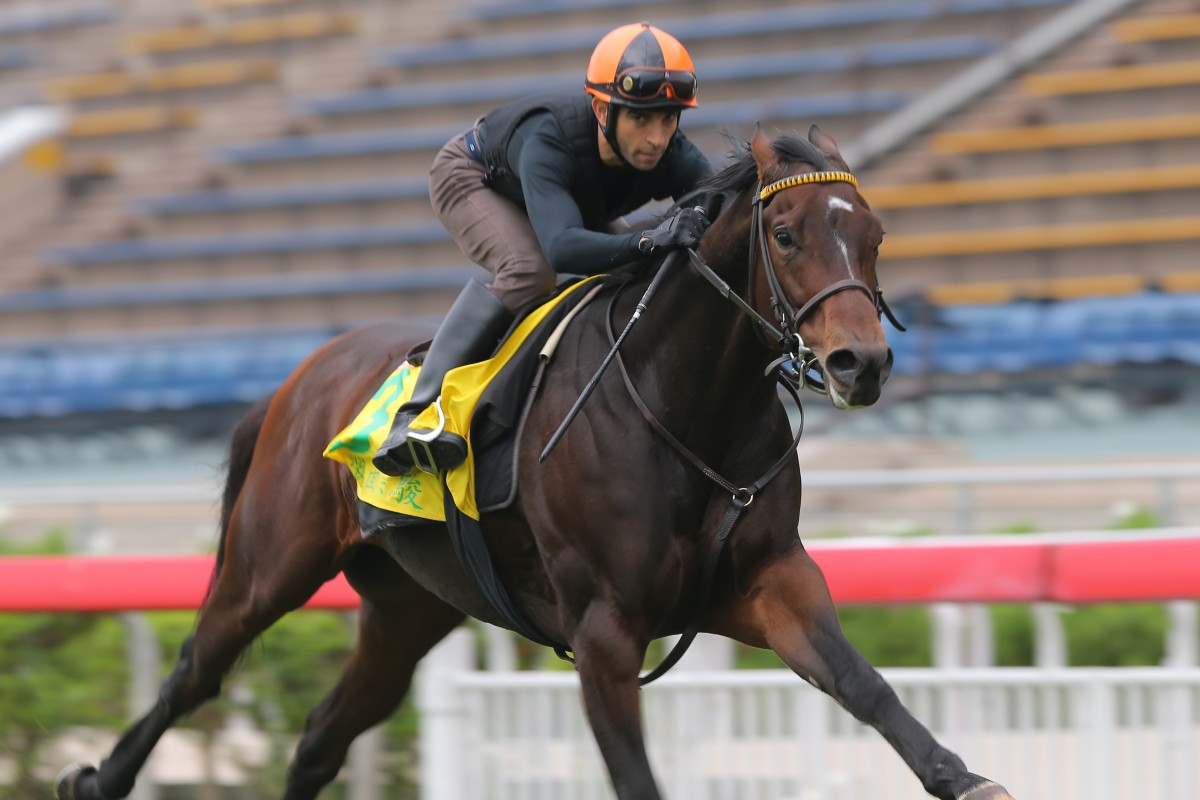 American sprinter Green Mask struggled with the unfamiliar surrounds when he was the first of the foreign raiders to step on to the Sha Tin turf for a track gallop ahead of next Sunday's Longines Hong Kong International Races.
I was warned before I got on him that he may stop. He tried to, but I gave him some whacks with the whip and he got going
Thirty of the world's best horses are scheduled to compete for HK$83 million in the four features on December 13 and Green Mask looms as a wild card in the HK$18.5m Hong Kong Sprint.
Jockey Joao Moreira will ride rival Peniaphobia on the big day but was doing a favour for a friend, Green Mask's trainer Wesley Ward, and rode the visitor in his workout.
"Wesley gave me some opportunities in the past so it's good to keep that relationship going. I hope they do well, but I still hope they run second to me," Moreira joked after some initial antics from Green Mask upon heading on to the track.
Hear what Joao Moreira had to say about American sprinter Green Mask's turf gallop at Sha Tin this morning pic.twitter.com/kzlHfKBCGy
— scmpRacingPost (@SCMPRacingPost) December 1, 2015
Green Mask needed some cajoling from Moreira to get moving, before taking the turn awkwardly and redeeming himself somewhat with a solid finish: "I was warned before I got on him that he may stop. He tried to, but I gave him some whacks with the whip and he got going."
READ: Our in-depth guide to all the HK Sprint runners
Green Mask comes off a third in the Breeders' Cup Turf Sprint but is relatively inexperienced and, crucially, has never raced on a clockwise turning track before.
"He seemed pretty green and doesn't know much about going this way, as he has been racing anti-clockwise and he came here to run clockwise. He changed his stride a little bit but I think that is normal for a horse first time in this environment. I think he galloped well enough," Moreira said after the four-year-old ran home in 48.1 seconds for his final 800m, including a solid 10.75 seconds for his final 200m.
Ward's travelling foreman, Mike Clark, was unperturbed by the gelding's unbalanced effort on the bend and said part of the reason for Green Mask's early arrival was to make room for two educational gallops.
"Of course he isn't used to going that way, but he will be right on the 13th," Clark said, adding that Ward would arrive early next week. "We wanted to get some experience for him and Wesley likes to get in early. That way, if anything goes wrong, you have time to get them better again. He will work one more time - probably next Monday."
Ward, a former champion jockey, has made a name for himself as a noted traveller of horses, particularly to Royal Ascot, where he had two winners this year.
In 2013, Ward flew Moreira to the US for rides, including a second in a Group One on subsequent Breeders' Cup winner Judy The Beauty at Gulfstream Park West, a second in a Group Three on the same horse at Churchill Downs and a long-priced winner at the same meeting.
"Wesley is a lovely guy, he trains well and is a real horseman," Moreira said. "He is one of those trainers that as a jockey you love to ride for - he just knows what it takes to win races."
Meanwhile, Hong Kong dirt star Gun Pit has arrived at Chukyo racecourse for this Sunday's Champions Cup after a week in quarantine in Tokyo.
Caspar Fownes-trained Gun Pit contests Sunday's Group One on dirt after an effortless Class One victory two weeks ago, and while Fownes was on hand to monitor the transition, he revealed his latest globetrotter would have a light week leading up to the race.
"He won't work fast while he is here," Fownes said. "He only ran a couple of weeks ago and he is very fit. His weight is good, so the main aim is to keep him happy and fresh."