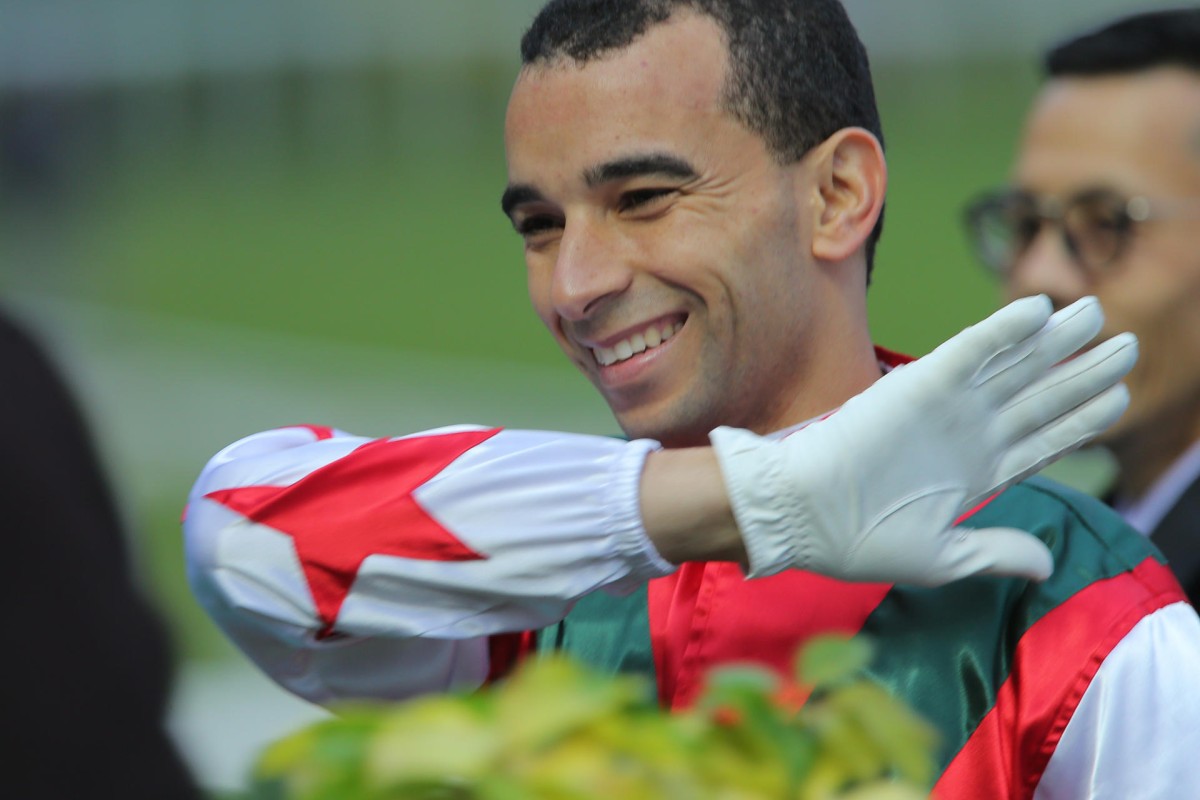 Joao Moreira remains on record-setting pace after he returned from suspension with a five-timer at Sha Tin yesterday, recording the fastest 50 wins in a season ever by a rider and in the process rendering the Jockey Challenge uncompetitive.
How many races did it take me to reach 50 last season?
Moreira hit win number 50 for the term with his third for the day, John Moore-trained Sure Peace, ensuring he passed the milestone almost a month ahead of the previous best set by Zac Purton, who reached his half-century during his championship-winning season on January 5, 2014.
Moreira's own record for wins in a season already seems under serious threat with just over a quarter of the season gone - and it seems the only person not keeping count of the extraordinary win tally is the Magic Man himself.
"How many races did it take me to reach 50 last season?" Moreira asked after wins on Easy Hedge, Who Else But You, Sure Peace, Dehere's The Love and So Fast took him to 52 from 25 meetings.
The answer to Moreira's question is January 10 and a total of 305 races to reach 50 in 2014-15, a season where he smashed Douglas Whyte's single season record of 115 and posted 145.
This season Moreira rode 50 from 229 races and 189 rides, more than a month ahead of when he hit the mark last term and with a blistering strike rate approaching 27 per cent.
"Is that so? I don't keep count, I just want to keep doing well. You never know what might happen and tomorrow I might not be doing well, so I want to keep the momentum going while I can," Moreira said. " Last season I had more suspensions, I've only had the one suspension this season. I've also been given a lot of great opportunities and want to keep making the most of them."
Zac Purton's absence ensured the Jockey Challenge was a one-act affair, Moreira notching 80 points as long odds-on favourite and his dominance seemingly resulting in a sharp dip in turnover on the fixed-odds bet. The Jockey Challenge held around HK$5 million yesterday, when on the same day last season it held HK$11 million, while on average it holds more than HK$10 million on most Sha Tin meetings.
Moreira had also been a direct beneficiary of Purton travelling to Japan by snaring the ride on Paul O'Sullivan's speedy international sale griffin Who Else But You, who made light work of a wide barrier on debut.
"He is a really nice horse and he has a really bright future here," Moreira said of the four-year-old son of Commands. "He is still very immature and he actually started sweating on the way to the gate. A horse that sweats like that on a day like today, when it is cool, they don't usually perform. I was just lucky Zac wasn't here. That horse would have won with anybody on board. He was fast out of the gates, they left me alone and he was able to just run away."
On Sure Peace, Moreira had a simple summation as the four-year-old made a winning return to the all-weather track.
"He hates grass and loves dirt," Moreira said. "He won very easily today. The gate helped him get a nice position but he was able to finish off very nicely."