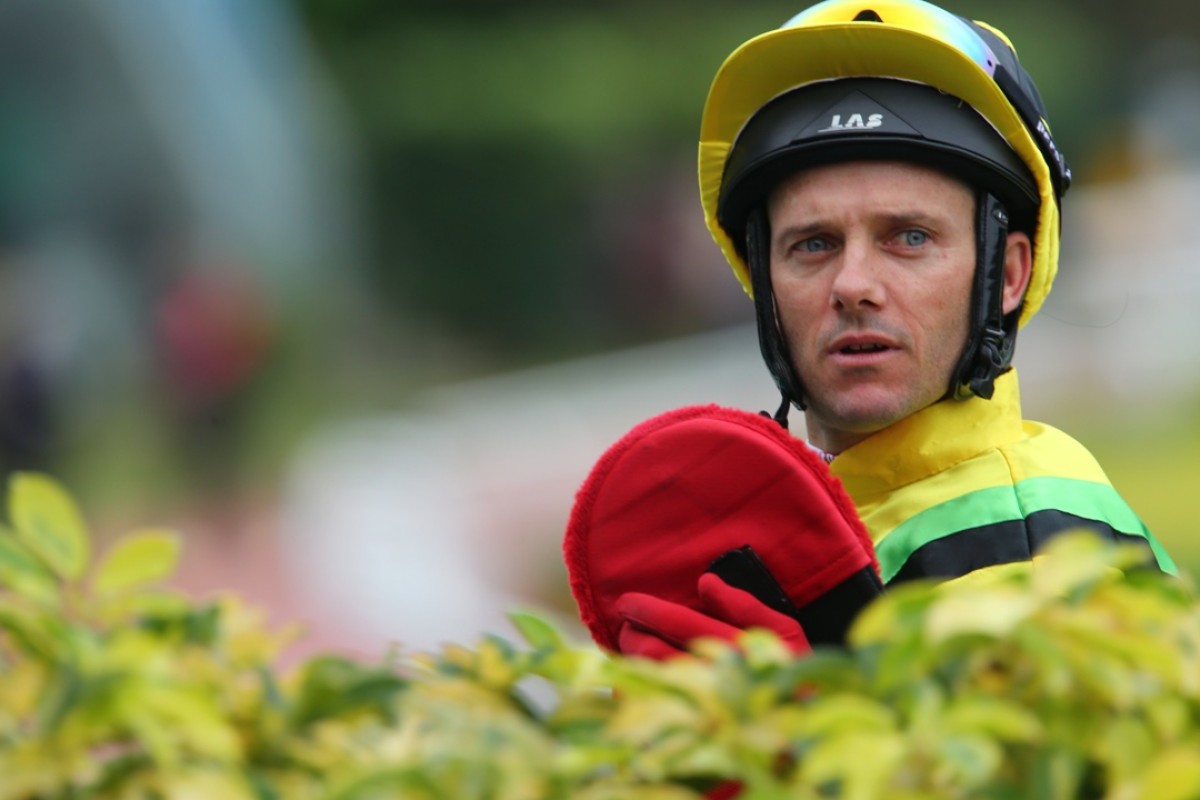 In-form jockey Brett Prebble is never short on confidence and his view of the Longines International Jockeys' Championship on Wednesday night at Happy Valley was short and simple after the allocation of rides: he'll win it.
Prebble moved to the head of the chasing pack a distance behind Joao Moreira in the season's championship with a double on Sunday at Sha Tin and was thrilled not only to draw some good rides but some good barriers too in his fourth run at the IJC.
His best finish was in 2000, when he and German rider Andrasch Starke won the first two legs of the then three-race series, and ran the quinella in the final leg as well as the competition overall, but the wrong way around for the Australian.
In 2010, he was particularly bullish about his chances after the draw of rides before finishing fourth to Ryan Moore, but that didn't stop Prebble exuding plenty of confidence after collecting the mounts on One Of A Kind, Strathearn, Jolly Posh and Ruby Coast on Monday.
"We all know what Happy Valley is like and you can get the right horse but the wrong barrier and it makes it hard, but I think I've pulled some horses with serious winning chances and three of them have drawn inside gates," he grinned. "I reckon I'm hard to beat."
Prebble's take was a change on the usual, but three-time IJC winner Douglas Whyte was going in the other direction, singing from his preferred hymn sheet.
"Someone will win it, but I don't think it's me," he said after Business As Usual, The Sylph, King Of Household and Winnam were allocated to the South African who rides, like Prebble, Joao Moreira and Derek Leung Ka-chun, under the Hong Kong flag.
Someone will win it, but I don't think it's me
But another South African, Gavin Lerena, having his first shot at the series, looked to be a real contender after picking up the rides, if not the barrier draws.
Lerena's first is a query mount, John Moore's dirt specialist Happy Moments switching to the Valley for the first time, but Noble De Man, Mr Right and Superoi all look frontline chances in the last three legs, though all have drawn the Chinese lucky number barrier, eight. Mr Right and Superoi will even carry the saddlecloth number eight.
But, in a field containing only Whyte, Moreira and Moore who have won the series previously, there were cases being made for a number of different riders, including American Pharoah's rider Victor Espinoza – second at his only previous appearance – and of course, Moreira.
The Magic Man pulled rides in the last two legs on which he already has a great record – Call Me Achiever, three rides for a win and two seconds, and Sparkling Sword, five rides for three wins.
Moreira was also allocated a likely improver in leg one, Entrusting. In the second leg he rides Valley winner, Addole, resuming for the season.
With jockeys scoring 12 points for a series leg win, six for second and four for third, winning a leg is an absolute must and having at least two good mounts looks essential to being a chance for the HK$500,000 first prize.
Since the series went to four legs in 2010 in an effort to prevent another triple dead-heat like the 2009 result, the magic number has been 24 points.
Ryan Moore (2010), Moreira (2012) and Yuichi Fukunaga (2014) all won with 24 points; 2011 winner Frankie Dettori (30) and 2013 winner Kerrin McEvoy (18) were the exceptions.
Japanese rider Keita Tosaki had a late change of mount in the final leg when Amazingly was withdrawn with an injury and replaced by Tony Millard-trained Golden Sleep.
That carried an omen with it as Millard provided Japan's Fukunaga with the title clinching victory on Vara Pearl.