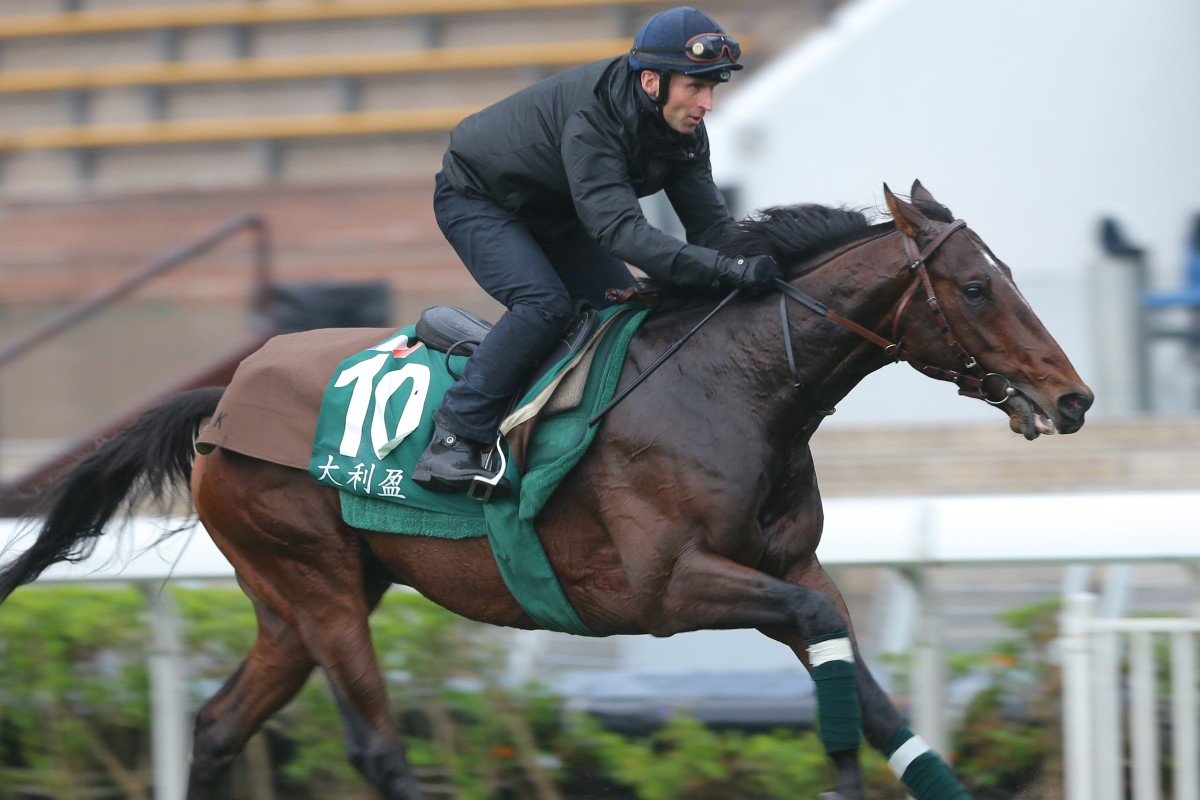 Behind the visiting horses at the 2015 Longines Hong Kong International Races, there are a number of delicious back stories, but none more so than Alain de Royer-Dupre-trained Vase entry, Dariyan, and fellow French stayer, the evergreen Cirrus Des Aigles.
In 2009, Cirrus Des Aigles was a three-year-old when he arrived in Hong Kong for the first time as a Vase entry, unheralded to a large extent and overlooked by many, with the thing that stood out in his form that he was having his 17th start for the calendar year - not something seen too often with the European horses.
The plan was actually to go to the Breeders' Cup with him and if he went there he probably would not be here
De Royer-Dupre was here too, with an unbeaten three-year-old filly for the Aga Khan, the veteran of just four starts, Daryakana, and told the Post in a preview story that she "could be a great filly - she is at a very good level, but how good, I don't think we really know yet".
The Frenchman had already been a regular for several years in December, had won the Cup with Pride in 2006 and knew the standards he was dealing with, so it was a comment that caught the attention and there was no shock when Gerald Mosse brought Daryakana late to win the Vase.
Behind her, Cirrus Des Aigles did a tremendous job, trapped wide off the track the whole way before a close fifth placing.
Since then, Cirrus Des Aigles has been to the top of the mountain to be rated the world's number one racehorse at one stage, and five more visits and four winless Hong Kong runs later in the 400m shorter Cup, he is back to try to win the 2,400m race as a nine-year-old.
And among those standing in the old boy's way is Daryakana's three-year-old son, Dariyan, who would become the first offspring of a Hong Kong international day winner to win a Hong Kong international if successful (although Cup winner Romanee Conti did produce Prince Golf, who won minor races here).
And it might not have happened had everything been straightforward with Dariyan following his most recent start at Deauville in August when second to French Derby winner New Bay in the Prix de Guillaume d'Ornano.
"The plan was actually to go to the Breeders' Cup with him and if he went there he probably would not be here," said de Royer-Dupre yesterday after the colt worked at Sha Tin. "But he got a cough, just immaturity, not much but enough to set him back and he had to have a break. Then when his form started to come up again, we looked at this race."
De Royer-Dupre has quietly become one of the most regular Hong Kong international visitors, if not the most frequent, with 18 starters before he missed the meeting last year for the first time since he began coming in 2004.
And with three wins from six starts, Dariyan is just the slow-burning type of young horse that the trainer has brought on most occasions.
"He is a very late-maturing horse, with a nice turn of foot who likes a flat track," he explained, although there are provisos to Dariyan's prospects.
"Maybe the 2,400m is probably the outside limit for him and so far, he has had two starts left handed for two wins so, perhaps, he is better that way around.
He was OK with it this morning right handed in his work - not impressive, but it was fine and he looks well.
"Of course, he has to improve to beat a horse like Flintshire, but I do think he's improving, so we'll see."
Meanwhile, Cirrus Des Aigles' trainer Corine Barande-Barbe arrived in time for the nine-year-old's work in steady rain and was happy with what she saw.
"We put him back in the longer race this time, things happen a little more slowly for him which suits him better now.
"He doesn't know his age, his mood is good. As for the future, we'll ask him what he thinks after the race," she said.
Who knows. Maybe a year or two from now, Cirrus will bump into Daryakana's next foal somewhere in a Group race if de Royer-Dupre is right about him: "He is a lovely horse, by Dansili, a two-year-old now called Darabad and I think he is a special horse - he's the hope of the yard for next year."