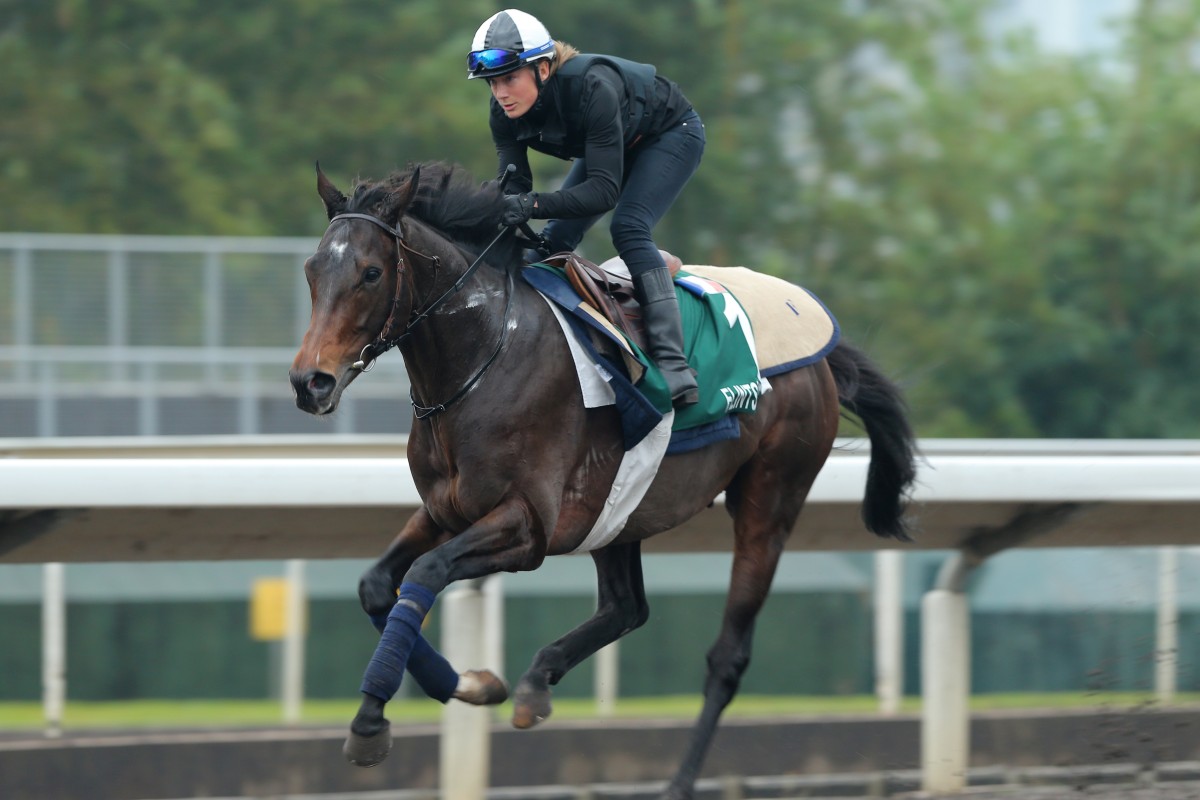 Since the day I found out that I would be going to Hong Kong for the Longines International Races, I've been building it up in my mind, imagining what it would be like and what kind of experience I would have. Since arriving, it has been everything my wildest dreams could fathom, and more.
People are attracted to horse racing for many different reasons. It could be for the betting, the exciting competition, the parties and friendships that accompany the races.
For me, the pure athleticism of the horses, combined with their impressive beauty and intelligence, was the hook.
One of my favourite things about the HKIR experience so far has been the morning works at Sha Tin racecourse, where members of the media have the opportunity to watch HKIR contenders in their element. It is here that I am most likely to look at a horse in front of me, perhaps not even having taken the time to see who it is yet, and say, "Wow."
.@PenelopePMiller is basically a ninja. Can't wait to see her awesome shots from works this morning #HKIR pic.twitter.com/usOdZwSTYu

— Acacia Courtney (@acacia_courtney) December 9, 2015
These moments - the ones that take your breath away - are the ones that are cemented in your memory forever.
On Tuesday and Wednesday morning, I stood at the rail at Sha Tin and, while I was busy tweeting along with my fellow members of the social media team, I also made sure to take a few moments to appreciate what was in front of me.
Back home, I work as a reporter and analyst for the Horse Racing Radio Network and my days at the track are spent analyzing, comparing, and thinking ahead so that I am prepared for every possible situation when interviewing owners, trainers and jockeys. Here, I am in a unique situation where I can form and share my opinions, but I can also let it soak in.
And I am so glad I can.
Placed my first quinella in Hong Kong! #HKIR #MakeItRain pic.twitter.com/tqjhuPVay5

— Acacia Courtney (@acacia_courtney) December 9, 2015
Hong Kong racing has amazed me at every turn. Every single detail, even ones that I had never thought about, has been contemplated. It truly seems that the Hong Kong Jockey Club has figured out how to spend money in the right places and make the racetrack experience the best it can possibly be at any level.
This is a constant task, and while one of the biggest obstacles for horse racing across the globe is attracting new fans, the environment in Hong Kong is one of hope for the future.
Humans respond to narratives, latching on to the stories that reach their emotions
Humans respond to narratives, latching on to the stories that reach their emotions. Each person's experience at the racetrack is unique. Standing on the track this morning at Sha Tin, I thought about the unexpected course of events that had brought me to that place, and how fortunate I was to be able to see the presentations made by these world class horses and their connections.
I think of horses like Cirrus Des Aigles, whose Hong Kong Vase bid this year will be his sixth in an HKIR race.
Or Able Friend, the Hong Kong Horse of the Year who will try again for the Hong Kong Mile.
Or Flintshire, who I watched win the Sword Dancer at Saratoga this summer, and who will defend his Hong Kong title here in the Vase.
Flintshire (FR) [Vase] defending champ. Also won G1 Sword Dancer & Arc 2nd place finisher behind Golden Horn #HKIR pic.twitter.com/WcMiPVjeIR

— Acacia Courtney (@acacia_courtney) December 9, 2015
These are the stories that I thought about over and over again in my head before embarking on this trip, and the ones I was so excited to see live in person.
This morning, a bay horse with a small star, green saddle towel, and white sock on his right front leg came out onto the track, his dark colouring contrasting with the vibrant green of the turf.
It was Flintshire.
He surveyed his surroundings, and for a moment locked his eyes with mine before I held my phone up to take a photo of him. And I said, "Wow."
In Hong Kong, the stories are limitless. And there are many more to come.
Acacia Courtney is a member of the Jockey Club's social media team for the Hong Kong International Races