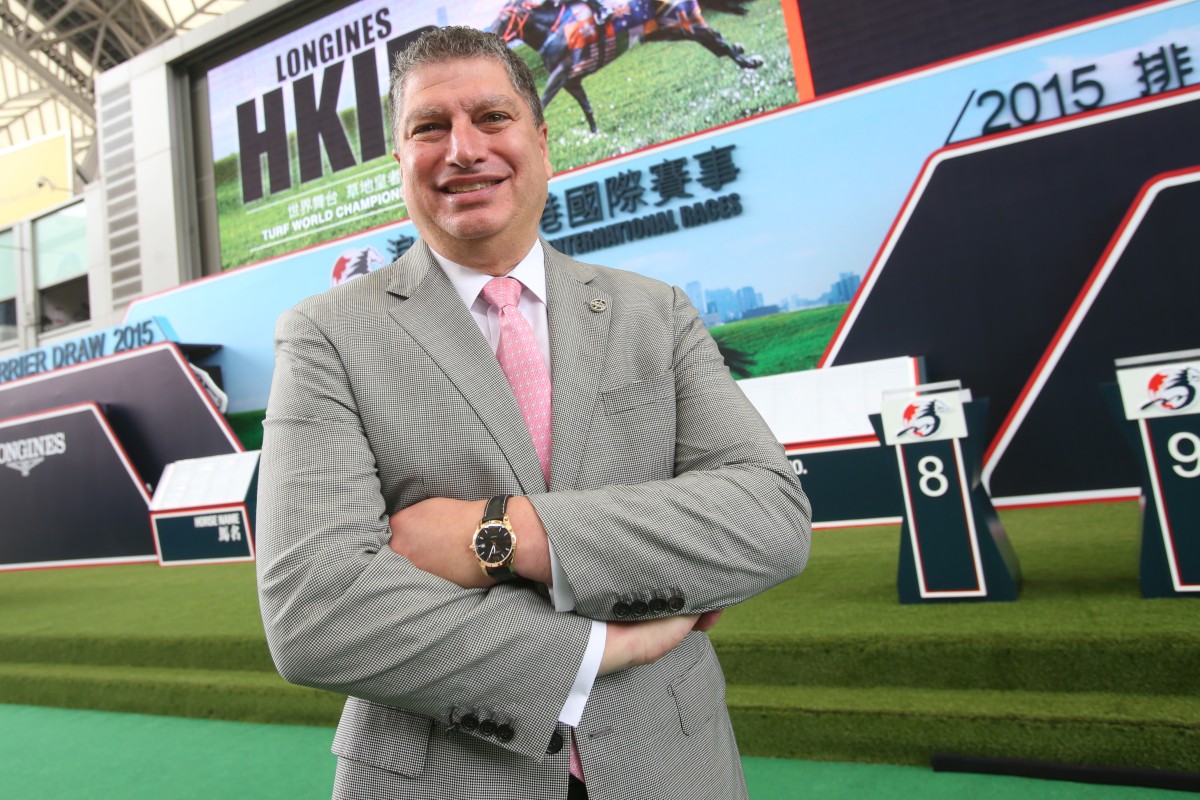 When Bill Nader started as executive director of racing at the Jockey Club in 2007, the four international features were watched by an insular fan base unfamiliar with the horses flown in from around the world, waiting instead for the next local handicap to have a bet.
Today, more than 70,000 fans will cheer a batch of hometown heroes that are better than ever, but more importantly, they will also bet with confidence on foreign raiders and star jockeys they have come to know and respect through simulcasts from all over the world.
It's not just about the calibre of the horse. It's the recognition of the local fans that makes it so satisfying
Of all the aspects of Nader's role, recruiting superstar horses for big races is his favourite, and the Longines Hong Kong International Races is his baby - one that has nevertheless caused some headaches and sleepless nights over the past nine years, as he tries to convince owners and trainers to bring horses to Sha Tin on the crammed global racing calendar.
This year, however, it appears as though the December showpiece may have come of age: 30 overseas horses made the trip to Sha Tin, with a record number rated 120 or more. They square off against a local contingent that has continued to grow in terms of international recognition under Nader's watch, and last year boasted eight of the top 50 horses in the world.
Nader doesn't hesitate when he labels the collection of equine talent "clearly the best ever" for an international day.
"But it's not just about the calibre of the horses," he says. "It's the recognition of the local fans that makes it so satisfying.
"When I first came in, in 2007, attendance was down on what should be our biggest day and the turnover on the four international races was the lowest for the day. People didn't fully appreciate the talent that was coming in from overseas, in terms of horses, trainers or jockeys.
"So getting that to pick up to where it is and to see the growth of the event has been something that I've enjoyed. This one has really come together.
"It is a meeting that ticks all the boxes. It is sponsored by Longines and, combined with the atmosphere on the day, it's very, very special. It was already great when I first came, but it is much greater now. It stacks up with one of the top three or top five race days in the world."
It is a meeting that ticks all the boxes. It is sponsored by Longines and, combined with the atmosphere on the day, it's very, very special
The man Nader replaced as racing boss, now chief executive Winfried Engelbrecht-Bresges, says the American's lasting impact would be the continued "internationalisation of Hong Kong racing".
"Hong Kong has become a global player and Bill has made tremendous contribution in that way," Engelbrecht-Bresges said, pointing out that Nader became chairman of the Asian Pattern Committee during his tenure, plus helped lobby the Home Affairs Bureau for more race days [from 78 to 83], extra opportunities to simulcast overseas races and finally, commingling.
"If you look at the number of Hong Kong horses in the international classifications compared to when he came, you can see the type of impact Bill has had. Also, Bill is about the nicest colleague you can find."
So why move now? Asked for a five-year commitment, Nader simply chose a more relaxed lifestyle and family over money and living in a city he loved from "day one".
"My first contract here was three years and my next contract was five - I was asked to do another five years, but I thought if I wasn't fully committed, I didn't want to do it. I want to spend some quality time back home with my daughter Martina, and sons Billy and Evan. Also my brother and mother, and extended family."
On Wednesday, Nader celebrated his 58th birthday at Happy Valley as he watched the International Jockeys' Championship, and next month the native Bostonian will return to his New York home and for the first time in more than 30 years "wake up and have nothing to do that day".
Nader deliberately avoids the word retirement, but says he is ready for a break after a demanding 20-plus years in high-pressure management roles - including 14 as chief operating officer of the New York Racing Association tracks.
"I am going to go back, slow down and pick up a hobby. I am going to take a little bit of time and just give myself a bit of a test to see how that feels."
One thing is for sure, whatever he does, Nader will sleep better knowing his Blackberry won't be buzzing at 3am with a message from the man they call EB.
"He has an amazing work ethic, is extremely passionate and driven," Nader said of his soon-to-be ex-boss. "Winfried has overseen some tremendous success over the last decade and he is a real hands-on operator.
"We've worked well together. We have different styles, but we've been working towards the same outcome. I've enjoyed it, but he has messed up my sleep patterns - when I first came here I was relatively normal.
"I am always kind of jumpy now, I don't know if that will correct when I leave here or not."
Nader's former duties will now be split.
Andrew Harding, already at the club and secretary-general of the Asian Racing Federation, fills the newly created role of director of racing authority, while fresh face Tony Kelly arrives as the more like-for-like replacement for Nader and has been given the title of executive director, racing business and operations.
With that role Kelly has also been handed responsibility for completion of the long-delayed Conghua training centre project.
"The biggest challenge for the club is to get Conghua open and deliver on that promise: that it is going to be a state-of-the-art facility and a great place to train horses," Nader said.
"When that happens it will be the biggest single moment in the club's history. If the club can find new racing opportunities, that could unlock the door to increasing the horse population."
Nader returns to his home country with the sport at perhaps its lowest ebb there, although the flurry of excitement and added attention American Pharaoh's Triple Crown garnered with the general public gives him some hope for the future.
"This year it there was a bright light with American Pharaoh and the Triple Crown, but unless we have a great horse like him or Zenyatta, then otherwise it is very flat - and that is the biggest difference between racing here and home, is that there is never a day in Hong Kong when racing is not relevant to the general population," Nader said.
"There are so many days in the US where it just isn't like that, and compared to Hong Kong it is very unattractive - compare it to the model here, it's night and day, this is the best in the world."
Above all, what Nader will miss most about his job at the Jockey Club is the city itself.
"I am going to miss the Jockey Club, I am going to miss the racing but I am going to miss this city terribly. I loved it from day one."