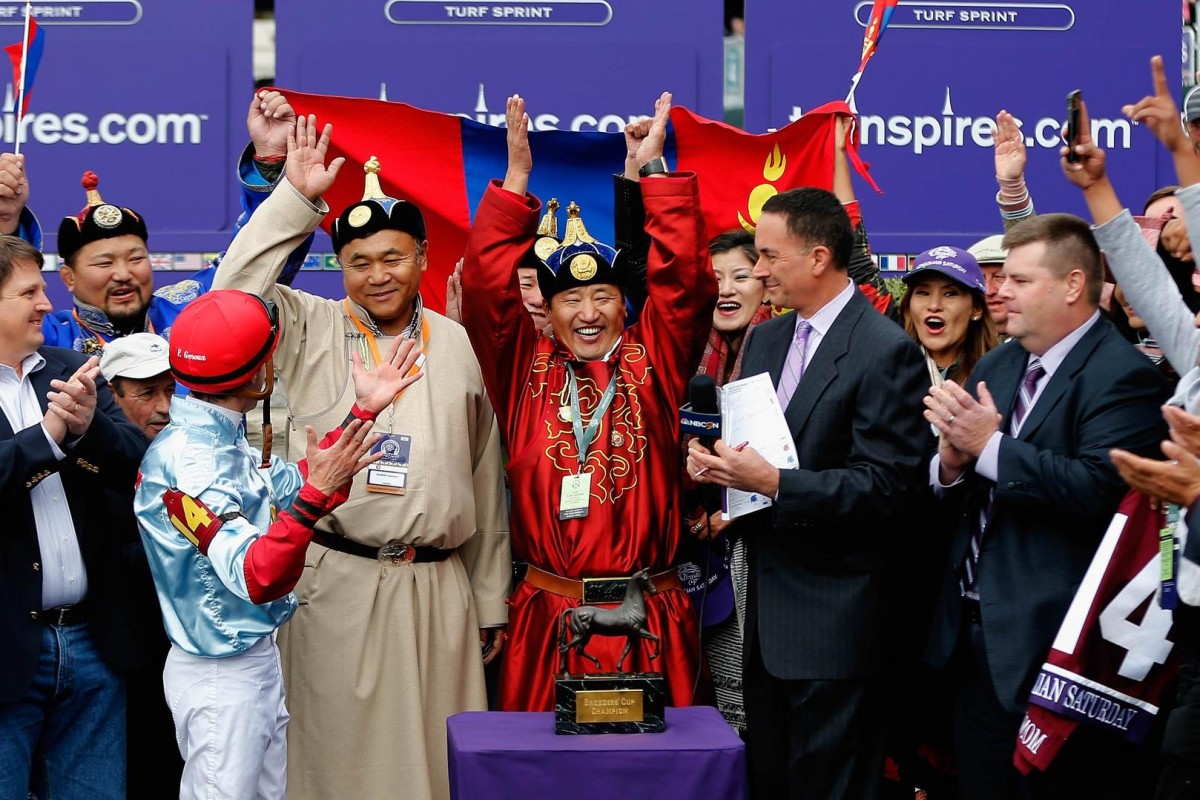 As a brisk wind whips across Sha Tin racecourse on an unseasonably cold morning at trackwork, trainer Ganbat Enebish pauses, places his hands together and prays as he looks up to the surrounding mountains, the slowly clearing mist revealing Ma On Shan peak.
We are Mongolians, we grow up with horses. But when we started out, we worked horses too hard
"In Mongolia, we always pray to mountains," he says. "And these are beautiful mountains. I love these mountains, so I give thanks for letting us come here to race."
It could easily have been mistaken for a prayer of thanks to the racing gods, an expression of gratitude to whatever heavenly forces that could have delivered the turn of events that brought Ganbat to Sha Tin as trainer of Longines Hong Kong Sprint entrant Mongolian Saturday.
From trainer of Mongolian racing ponies to a Grade One-winning handler of thoroughbreds within five years is extraordinary enough. But taking a Breeders' Cup race, from a stable of 12 horses?
It is an unheard rise to fame in a cut-throat industry, yet the only surprise for Ganbat and owner Ganbaatar Dagvadorj isn't that success came so soon, it's that it took so long.
"We thought we could do it in one year, easily," Ganbat said. "We are Mongolians, we grow up with horses. But when we started out, we worked horses too hard. We had to learn to feed right - there were many things we got wrong, everything was new."
American Pharoah's victory at Keeneland last month may have been the biggest story of the Breeders' Cup, but Mongolian Saturday's upset result in the Turf Sprint provided much-needed colour for a sport crying out for diversity and new heroes.
The Mongolian members of the horse's eight-person entourage - dubbed Team Mongolia - turned up to the post-race press conference decked out in their "deel", the colourful national dress.
Donned in traditional silk robes and hats, they wowed the press with their tale of two Mongolian horse lovers looking to strike it rich in this new high-stakes world, the American dream realised.
"Before the race people thought we were dressed for Halloween," Ganbat says. "But after the race people knew who we were, but still I think they were more excited for the exotic Mongolian garb than the win."
Asked if he and Ganbaatar will dress up for a photo shoot for the Post, pre-race, Ganbat laughs. "It takes time to put that stuff on, you know, you will have to wait until Sunday."
So it is that Team Mongolia will light up Sha Tin on Sunday at a meeting that surely must now rank as the most multicultural in world racing.
Back at the hotel after trackwork, Ganbat tucks into a plate from the hotel's lunch buffet: "In Mongolia we eat mostly meat," the heavyset 58-year-old says between mouthfuls - as if the vegetable free-selection piled on the plate isn't enough evidence.
He recalls the remarkable path that took him from "city boy" growing up in Ulaanbaatar during the time of Soviet rule, to university engineering student in Moscow and to bored desk-bound office worker. Then the final twist: Grade One-winning horse trainer.
Engineering was too boring for me, every day the same thing. I worked at a power station for eight years. Why I left engineering? I wanted more adventure
"Engineering was too boring for me, every day the same thing. I worked at a power station for eight years. Why I left engineering? I wanted more adventure," he says.
Riding and living with horses is deeply etched into a Monglian's DNA - even for a city boy like Ganbat.
They say a Mongolian without a horse is like a bird without wings. Famously, there are more horses in Mongolia than people, and most Mongolians would rather be on horseback than walk. Then there is horse milk and horse meat, commonly consumed in Mongolia and neighbouring Kazakhstan and Kyrgyzstan.
"Yes, I enjoy horse meat," Ganbat says, unashamedly, a quote that is almost certainly also a first for a Grade One-winning horse trainer.
After perestroika and the subsequent independence of Mongolia, Ganbat broke away from his office existence and worked as a guide for western hunters in the wilds of northern Mongolia, camping in yurts and chasing wild goats and ibex.
"I didn't like the animals being killed, I am an animal lover, but it gave me a chance to study them, to watch and learn how they are in the wild.
"I had always loved animals, ever since I was a child, and I had an auntie who had a farm and we would spend all summer there riding horses when I was growing up."
Soon that passion for animals, and particularly horses, brought him to racing - of the Mongolian kind.
Mongolian horses are nothing like thoroughbreds in size or style, but are especially different in temperament. A thoroughbred might be flighty and hard to handle at times, but native Mongolian horses are often recalcitrant, sometimes even savage little beasts, still allowed to roam virtually wild. There are no "stud farms" and individual horses don't have names, just "Ganbat's brown horse".
We let the stallions fight among themselves for the mares, like men fighting over women
"We let the stallions fight among themselves for the mares, like men fighting over women," he says.
Nevertheless, Mongolian horses are blessed with remarkable endurance capabilities "Geldings go 25 kilometres out to the start, then race 25 kilometres back, stallions a little less, three-year-olds 18km, two-year-olds 15km, and for yearlings, 12km," he says.
So they walk to the start and then race back? "No, not walk to the start, jog."
Ganbat pulls out his smartphone and shows a video of a race at Mongolia's biggest traditional festival, Naadam, held in Inner Mongolia each July, where horse riding is one of the "three games of men", along with Mongolian wrestling and archery.
As many as a thousand horses gather behind a starting screen, before it drops dramatically and the herd charge across the arid terrain of the steppe on the outskirts of the Gobi desert, a cloud of dust behind, child jockeys urging their mounts with what seems little thought for the distance ahead.
It is an awe-inspiring sight, even when viewed on a small screen.
"It's like an army charging into battle, you must come to see this, it is amazing," he says.
"There can be thousands of starters and one winner - it's for love not money. First prize might be a Russian four-wheel drive or something like that."
This is the world where Ganbat met Ganbaatar - himself a fifth-generation horse breeder and entrepreneur with wide and varied business interests including construction, mining, food, distilleries and oil - to name a few - as well as Mongolian franchise rights to Ramada and Holiday Inn hotels and fast food outlet Burger King.
The pair saw what they thought was the "big money" on offer in the west, made some fact-finding missions over the course of a decade to Japan, France and Australia before settling on the US - "because it was easiest to get a licence to train" - and started buying horses.
The way Ganbat describes it, Mongolia could be an untapped gold mine of horse training talent. "Yes there are many trainers better than me there. But they don't speak English and they don't want to move. They like life in Mongolia - the simple life."
Ganbat may not have been a star trainer, but claims he was more an innovator - breeding thoroughbred and quarter-horses with Mongolian horses to create a faster animal, a practice that has caused a degree of controversy within the relatively unregulated sport.
Once, with as much as 2,000km to travel to one of the big events of Naadam, Ganbat says he also helped pioneer air travel for Mongolian horses, chartering a cargo plane to fly his charges to the festival - and again challenging traditional aspects of the sport.
Use of child jockeys in Mongolian racing, as awkward to western sensibilities as it might be, is just a way of life - like eating horse meat.
"Children who live outside the cities have to learn to ride before they can walk. They have to be able to ride. It is how people get places, how work is done. If you can't ride, you can't work - you need to ride for life."
Ganbat's "PC-free" and almost innocent perspective also provides a wonderfully unfiltered take on the sport's most divisive topic in the US, and perhaps the world: use of the diuretic Lasix, which is banned for in-competition use outside of North America.
North America has in some respects cut itself off competitively with the rest of the racing world because of the use of the agent, which is used primarily to stop horses suffering a condition called exercise induced pulmonary haemorrhaging, or bleeding in the lungs, but is now used by more than 90 per cent of horses in races.
Critics have campaigned for its phasing out, while trainers and veterinarians, many with a vested financial interest in maintaining the status quo, argue just as vehemently for its widespread use.
Ganbat no longer uses Lasix, in part because of his experiences when Mongolian Saturday ran on the drug at his first 11 starts.
"My horses won't run on it, I hate Lasix," he says.
Ganbat's home track in the winter months, Gulfstream Park, has brought in some Lasix-free two-year-old races.
I gave Lasix to Mongolian Saturday, and all the horse does is pee before the race and, to me, it was like he was dying, he was just dehydrated
"I support that 100 per cent. I gave Lasix to Mongolian Saturday, and all the horse does is pee before the race and, to me, it was like he was dying, he was just dehydrated."
Then there is organised racing, with gambling, in mainland China - that rainbow of hope for racing that seems to return on a roundabout year after year, but spends decades going nowhere.
"They should change the gambling laws … if China decide to do something they always want the best result.
"I think the government would invest a lot of money in the horse racing industry. Look at the Olympic Games, 20 years ago, what were China doing? Now China have the best sportsmen. They could do the same thing with horse racing."
Ganbat and Ganbaatar are in the market for more horses, but first they must get more boxes to train out of, mainly where they are based during summer at Arlington Park, Chicago.
"Once you start participating in this sport, you never give up, so we will try our best to buy more," Ganbaatar said via a translator at trackwork. "To participate in a world-class competition like this was our dream."
Now ironically, heading into the HK$18.5 million feature on Sunday, the trainer of horses who ran marathons says the biggest question mark over his first runner in Hong Kong is stamina.
"Five furlongs (1,000m) is his best distance - maybe he will get tired at the end of this race because it is 1,200m," Ganbat says.
Told the Al Quoz Sprint in Dubai is run over 1,000m, in March, he asks: "How much money is that worth?
"US$1 million."
"I love the sound of this race, we should go."
Sounds like this story is just getting started.