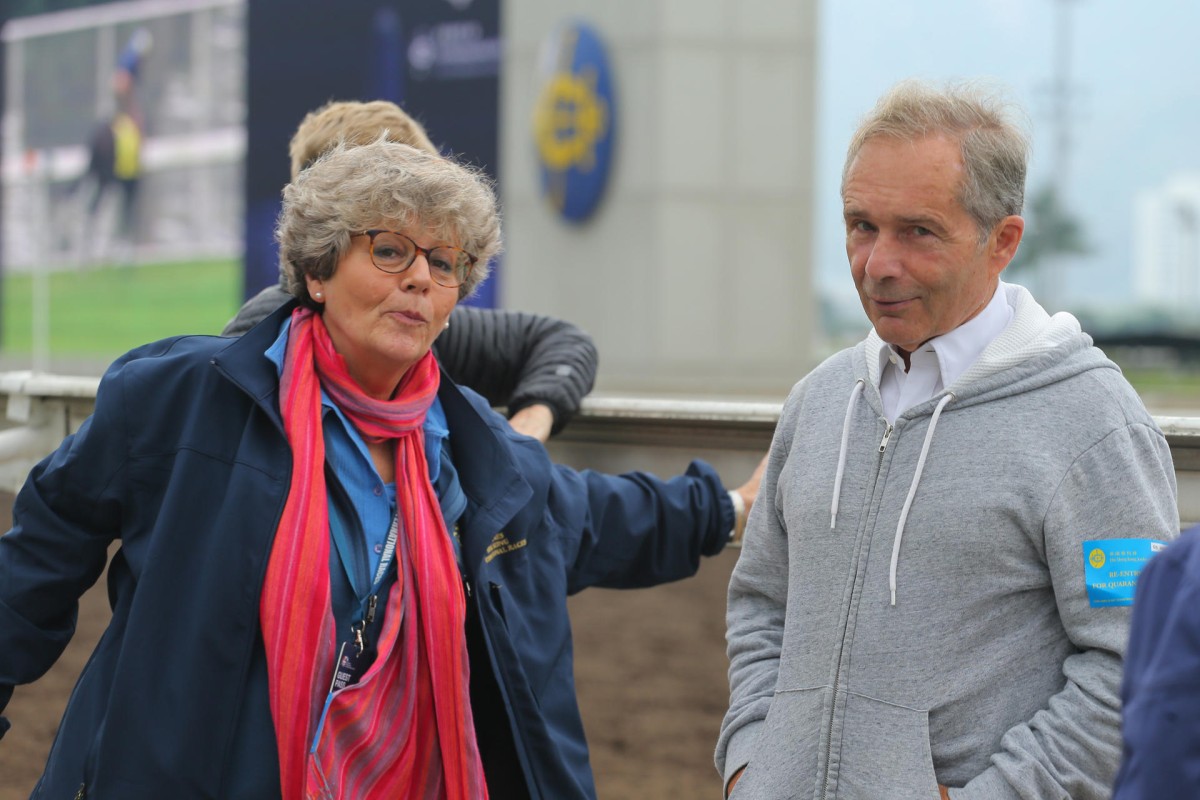 Just the presence of Andre Fabre at Sha Tin on Sunday can be read as a statement that the Longines Hong Kong International Races have made it to the top, but the legendary French trainer himself says there is still another step - one being actively addressed by Hong Kong and even by Japan.
Fabre, four days into his 71st year, rates as one of the sport's all time greats. He won the Vase with his first HKIR runner in 1999, Borgia, and with his latest, Flintshire, who returns a year later trying to repeat the dose and with some confidence from the yard, which also has Esoterique in the Mile.
This time, I was curious to see Hong Kong. This meeting has become really one of the highlights of the autumn, so I have come to see what it's all about
In all, Fabre has sent 11 runners to nine different international days at Sha Tin, but this time he is here instead of undertaking his preferred December pastime - playing polo in Argentina.
"Yes, it's my first time. Usually it clashes with my holidays," said the quietly spoken Fabre after causing a few double takes by appearing at the track on Thursday. "This time, I was curious to see Hong Kong. This meeting has become really one of the highlights of the autumn, so I have come to see what it's all about."
The international meeting has its beginnings in restricted invitation events in 1988, but Fabre's period of involvement virtually tracks the rise from Group One curiosity to serious standing.
But Fabre believes the meeting will not join the likes of the Arc or Royal Ascot until it has a greater impact at racing's absolute grass-roots level - the breeding world.
"It's a great race meeting - good horses, good jockeys, good money, a beautiful racecourse - but so far I think there is still another step to do," Fabre said. "Until it is important for the value of stallions and mares, it will be a bit below the real first-class meetings."
Jockey Club chief executive Winfried Engelbrecht-Bresges says that step to justifying the club's branding of the day as the "turf world championships" is happening.
"M. Fabre is correct to some extent, but it is something that we identified some time ago as a necessary direction if we are to lift the Longines meeting to its ultimate level," Engelbrecht-Bresges responded. "First we had to have the biggest breeders running horses here. We have long had support from Sheikh Mohammed and Godolphin, and from the Aga Khan and the Yoshida family, but, in the last 10 to 12 years, as the meeting has risen, we have seen interest from Coolmore, Khalid Abdullah, the Niarchos family, and now Pearl Bloodstock and Qatar Racing, amongst others."
Getting these big breeding names to have runners is one thing, the real hurdle concerns whether Hong Kong can add stud value and attract the best of their colour bearers.
"If you look this year, we have Chris Waller and David Hayes saying good performances here are important for the future stud careers of Preferment and Criterion, and I think Highland Reel may be looking for a similar kind of boost for Coolmore," he said. "Stud values aren't only about Europe or the northern hemisphere, but shuttle stallions. If we have people looking to perform well here to advertise these stallions for a stud career in Australia or New Zealand then I believe that's the start."
The Japanese visitors, again here in huge numbers, are also looking to advance a branding exercise that ties in with Hong Kong's aims, with trainer Yasutoshi Ikee saying owner-breeders in his country want their horses to be as recognisable and familiar to the world as other famous Japanese exports.
"Panasonic or Toyota are recognised and respected throughout the world as high-quality brands, and I believe Japanese horses are also of that quality," he said. "We want people to come to our sales and buy the progeny of fantastic horses like Deep Impact and Orfevre, and we want them to be respected as world sires."
Sha Tin has been a significant stage for Japan's fantastic horses. Last Thursday marked exactly 20 years since Masayoshi Ebina - he rides Danon Platina today - piloted Hideyuki Mori-trained Fujiama Kenzan to Japan's first foreign Group win in the Cup.
Six years later, it was also one of Japanese racing's breakthrough moments, landing three of the four Sha Tin events, including Vase winner Stay Gold trained by Ikee's father, Yasuo, although Ikee senior is rather more famous for Deep Impact.
This year, barring any misfortune, a record 10 will go to the post and Ikee, who saddles Satono Aladdin in the Cup, says it will become standard.
"Japan is recognised as having good horses and a strong industry, but it is still surprising to see the low numbers of overseas buyers that come to Japanese sales compared to major sales in Australia or England or America," he says. "We want to attract those buyers by showing how good our horses are on the world stage."