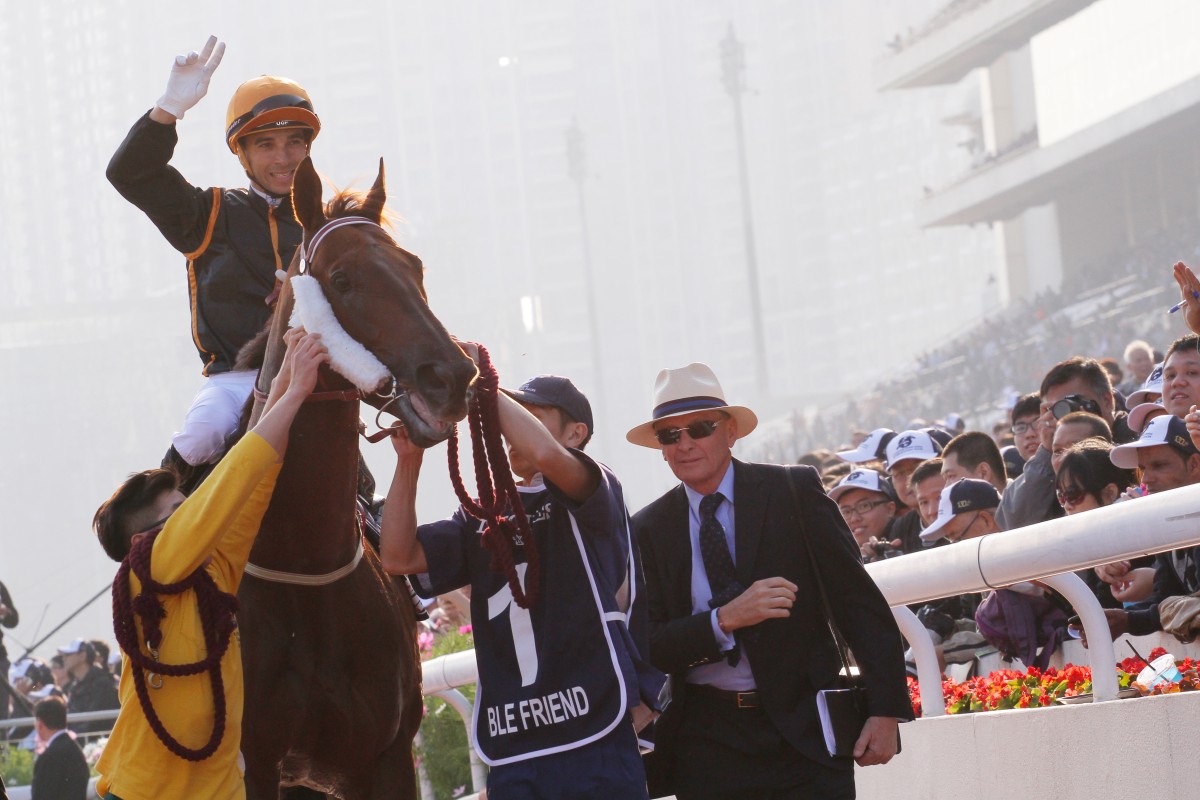 Able Friend up against Maurice, a battle of wits between jockeys Joao Moreira and Ryan Moore and the pride of Hong Kong up against the might of Japan – the Longines Hong Kong Mile (1,600m) match-up between the two premier horses in the division promises to be a clash for the ages.
Home field advantage might be the deciding factor that swings the result in Able Friend's favour as the 'Beast from the East' faces Japan's new hero, Maurice, the winner of five-from-five this season, including the country's two biggest mile races at his last two starts.
A lot has been made of Able Friend's loss in the Jockey Club Mile, with theories that the apparently flat third was a case of second-up syndrome, that the track played to leaders and even some questioning Moreira's navigation as he sought to ride for luck. Perhaps it was some combination of the three.
But here's another theory to consider: perhaps Able Friend wasn't even that bad last start, and while we are at it, maybe his blistering first-up score in the 1,200m Premier Bowl wasn't as good as it looked, either.
There's little doubt that the suicidal pace set by the leaders not only flattered Able Friend first-up in the Premier Bowl, but probably allowed the big gelding his only hope of winning. The "wow factor" of the last-to-first burst raised expectations and when Able Friend was unable to run down Beauty Flame and Contentment in the Jockey Club Mile, there was disappointment all round.
Perhaps Able Friend wasn't even that bad last start, and ... maybe his blistering first-up score in the 1,200m Premier Bowl wasn't as good as it looked, either
Yet a closer look and comparison of the sectional times suggests Able Friend didn't run too far below his best last start, and was almost certainly disadvantaged by coming from the tail in a race where two horses that sat up handy in the run were the first two home.
Maurice presents as Able Friend's most imposing rival, at least on home soil, since South African star Variety Club gave him a walloping in the 2014 Champions Mile.
Able Friend has grown into a bigger and badder version of himself since then, but Maurice has the look of a truly world-class competitor in the making. But as a four-year-old, with just 12 starts behind him and on his first trip away, is Maurice as seasoned as John Moore's superstar, who appears to be in his prime?
Adding to the mano-a-mano feel is the fact the two favourites drew alongside each other – and wide, too, from where most of the recent winners have come from in this race.
Even stretching right back to Japan's last Mile winner, Hat Trick in 2005 – also the last international to steal the race – winners have come from wide and deep, horses like Good Ba Ba, Glorious Days and Ambitious Dragon and others peeling off into the straight with wide, late runs.
Able Friend will jump from 10, one inside of his main rival, which might give Moore on Maurice the upper hand. Both horses are likely to drop back – with Able Friend that seems a given, although Maurice sat handy when winning the Yasuda Kinen two starts back.
It would seem more likely, though, that Moore will be back midfield or worse looking for cover and a trail into the race, and it is even possible that the two top picks will find themselves side-by-side.
If they do, Moreira won't want to spend too much of his mount's energy keeping Maurice wide, but Moore will have his rival right where he wants him on his inside, forcing Moreira to take inside runs again – not particularly ideal on a big striding horse weighing close to 1,300 pounds.
Contentment drawing to the outside of these two in gate 12 should guarantee that any prospective leaders – of which there will be a few – are kept honest, with jockey Nash Rawiller likely to take up the running if he gets a chance.