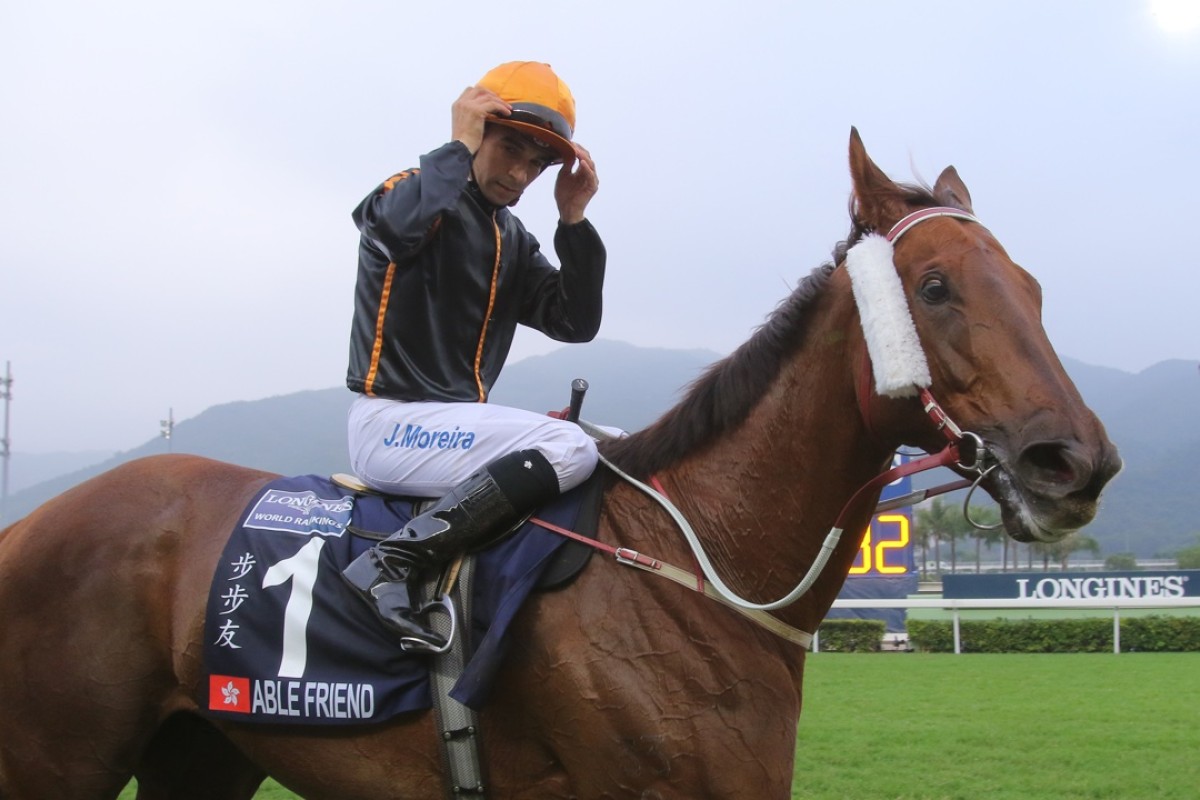 The Jockey Club vets faced a difficult, perhaps thankless task in examining Able Friend before a Longines Hong Kong Mile run on Sunday that was clearly affected by his sore foot but at least had their record upon which to fall back.
A pulse in a foot due to a shoeing error sounds like one of the last things any horse needs before taking on an A-grade mile field and the discomfort of everyone from vets to punters to officials is only exacerbated by the fact that the horse is a public idol and, turned out in pristine condition, would comfortably justify his odds-on favouritism.
We've no doubt that the foot problem was the difference for Able Friend on Sunday, because every other indication was that the Able Friend we know did turn up
Back in evidence again was that little move at the 400m when Able Friend tows Joao Moreira into the fray in a couple of strides even before he has been asked to go. The same thought must have occurred to Ryan Moore on Maurice, too, judging by his comment to Moreira as Able Friend went past.
But as soon as Moreira asked him to stretch and go clear, Able Friend wobbled uncharacteristically to the left and the engine stalled. We did not see the Able Friend we wanted to see - the Able Friend who was 1.7 favourite.
That's not to take anything from Maurice and it was interesting to note post-race that Moore commented that he thought the horse ran below his Kyoto win. The trainer has since made similar comments in the press since returning to Japan, suggesting the horse was flat after having five months off before Kyoto then only three weeks to Hong Kong.
Able Friend probably ran just below what he did in the Jockey Club Mile and we're of the view that the foot was to blame, but many will ask if he should have started?
He earned connections $2.3 million running third, was beaten less than a length at the finish and it was one of those little things he might have got away with another time.
It would be nice to think that equine athletes were in perfect condition every time they ran but it would be nonsense, just as it is with human sports people. Unlike humans, equine athletes aren't able to take a pain killing jab (in most places anyway) but it doesn't mean they don't carry issues.
The great Australian horse of the 1970s and 80s, Kingston Town was barely sound a single day of his life after his three-year-old career but raced on for more than two years after it and continued to collect big races, including three Cox Plates.
Black Caviar scraped home at Royal Ascot when, in other circumstances, she might not have run, and down through the years there have been many champions who won in that same scenario, and some who didn't. More often than not, the truth never did come out.
In Hong Kong we are both fortunate and fraught at the information flow we have (even if there are a few 'whitish' lies at international time about how some of the overseas runners are doing.)
Knowing that Able Friend had this injury cloud over him equipped punters to better decide whether the risks at those odds did or did not lie only in the race as a contest; to choose to bet him at their peril or bypass him, ditto.
At recent international meetings, Jockey Club vets have taken horses out of races at the eleventh hour and also passed some like Vision D'Etat and Ambitious Dragon only hours before their wins. No doubt the line is extremely fine and not every story is going to end perfectly, and Able Friend did not but it doesn't mean it was wrong to let him run.
---
Moore deserves praise as he got the job done in the end
Intertwined with praise for jockey Ryan Moore's brilliant IJC and HKIR performances is the question of how much of him we will actually see when he rides here next month.
A four-day stretch and a fine at Happy Valley and then another four days on Sunday is a fair haul for anyone in two meetings. They were the second and third careless riding penalties from Moore's 86 rides here, although they should have been bans three and four had the rules been strictly applied to his Redwood Baby ride at the IJC in 2013.
In the Hong Kong Mile, one issue for Moore on Maurice was the difficult barrier eleven for a horse which does not go all the way forward or all the way back. Yes, he deserves praise for overcoming it - though simply barging Able Friend out of the way wasn't the "clever" piece of riding we were looking for. That didn't take a champion's skill but, fair's fair, he won the race.
In a major event, coming back with a hard luck story runs a distant second to doing what it takes to get the result and it's a factor which stands the greatest big race jockeys apart, so we can't tsk tsk too much. (Lesson for young jockeys - Moore has won the race on all three occasions he has been suspended in Hong Kong, so he didn't do things lightly.)
Holding up Sunday's trophy, or seeing the cheque clear, Moore is going to feel pretty comfortable with his actions but other suspensions have come in Class Three and Four, and will an end-justifies-the-means policy be as sound in the lesser races that will make up most of his rides as a club jockey? Moore is here for 12 meetings from January 17 until the end of February, so it won't take too much time suspended to make a hole in that.
While on matters of safety, there was a fair whiff of I told you so coming out of the jockeys' room after Kei Chiong Ka-kei clipped heels near the line on Sunday and finished with fractured fingers. Is she ready for Happy Valley?