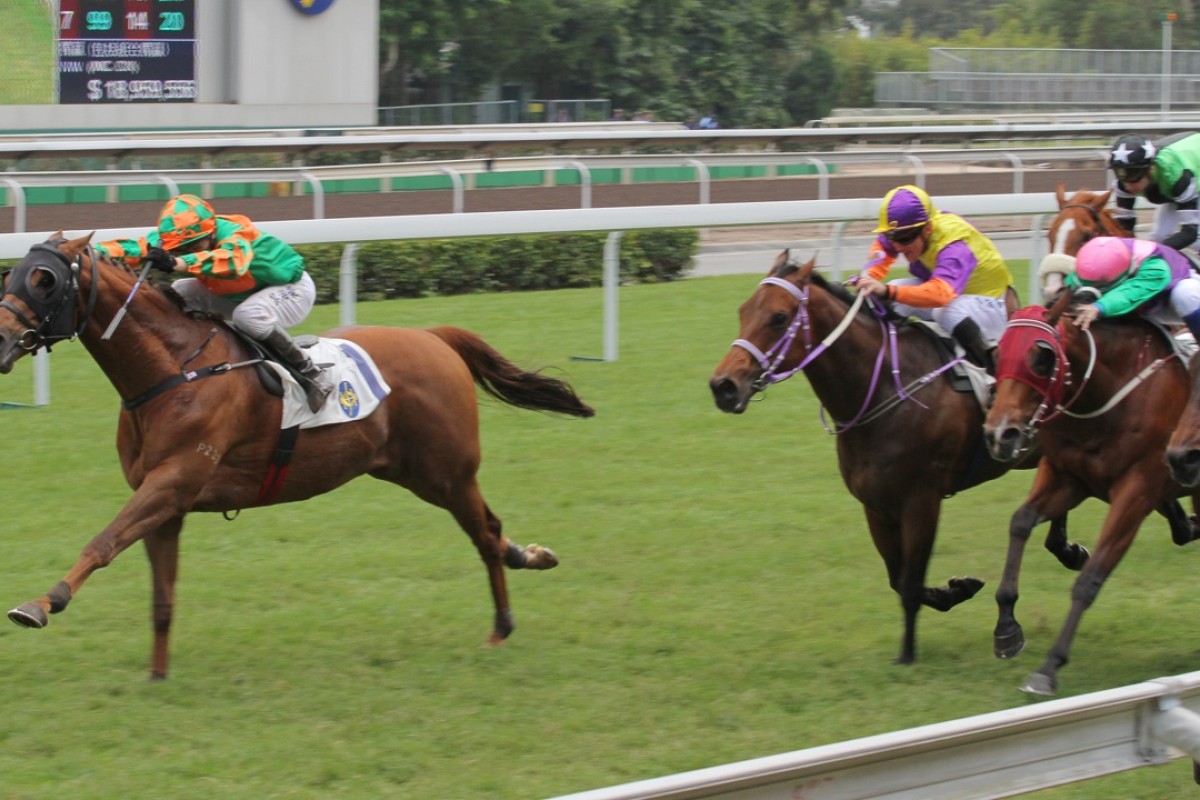 Absent trainer scores a contrasting brace with outsider and favourite
Christmas came early for trainer Tony Millard, who was absent from Sha Tin with the festive season in mind but still managed to score a winning double after Great Run garotted punters and Hit The Bid later healed the wound. Hit The Bid, who has let horseplayers down as a favourite many times, never looked like being beaten under Joao Moreira yesterday at short odds, although the public probably thought it was the least Millard's yard could do following the win by Great Run (Alex Lai Hoi-wing) at 64-1 in the second. "He's only a Class Four horse and we thought really a Happy Valley or dirt horse, not the straight on the Sha Tin turf track but we got lucky," said assistant trainer Carol Yu Wing-sze, after Great Run stormed from the rear to arrive near the line. "The leaders went very fast for such a weak race and he was the strongest at the finish."
Jack Wong notches suspension on landmark day for claimer
Apprentice Jack Wong Ho-nam outrode his 10-pound claim in the third race when he scored his 20th success but was quickly brought back down to earth by the stewards three races later. Wong was the lone stewards' room victim of the day, landing a careless riding ban of three race days for his performance in running second on Bold Stitch in the sixth race. Wong failed to keep Bold Stitch straight passing the 250m when issuing a challenge that eventually saw him finish a very close second, and the gelding rolled in and caused interference to Born To Race. Wong's suspension has been deferred until after the meeting on New Year's Day and expires on January 14, when he will be allowed to ride again.
Turnover drops significantly despite Joao Moreira's dominant day
The Jockey Club's downward turnover cycle looks to have settled in for at least the middle part of the season, and even Joao Moreira's five-timer didn't help yesterday. Often a dominant jockey on a day - particularly when it's one of the big names - often helps betting handle because the winning punters reinvest their winnings again and again on the same jockey as he keeps winning. But that effect wasn't in evidence even as the Magic Man sliced through the first eight races with his five wins, with the day's numbers ultimately down by $117 million year on year or 8.67 per cent to continue the recent trend. "Sometimes, one rider can be just too dominant on a day and it works against you," said one club official.