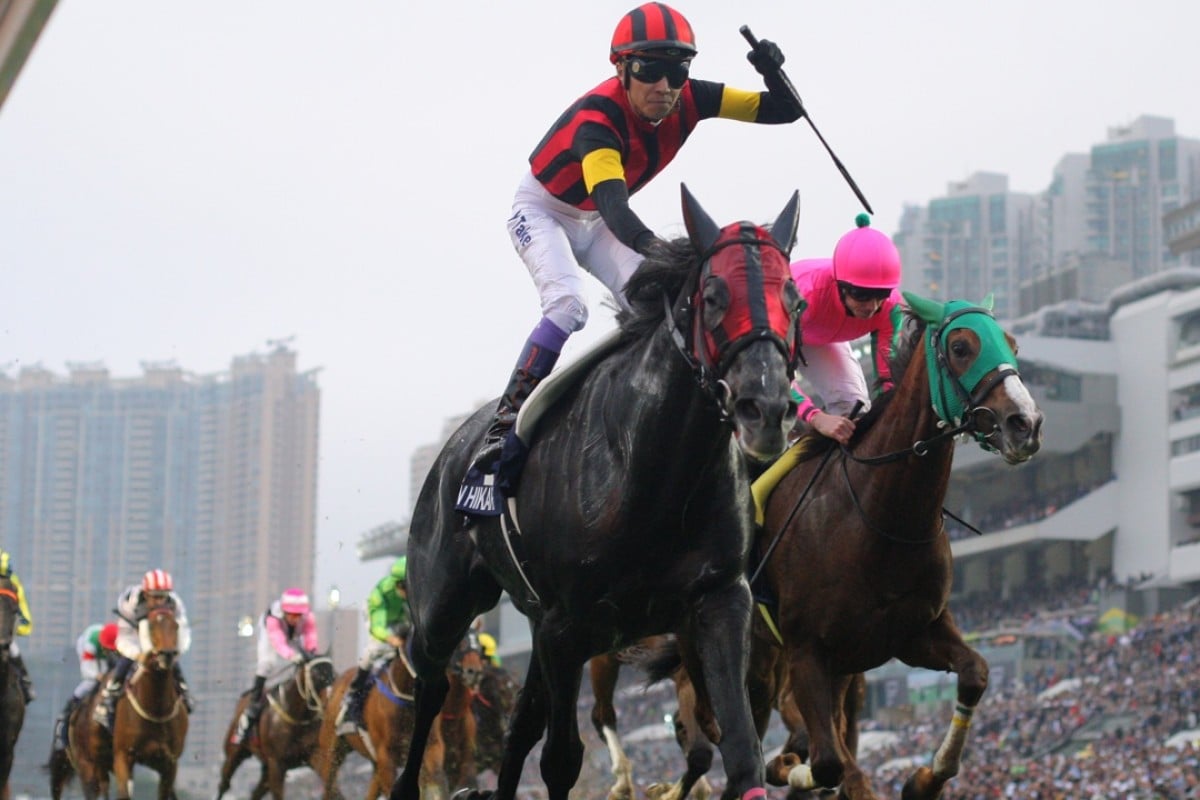 The Japanese impact on the international meeting has been significant for many years on the track but could have even more of an impact in a different way in the future.
Things are always slow to change in the Japan Racing Association as it falls under the control of government, but there is talk that the JRA will begin to simulcast major races overseas featuring Japanese horses. Given the increasing numbers of Japanese runners spreading out to Hong Kong, Dubai, Australia and their Holy Grail (or white whale?), the Prix de l'Arc de Triomphe, that could be a serious commitment.
Within the Jockey Club there is even some discussion on whether there should be widened use of the Longitude engine, currently not out of second gear
Turnover in Japan on a single Group One, like the Derby or Arima Kinen, is at least the equivalent of an entire 10-race meeting in Hong Kong and often more (although their betting falls off a cliff in lesser races.) Just how that action is replicated when their horses compete offshore will be the interesting number.
Simulcasting is not commingling but it is a first step in that direction, to operate on foreign races and pay a fee for it.
On the commingling front, bets from overseas didn't make much impact on international day, with North American wagers down due to operational issues at TVG that prevented that racing channel covering the meeting. On the plus side, commingling from Australia on the day was up and the webcast was popular, particularly in Japan, so that would have ramifications if simulcasting occurs.
Commingling could be looking at new directions too, with some innovation being discussed internally at the Jockey Club over where commingling might intersect with Longitude single pool wagering technology to produce custom-tailored bets for different jurisdictions.
For instance, the Quadrella – picking the winners of four nominated races – is very popular in Australia but currently only available there on our races in tiny local pools, because Hong Kong doesn't have a "Quaddie" pool into which to commingle.
There is no reason Longitude technology couldn't be used to offer a Hong Kong Quaddie to Australia that would derive dividends from odds in much larger existing pools operating on those races here. The same concept could be extended to other jurisdictions and the bet types which are popular there.
Within the Jockey Club there is even some discussion on whether there should be widened use of the Longitude engine, currently not out of second gear and seen at its most complex with the combination of the First Four and Quartet pools to form a single base for calculation of two separate dividends.
The ultimate use of the technology is for the underlying weights and elements of all pools in combination to provide a very robust single pool to calculate all dividends.
Whether we see that soon though remains to be seen – readers will recall the software glitch a few years ago that saw a major professional wagering group unintentionally place hundreds of large bets on a single tierce combination, massively skewing that pool and leaving officials more nervous than a Miss Universe announcer in Bogota.
Balancing act backfires as search for solution goes on
What can anyone say about the need to scratch Hypersonic when no suitable jockey was available, except that it wasn't what anyone wanted and exposed a numbers game the club often plays with the jockey list without getting burned.
The stewards have had a few different attempts at designing careless riding penalty systems in recent years, with the intended outcomes not always matched in practice.
The "two days plus fine in lieu of extra days" was designed to punish and deter but still to get jockeys back riding as soon as possible but went dangerously close to a mutiny in the jockeys' room when the fines started multiplying.
Last season, we went back to mostly a suspension-based regime, keeping riders out longer for careless riding but with clean record bonuses and deferments all over the place.
The trick is in the balance – yes, there could be 30 jockeys and never a shortage, and quite a few sitting about without a lot to do, but the club attempts to have the number perfect; suitable employment for all, but without running short.
Alas, that's when injuries turn up, or just the scenario that wasn't considered – like so many suspensions all falling at the same time because every jockey penalised in the past month or two wanted to defer until after international day.
Six suspended riders resume in the next few days, the situation will be over, but it will be interesting to see what the next system will be. We are naturally cynical about the right mix of punishment, deterrent and utility even being possible.
Dying is easy, comedy is hard. Perfection is harder still.
Noble tune to Bamboo Dance's streak
It would be difficult to overstate the job David Hall has done with Bamboo Dance in winning six consecutive races.
How it happened? Well, we're in the dark like anybody else, since Hall had the horse for two seasons earlier in his career and he was just plain, and that makes the current streak in an overwhelmingly handicap environment more stunning.
Six wins is a lot, lined up any way at all. In the professional era, only 27 times has a horse won six (or more) in a single season. Silent Witness, Ambitious Dragon, Able Friend, Armada, River Verdon,
Entrapment, in the prime of their lives. Not necessarily in a row, in a season, and not many were in succession.
And there have been others, like Bamboo Dance, who won six straight across the boundaries of seasons – we don't have a worthwhile list of those but there isn't one every year, or even every few years. When the horse involved was seven at the start of the streak, rated 18 and with 30 prior races for a single win, it's incredible. The nearest we can recall is Noble Boy, in 2001-02, who took himself from Class Five to Class One winning six straight for Tony Millard, kicking off from a rating of 31 at his 16th race to win his way out of Class Two then hit his hurdle on a mark of 87.
Bamboo Dance has not produced big margins, has been treated gently as a result and won the same number of races to rise by 45 points – and he looks every chance of making it seven at the bottom of Class Three to put him in rarefied air indeed.