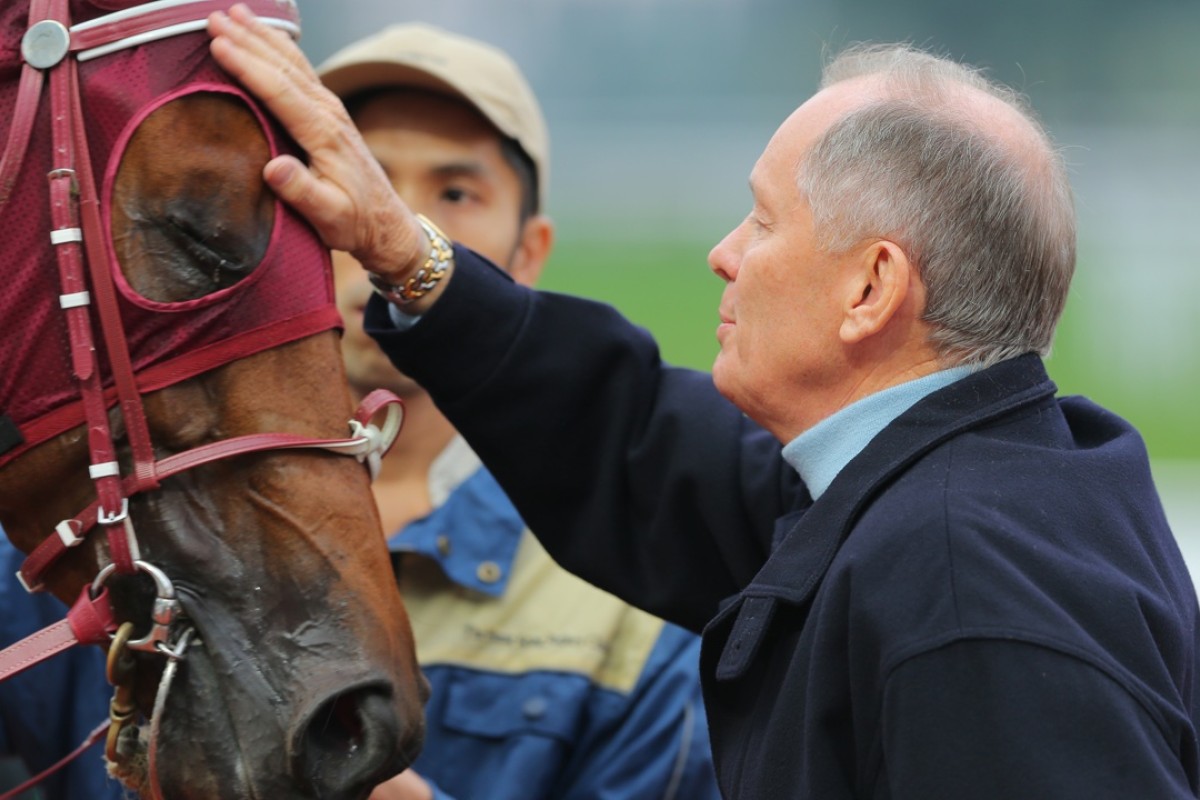 John Moore seems more relieved than excited each time his "million-dollar baby" People's Knight notches a victory and the reaction was no different after a Griffin Trophy win that wasn't without its nervous moments.
People's Knight set owner James Tien Pei-chun back A$1 million (HK$5.63 million) as a yearling in Australia and continued to recoup some of that price tag when he recovered from a bungled getaway to take his record to three wins from five starts.
"You always sweat a bit when they miss the start like that," Moore said. "We were a bit worried about him second-up as well, but he just oozes class. You look at horses that cost around seven figures and the strike rate isn't that great, but he is displaying the type of talent that shows the money we paid for him was well worth it.
Next season we will be looking for him to run in some of the big races – the future looks good
"By the time the end of the season comes around he will be in a much higher class. Next season we will be looking for him to run in some of the big races – the future looks good."
People's Knight, a son of Exceed And Excel and full brother to two-time Listed winner Eximius, remains a colt and will stay that way for now, with both Moore and winning jockey Joao Moreira saying his temperament isn't an issue.
"He showed he is a bit of a colt in that situation at the start – he was a bit silly – but he is going to be fine," Moreira said. "We wanted to ride him closer because we didn't think the pace was going to be fast and it wasn't, but when the blindfold came off he went up in the air and it cost us a few lengths. Still, he was able to recover and put himself close enough to be in the race and when I asked him to go, he really let down, I was impressed with how he won.
"I think he is a very nice horse and I think John is going to have a lot of fun with him – he is very impressive."
Moreira had another banner day, with People's Knight was one of six winners for the Brazilian – he earlier won on O'Socoole, Glenealy Prize and Right Call, and then closed out the day on Sergeant Titanium and Thewizardofoz.
Glenealy Prize was a touch lost on debut when sent out at short odds but didn't disappoint favourite backers this time in a professional display.
Trainer Paul O'Sullivan said despite Glenealy Prize having shown plenty of speed in his trials, the four-year-old will be stepping up to 1,400m next start.
"He will be losing that speed soon. We got away with the 1,200m win but I don't think we will be able to again," he said. "His pedigree says he will get over some ground, he is out of a Cape Cross mare and they stay all day. To be honest, he still has a lot to learn."