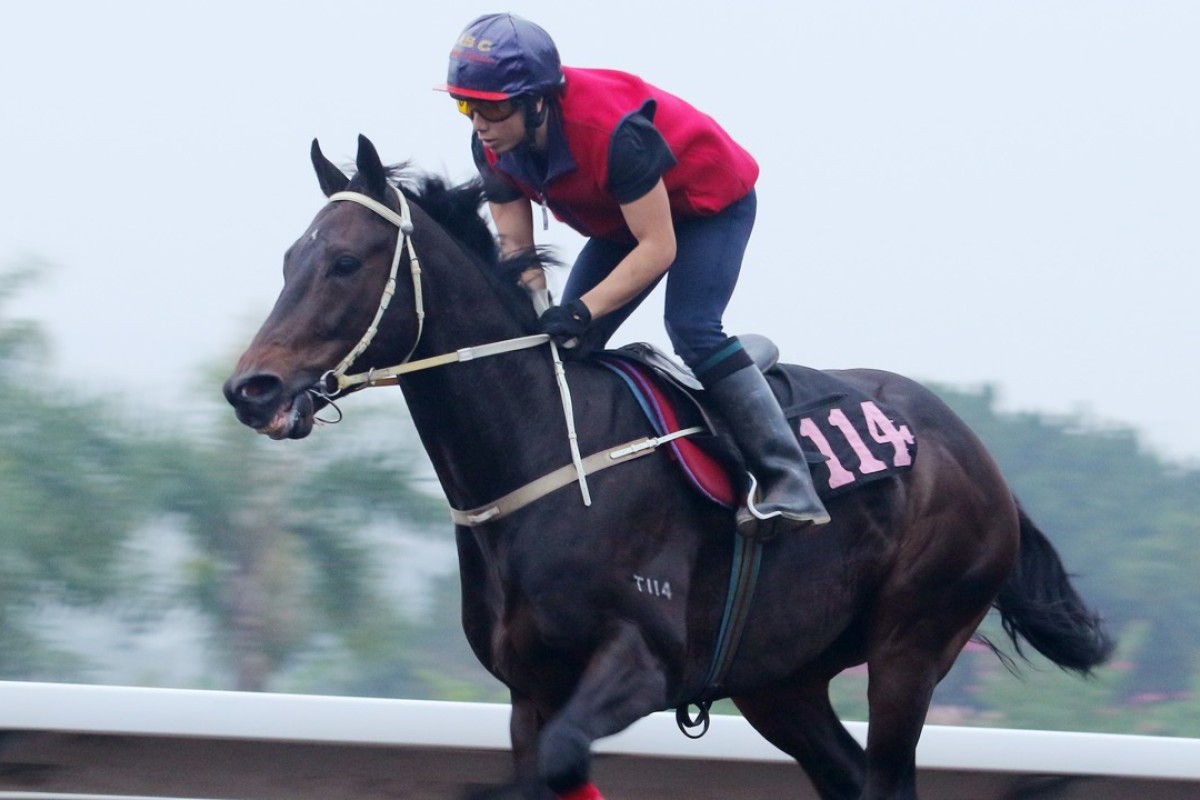 Doyeni's defeat as favourite in the second-last race on Sunday had more to it than met the eye, or reached the stewards' report, and perhaps suggested an area where the Jockey Club still has gaps to fill in provision of information to the customer.
No racing organisation anywhere gives informing its punting public a higher priority than the Jockey Club, as evidenced by the details of form, replays, training, gear and veterinary histories available.
Doyeni was reported by the vet to be lame in his left front leg afterwards – which could include the foot – and it's reasonable to connect that lameness to his racing behaviour
In the racebook, gear changes include the types of bits the horses wear, which can be of great interest depending on what the changes are and what issues they are trying to resolve.
There are those who think Hong Kong punters are drowning in "too much information" already but the reality of information is that it is out there to be interpreted and used as, and if, anyone wishes to do so. We have not seen two more useless pieces of information than the "pass through" or "leading horse" replays on the multimedia site but, if someone gets something out of it, why not?
After the horse's previous impressive victory – which made him favourite on Sunday – trainer Tony Cruz said Doyeni had been affected by foot problems last season that Cruz had got on top of and he said that was why the four-year-old had shown his true capabilities.
Eagle-eyed paddock watchers on Sunday noted Doyeni wearing a bar shoe on his left front foot, for the first time they could recall, suggesting a fresh foot issue.
In the race, Neil Callan struggled to get Doyeni to hold the fence around the first turn and told the stewards that greatly affected how he rode the horse, which most expected to set a solid tempo rather than a slow lead. Callan told the stewards he wished to ride Doyeni at a good gallop but, after having the wrestling match around to the back straight, found the gelding wouldn't stretch out properly when he did try to increase the pace.
Doyeni was reported by the vet to be lame in his left front leg afterwards – which could include the foot – and it's reasonable to connect that lameness to his racing behaviour, so he did a decent job to run sixth, even if that won't help his backers.
We couldn't find this yesterday as the fields for Kranji on Friday had not been released, but we've been reliably informed that Singapore Turf Club now reports shoeing changes ahead of race meetings.
In addition, race clubs in Australia have reported changes involving the use of synthetic filler in horses' feet and of glue-on shoes for many years, also indications of changes to the status of a horse's feet with a bearing on perormance.
How do punters deal with it? As they like. Put a big red line through your horse for a negative shoeing change; or, ignore it and put your faith in the vets and the horse's trainer that the horse is presented fit to race.
We have seen other cases over the years – Glorious Days during his early unbeaten run is one that comes to mind – when some punters would have used the red line had shoeing changes been made public but it didn't stop horses winning.
Our eagle-eyed friends at the paddock won't thank us for this, since they believe it provides them a betting edge, but surely the Hong Kong Jockey Club shouldn't be falling behind Australia and Singapore in any area of providing vital information to punters.
Joao Moreira on track for highest winning strike rate
It is symptomatic of Joao Moreira's impact here that his second-time six-win haul on Sunday seemed logical and predictable and almost fell short of newsworthy, not merely the fourth time the feat had been performed by anyone here.
That's what happens when the bar is raised so high.
At his current rate, Moreira could just about pull up stumps, go on holiday at the end of January and still win the championship and, while he knocks over benchmarks for breakfast, he is closing in on one of the lesser-known records in the professional era.
The highest winning strike rate for a championship winner was Gary Moore's 26.1 per cent winners to rides when he won the title in 1979-80, winning on 81 of 310 mounts. Moreira's 24.4 per cent last season was the nearest anyone has been to matching it but with his percentage right now an extraordinary 29.7 per cent, he has it well in his sights.
Officially, Moreira rode 174 winners in Hong Kong for the calendar year. Those wins took him 637 rides, a strike rate of 27.5 per cent when you upgrade it to 175 wins – yes, he won another on Harbour Master, who lost it with a positive test and is thus not counted.
There is even an unofficial opinion from one or two at the Jockey Club – how this gets checked, we don't know, but it reads well if right – that Moreira in 2015 earned a bigger prize money salary than any jockey in history, anywhere. Not sure if it would pass the taste test once you start recalculating for real spending value, etc, and you find someone like Fred Archer did a whole lot better 140 years ago in England when his career strike rate was 33 per cent. Hey, maybe that's who Joao is trying to catch.
Contrast that with 13-time champion Douglas Whyte, now sitting on a record we're sure he wouldn't want – a 64-ride losing streak that is far and away his worst. Time is not kind to any of us, let alone great sporting champions, so we are not being as negative about where the Durban Demon is in his career as some of our media colleagues who are suggesting retirement.
It isn't binary – there isn't just winning the title or retiring, and Whyte has plenty of wins ahead yet. In fact, he would probably say that if he should retire then so should all the jockeys lying behind him in the championship.
Still, punters can be a tough crowd.
On Sunday there was a hullabaloo around the parade yard and some observers thought it was the punters angrily chiding Whyte for his lack of a victory. The way we've heard it, Whyte was actually being cheered on by a section of the crowd (he later said they were tourists who were known to him) but another section, local punters, decided that was a bit too rich and were actually booing and deriding the tourists for cheering him.