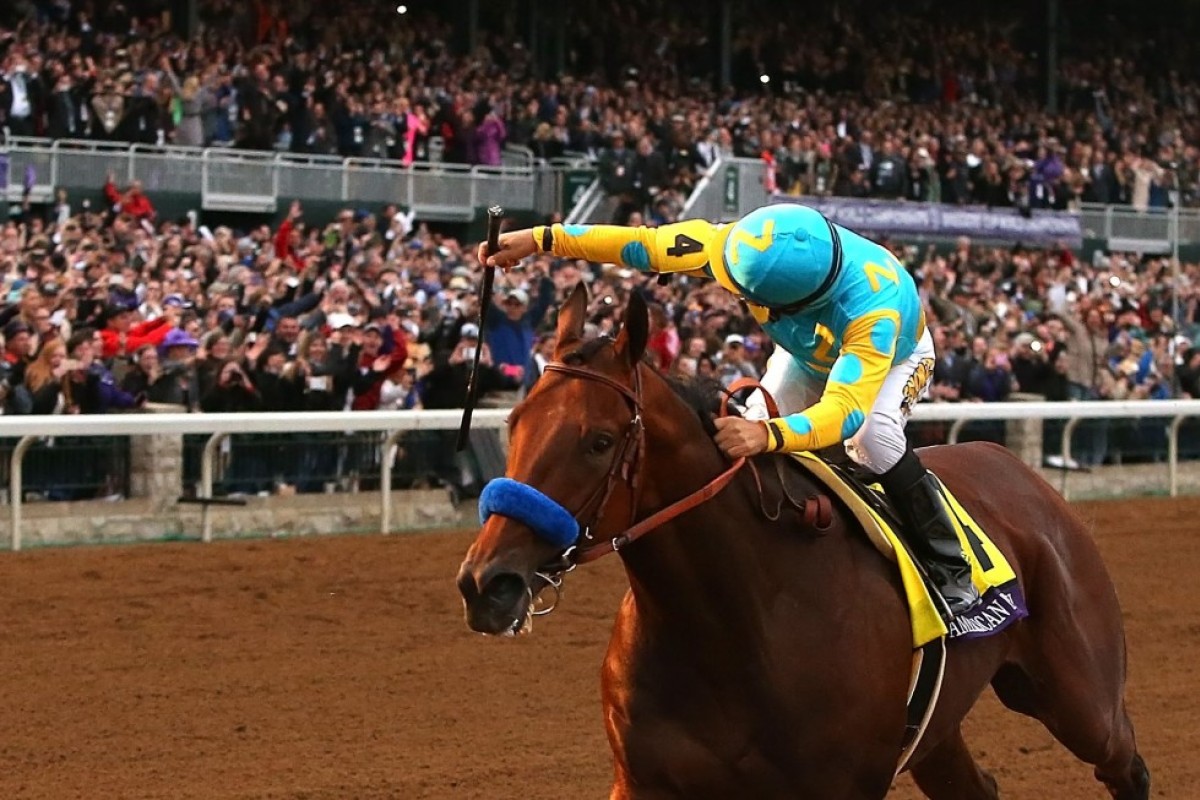 One of the most memorable years in horse racing history has come to an end with 2015 passing onto 2016.
As we wrote last week, it is a time for reflection, for recognising the moments that made 2015 truly remarkable.
Instead of writing them up, though, The Griffin has put together a video of the top 10 moments in racing worldwide over the last 365 days - with the help of SCMP reporter Kevin Kung.
We would love to know your top moments, so get in touch on Twitter at @AndrewNJHawkins or @SCMPRacingPost. There were already some great responses on Wednesday night.
@AndrewNJHawkins 1) American Pharoah's Triple Crown 2) Flintshire topping the Equibase Figs with Sword Dancer 3) Hit It A Bomb in BC

— Michael Tartaglia (@mjtags11) December 30, 2015
@AndrewNJHawkins 1) American Pharoah's "Grand Slam". 2) Mubtaahij's UAE Derby win & his US campaign. 3) Gavin Lerena winning the #HKIJC2015

— Love Racing (@LoveRacingSAf) December 30, 2015
@AndrewNJHawkins Michelle Payne's Melb Cup win, AP's Triple Crown feat and Lizzie Kelly on Tea For Two (1st woman Grade 1 chase win in UK)

— Naomi Tukker (@Naomi_unique) December 30, 2015
@AndrewNJHawkins 1. Duramente (Satsuki Sho) #freakish 3. Melbourne Cup for the story #theyneversleep 3. #HKIR (HK Cup #tearaway )

— G (@LongBallToNoOne) December 30, 2015
@AndrewNJHawkins American Pharoah career #1, The rise of Criterion #2, Golden Horn Arc #3.

— Tash (@tashah9) December 30, 2015
@AndrewNJHawkins Easy! American Pharoah for his Breeders' Cup & Triple Crown winning moments + Michelle Payne's ride in the Mellbourne Cup.

— Aston House Stud (@DNAstats) December 30, 2015
@AndrewNJHawkins 1. American Pharoah's Belmont win for Triple Crown; 2. Dettori's Arc masterpiece; 3. Maurice's G1 Mile treble

— Pat Cummings (@PatCummingsHK) December 30, 2015
@AndrewNJHawkins Prince of Penzance: magic & mythology of the Cup's alive! American Pharaoh: ditto for Triple Crown Buffering: ❤️ oldtimers

— mary collier (@mtc01) December 30, 2015
@AndrewNJHawkins American Pharoah's Belmont, closely followed by his BC Classic. Not sure about a third one... Golden Horn's Arc?

— Laura King (@LauraKingDXB) December 30, 2015