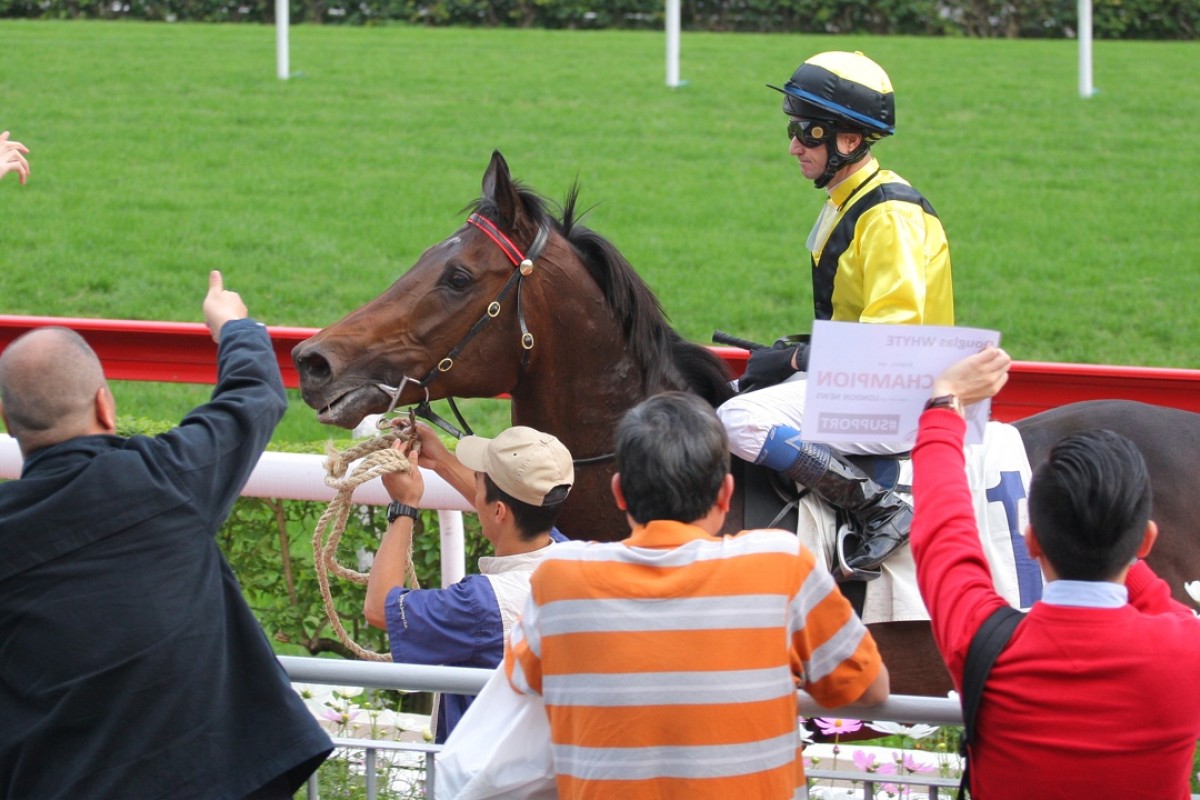 The parade yard regulars will have to find a new whipping boy after 13-time champion jockey Douglas Whyte silenced their haranguing by landing a monster plunge on Jun Huo to end an extraordinary run of outs.
In July last year, Whyte's win on Tianhuang for John Moore had wound up a 44-ride losing streak that was his record in almost two decades of riding in Hong Kong, but Jun Huo's victory yesterday was even more meaningful as the 86th ride since he won on Classic Emperor on November 29.
There were plenty of close seconds in that period and Whyte had gone close to breaking the streak earlier, finishing runner-up on Super Silks and then on Born In China – for Jun Huo's owner – before getting it done in the next event.
"I'm glad it's over, sure, but I was never worried. That's racing here – or any jurisdiction for that matter – everyone goes through a losing run sooner or later," said Whyte, after going within a head of making it a drought-breaking double in the final race with Apollo's Choice, which secured him an overdue Jockey Challenge victory.
As the losing run had extended, more birdcage regulars had taken to calling out loudly to Whyte as he took his horses around in the pre-race parade, some louder than others, and the South African was happy that part of it was over too.
"It doesn't bother me if people have something to say to me, but where it was becoming a problem I didn't like is that it was stirring up my horses," he said, and pointed out that race three favourite I'm A Witness had been quite upset by the yelling in the parade yard before he finished third in his event. "Some horses were not handling it well and that's where it was getting a bit out of hand. Anyway, they gave me a cheer when I came around after winning on Jun Huo, so it shows how quickly the punters can change direction - they can be fickle."
Punters had reason to cheer, too, after Francis Lui Kin-wai-trained Jun Huo was smacked down from almost 9-1 to a tick over 3-1 at race time and Whyte needed his wits about him to get the job done in a very messy race where the leaders chopped and changed all the way around.
I'm glad it's over, sure, but I was never worried. That's racing here – or any jurisdiction for that matter
"He's a big horse who can begin well and put himself into a race, so he helps you there, and with his size I wasn't worried about him having 133 pounds to carry," said Whyte, who had won over the dirt mile previously with the horse last season.
"But when they slowed up, I took the initiative and went around them and it was the best thing I could have done. I didn't want to ask him to sit back and outsprint them with the weight and the last time I won on him I remember it was a similar scenario in a stop-start sort of race and I got going early on him.
"That takes him into Class Two now but he's quite a decent horse on the dirt and I'm sure he's going to acquit himself well."