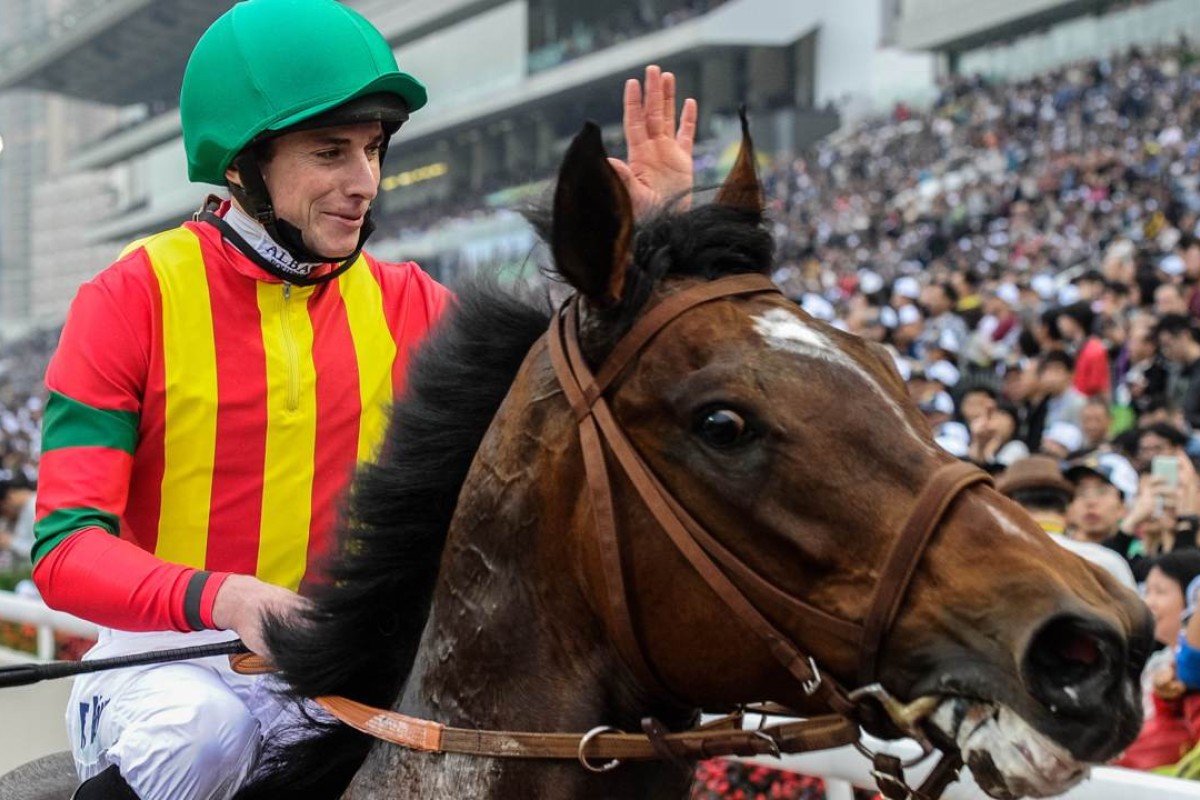 Ask Joao Moreira about the arrival of superstar jockey Ryan Moore and he gives all the right answers; he welcomes the competition, says it will improve the overall standard of racing and even provides a breakdown on what makes the Englishman so great.
The best part of it is that he won't stay forever. But to have him riding here in Hong Kong for a relatively short time will be a pleasure
Yet after all of the gushing, the biggest mark of respect might be that Moreira admits relief that Moore will be based at Sha Tin for just six weeks from this Sunday, not six months.
"The best part of it is that he won't stay forever," said Moreira, a runaway leader in this season's jockeys' championship and on pace to break his own single-season record for wins.
"It would be hard to face such a quality jockey for such a long period of time – the chances of being beaten by him regularly are high.
"But to have him riding here in Hong Kong for a relatively short time will be a pleasure. Ryan will be a plus for the racing here and for the jockeys.
"We should all be happy, at least for anyone who wants to go to another level and keep on improving. He will increase the standard."
Moore, 32, joins a roster that has been down on numbers and now takes the look of an International Jockeys' Championship at every meeting, with Moreira's countryman and British champion Silvestre de Sousa also beginning a short-term stint last Saturday that lasts until the end of this month.
"In an international Group One race you will always bump into those sort of guys, but to have them all together in the same place for a stretch, it doesn't really happen very often. It is going to be pretty exciting," Moreira said.
Moore won the Longines World's Best Jockey award in 2014 courtesy of a string of international features and most recently took the 2015 Hong Kong International Races by storm, capturing the Hong Kong Vase on Highland Reel and Hong Kong Mile on Maurice.
With Moore's stock in this part of the world at an all-time high, he has already been booked to ride John Size-trained Hong Kong Classic Mile chance Sun Jewellery and has been met with strong support for his first meeting as a club jockey.
Moore has nine rides from 10 races for eight different trainers on Sunday, featuring a number of live chances.
"That's the big question, how much support is he going to get? And it seems like it will be a lot," Moreira said.
"And if he gets a lot of support, then he is going to be winning a heap of races because he has the talent."
Moreira is generous in his praise for Moore, who is par excellence in his ability to adapt to different racing styles around the world, having also won some of Japan and Australia's biggest races in recent years.
"He is a brilliant jockey but what I like about Ryan most as a rider is that he is a real horseman and he understands each horse as an individual," said Moreira.
"He is also one of the best I've ever seen at riding a horse quietly, from back in the field. It would be very difficult to find a better one than him at that.
"He has a very good sense of tempo and he has a great feel for horses in the way he can get them to relax.
"That's why I admire him so much, and he is also very strong in a finish."