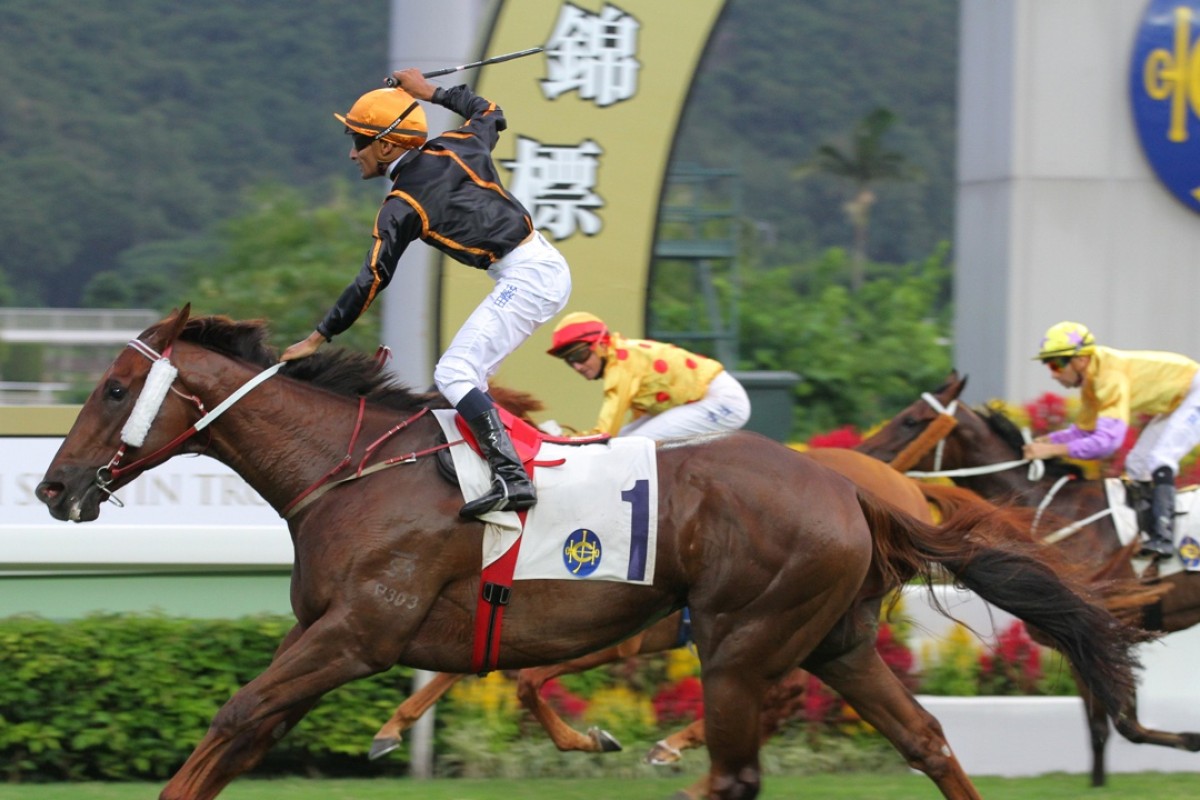 Overnight in London, the Longines World's Best Racehorse Rankings (WBRR) were announced for the year of 2015 and it's time to pat ourselves on the back once again but also to query where the problem is in the current system in Hong Kong.
The WBRR are the same classifications once issued by a panel of the world's handicappers straight after the Hong Kong International Races, which was seen as more timely while those wins were still warm, but the sponsor's wish to play them up into dinner and a show has put a gap between HKIR and the announcement now and we suppose no-one is any worse for that.
Once again, a record 23 Hong Kong horses – the same as last year – made the list comprising 304 horses from all jurisdictions. There were 32 separate runs by Hong Kong horses on the 387-strong list, and Able Friend named world champion sprinter and joint champion miler.
Why Rewarding Effort's second in the Champions Mile gets on the list but Able Friend's win in the same race doesn't is just one example
Now there are all sorts of questions we could pose about the trick plays in how this list is assembled and presented: why Rewarding Effort's second in the Champions Mile gets on the list but Able Friend's win in the same race doesn't is just one example, and no doubt there's a perfectly good ... but no, let's not go down that nitpicking path because it isn't what this column is supposed to be about. Which is not to say that there won't be any nitpicking but it will just be about something else.
Also the fact that seven of the world's top thirty races were run in Hong Kong in 2015 is pretty amazing for a season which has only 770 races in total, against about 20,000 races a year in Australia and the best part of double that in the United States.
So, yes, pat ourselves on the back for the quality of the horse racing here, it is well deserved. And then have a good look in the mirror and ask what is so wrong with that situation that the club took a monkey wrench to the Private Purchase (PP) rules this season, which might end up producing a lesser import, not a better one.
It was reigning champion trainer John Moore's turn to have a small rant at Sha Tin a few weeks ago about the tweak to the rules on importing tried horses that requires them to be rated 70 or higher. He was looking at the added difficulty in buying qualified horses – as if buying a decent horse, i.e. the kind nobody wants to sell, wasn't already challenging – and in the extra money it was going to cost owners to get them. It was Moore's turn but he was just joining a chorus of trainers, owners and bloodstock agents since the change was announced.
In the past, there was a table on the Jockey Club website laying out qualification criteria, country by country, for importation. That is, a race had to be a minimum stake or classification for a horse to win or place and qualify as a PP, and because prizemoney standards vary wildly around the world, different levels were set in different jurisdictions. For example, the prizemoney bar was much lower in New Zealand, since the same sorts of horses would race for a lot less money there than, say, Australia.
Now those wrinkles in the rules did allow for certain manipulations to go on.
One story we heard – surely it couldn't be true, these are horse dealers we are talking about! – was about the south of New Zealand, where winter is very wintry and very wet and standards are questionable. And perhaps a particularly weak maiden, that didn't make the Hong Kong prizemoney bar, had some help when a friendly local rang the club secretary and offered to throw a few thousand dollars of his own in to get the stakes to the required level. And maybe that same golden-hearted local just happened to have a suitable horse for the race, which lo and behold he could then sell to Hong Kong for a prince's ransom after a victory in mud up to his hocks that qualified him as a PP.
So things went on. And that's not to single out New Zealanders – as shifty as we Australians know them to be – because there are other tricks elsewhere designed to slip past the PP gate keepers.
And this stuff was a large part of the reason the Jockey Club imposed the mandatory 70 rating – it was simpler but it was really about control.
Any horse proposed as a PP would be run past the handicapping department which could then say yay, or nay, regarding the 70 rating. And what the nay means is that the horse probably has to keep racing until it wins another race to satisfy the handicapper that this hasn't been a one start heavy track winner of dubious future prospects, cooked up to make a sale for many times its worth.
Now there is something positive to be said for that but was it so prevalent that the day of the one-start maiden winner with upside should be over?
The list of decent horses which arrived rated less than 70 after one or two starts overseas to qualify, is extremely long. Reduce that list to just the ones which went on to serious levels? It's still a long list. Consider just these Group One class horses in recent years: Aerovelocity (67), Glorious Days (68), Super Satin (66), Flagship Shine (69), Super Jockey (69), Flying Blue (69), and there are many more. Likewise, there is a huge list of very expensive horses rated in the 80s or 90s and never looked like being competitive until that rating had a 6 or a 5 on the front end of it.
You'll notice that those named are all southern hemisphere imports too and there is a distinct bias towards northern hemisphere maidens. A poor win at Tipperary or Dundalk gets you your 70 rating just fine. If your maiden win is in the southern hemisphere, then you might have to win again to pass muster.
As Moore pointed out, that probably means paying more for a two-time winner and, as we are starting to observe in newer PPs, those just now arriving and governed by the 70 rule, it might also mean having to buy a more deeply-explored animal. What we see happening in the future under this rule is more of the "12 starts for 3 ordinary wins" type of PP – used-up, a limited future but they have been raced enough to qualify. And they can go in the box with the "crummy third of five in a Group Three" PPs that scramble in. They're the ones you see having to have a couple of extra runs around at 100-1 so they can drop down to a competitive level.
There is a sense that the rule has emerged from that well known road to hell - the one paved with good intentions - and the tinkering might need some tinkering.
Perhaps the rating chop-out should be dropped to 67 or 68, where, after all, the Jockey Club still has total control – that's a perfectly normal type of rating for a perfectly normal maiden winner but the handicapper still decides whether it comes or not.
As we began this discussion, though, the standards in Hong Kong are acknowledged as high – artificially made higher than they would be in an environment based on a local breeding industry. Was there that much wrong that it needed to be messed with?