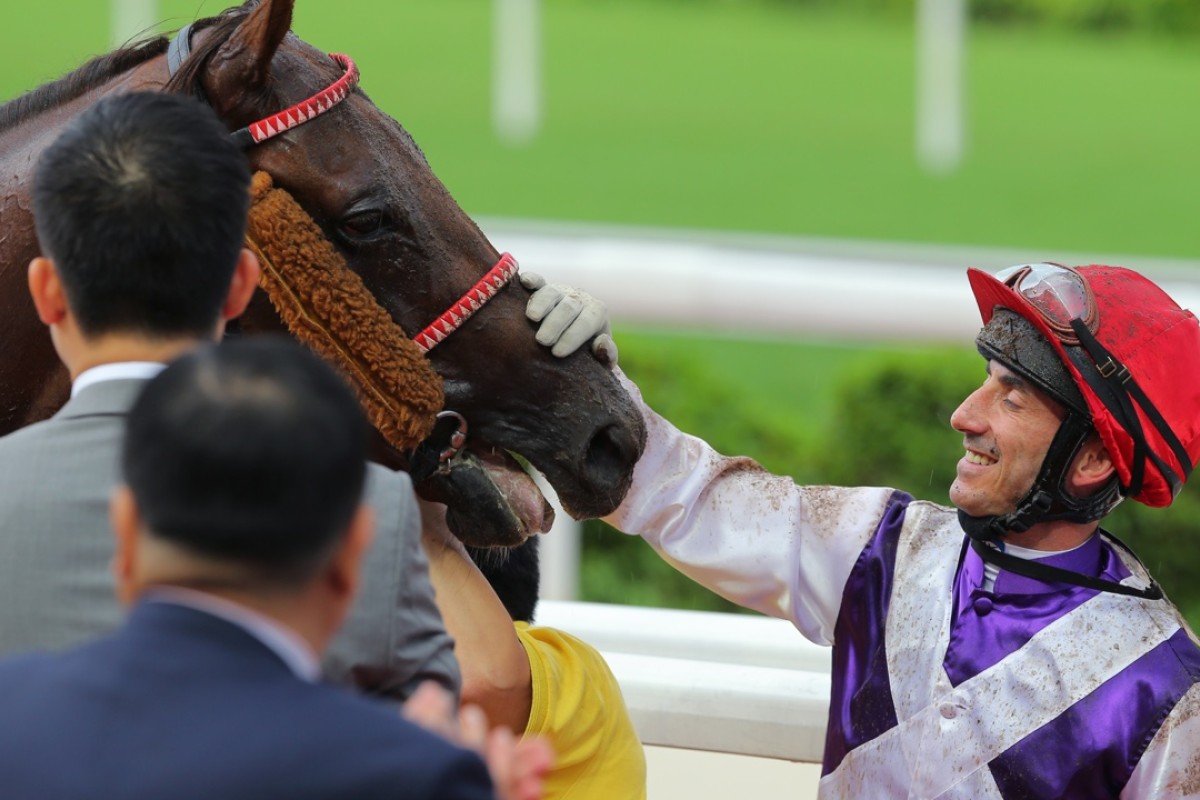 Having fine-tuned his fitness in a remote Thai kickboxing camp, popular French jockey Olivier Doleuze resumes riding in Macau tomorrow night ahead of a possible return to the Hong Kong jockey ranks in March.
A veteran of the local scene with more than 500 wins, Doleuze hasn't competed since June last year, when specialists advised he spend at least six months resting a painful right shoulder injury that had limited his output.
The only place where I was able to ride straight away was Macau and it's a very good place to practice
After riding 40 winners in 2013-14 and finishing sixth in the jockeys' championship, Doleuze slipped to 12th last season but still notched 24 winners, despite the still-athletic 43-year-old being noticeably hampered by a tendon injury.
"The only place where I was able to ride straight away was Macau and it's a very good place to practice," said Doleuze, who has two rides at tomorrow night's all-sand meeting and another four on the turf on Saturday. "I want to be back riding in Hong Kong though."
After six months total rest and being cleared to train on January 1, Doleuze pushed himself through two weeks of intense training at an isolated kickboxing fitness camp 50km outside of Chiang Mai in northern Thailand.
The self-imposed regime has Doleuze near top shape and he has ridden trackwork at Taipa ahead of his return, but he added, "there is nothing like race riding to get fit."
"I have always kept myself fit, and trained very hard – harder than most I think - so it doesn't take long for me to get back to top shape," he said.
The flamboyant jockey, renowned for his athletic, almost acrobatic, displays in close finishes, said Macau, despite being considered far below the standard of racing he is used to, is actually the perfect place to prove his readiness to return to the big league.
"It's a little bit similar in style and the system is nearly the same, but the standard of the horses isn't as good, of course, and because of that it is actually harder, fitness-wise, than riding in Hong Kong," he said. "You are pushing your horse along earlier in a race and it takes a lot of effort."
In 2003 Doleuze made his return from a six-month suspension in Macau, riding with great success, and is leaning on the support he gained there during that highly successful stint with three of the six rides booked so far for good friend Allen Tam Man-chau.
"It's been a good place to me," Doleuze said. "Still, there is nothing like riding in Hong Kong, it's the best in the world."