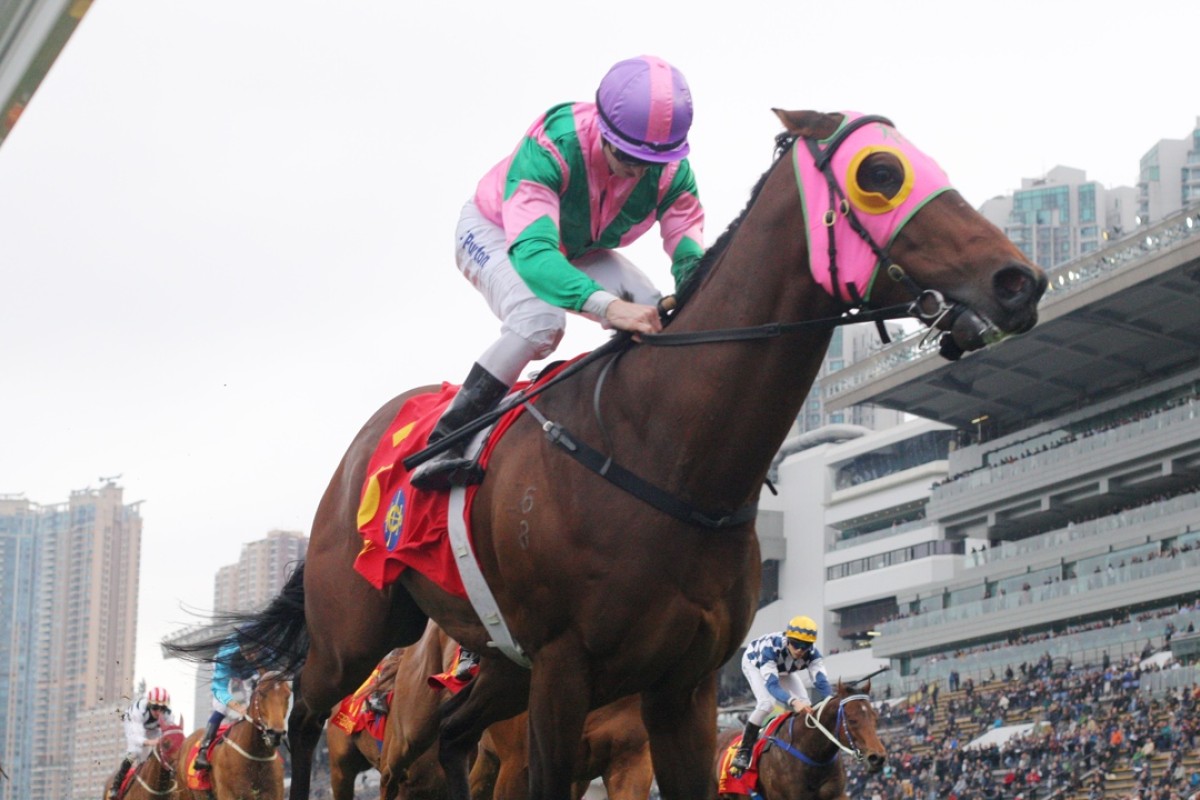 A resurgent Aerovelocity threw down the gauntlet to the world's sprinters in a stunning comeback win that sees him eyeing off another Japanese major and Richard Gibson may head in the other direction to target the world's richest turf event in Dubai with Giant Treasure after a sensational day of Sha Tin Group One racing.
It was a tremendous training effort by John - for the horse to do that against top class horses hard fit from racing
"Can anyone get me a heart irregularity?" quipped one wag after Aerovelocity returned from a heart episode in October with what jockey Zac Purton called "a very soft win" while John Size's 2015 Derby hero, Luger, went within a breath of replicating the feat in the Stewards' Cup for Purton after almost nine months out with his second episode.
"I thought I'd won it by a neck and so did everyone else - the jockeys on the winner and third congratulated me then I came back to find I hadn't won," said Luger's stunned rider Purton. "It was a tremendous training effort by John - for the horse to do that against top class horses hard fit from racing."
Instead it was Giant Treasure under Christophe Soumillon who threw his head out at the right time to get the bob after Gibson had been on the wrong side of close finishes this season.
"He ran fantastic in the Hong Kong Mile and we knew if he repeated that he'd be tough to beat but my goodness it was tight," Gibson said. "We'll have a team chat about where he goes next but Christophe said just now he thought he'd run more distance."
Soumillon, who flew in from Dubai for just two rides - Giant Treasure's Group One win and Gold-Fun's Group One second - said he thought the US$6 million Dubai Turf over 1,800m would suit the grey.
Size, on the other hand, had no immediate plans, ambitious, foreign or local for Luger but was happy to have him back in form: "Not sure about his next race - I haven't got over today yet, and neither has he. He and Contentment both ran well, got perfect rides and everything was right, except the result."
Aerovelocity's facile victory in the feature sprint may see him defend his Takamatsunomiya Kinen title in Japan in March, but it didn't come without casualties or controversy. Purton was unable to keep the gelding from running in on favourite Peniaphobia in the last 200m and a severe check cut the Tony Cruz-trained runner out of second placing as Gold-Fun sailed past unfettered - an HK$800,000 stakemoney difference.
"To lose second like that and nothing happens - in France that would be different," said Cruz, after a protest had been quickly thrown out but Purton was later suspended. "In France, if you interfere with one horse, you get put behind it. I don't agree with the rule in Hong Kong, I never did. I rode all over the world and saw how the rules are in other places and, from my experience, the Hong Kong rule is the wrong one."