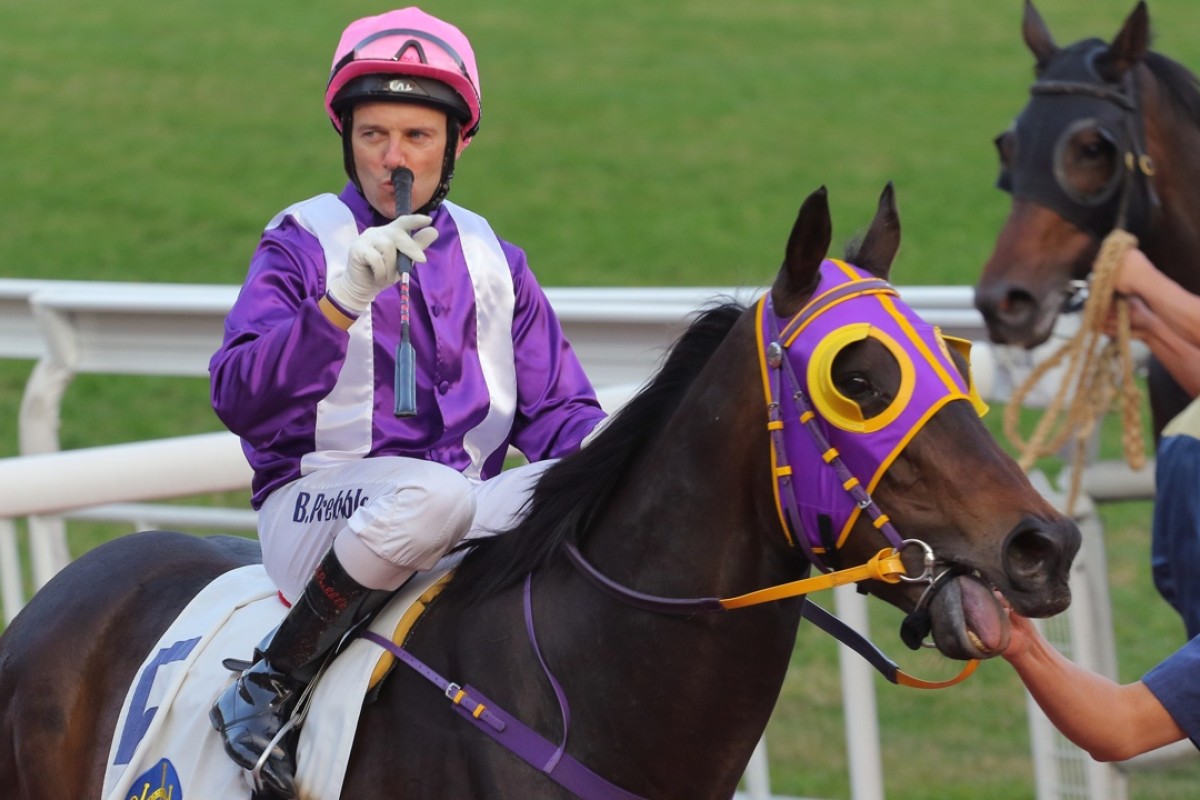 Brett Prebble continued to build on his solid first half of the season with a double as he slipped into a saddle left vacant by the injured Joao Moreira and let the John Size system do the rest with impressive newcomer My Darling.
Three-year-old My Darling is the latest three-year-old debutant winner to roll off the Size production line and Prebble was a late call up for the ride when Moreira was ruled out on Friday morning.
"He is just a typical John Size PPG: well-educated, with a big engine and raw ability," Prebble said after My Darling gave Size two Private Purchase Griffin debut winners in the space of four days after Mr Stunning's sensational effort on Wednesday night.
My Darling didn't quite show the same all-around polish as his stablemate did in his electrifying midweek display, wandering about a touch and looking for the outside rail late, yet he still dismantled a moderate Class Four field and scored by three and a half lengths up the straight.
Still, Prebble said the quirks and rough edges were simply signs that the son of Mossman has plenty of upside, and also that 1,000m racing, or sprinting of any sort for that matter, isn't where the gelding's future lies.
"It was too short for him," Prebble said. "He is going to be a distance horse. He has a lovely, long stride on him and he has a great attitude. He is just a lovely horse, but he is by no means a sprinter.
"Admittedly, it was a pretty rubbish field, but he made them look ordinary. If he had raced around a turn and over 1,200m he would have won by further, but today was a good education for him."
Prebble and other jockeys noted that a strong headwind facing horses turning for home had been a major factor in races yesterday, and thus gaining some cover on Mr Darling early in his race had proven crucial.
"It certainly helped," he said. "The horses up front were vying for the lead, we got the suck run in behind and then when I asked him to go at the 400m he just put them away."
Prebble capped the day with a resounding come-from-behind victory on well-fancied Universal Union, who was hit late in betting to start $86.50 for a $10 unit in a 1,400m Class Two.
Zac Purton had won on the Benno Yung Tin-pang-trained runner last start and while Prebble was already surprised his compatriot had given up the ride, a subsequent trial saw his confidence soar to even greater levels.
"It's always nice to pick up some crumbs," said a smiling Prebble, who is vying with Purton for second place in the championship, the pair remaining locked on 33 wins apiece after a double each yesterday.
Universal Union has never been a straightforward ride and requires a strong tempo to show his best, something he got yesterday, although a stray clod whacking the five-year-old in the face early in the race didn't help Prebble's cause.
"He can get his head in the air and be a bit of a nightmare," Prebble said. "When the clod hit him, he nearly headbutted me and my reins were left flapping around, but he came back to me and relaxed beautifully."