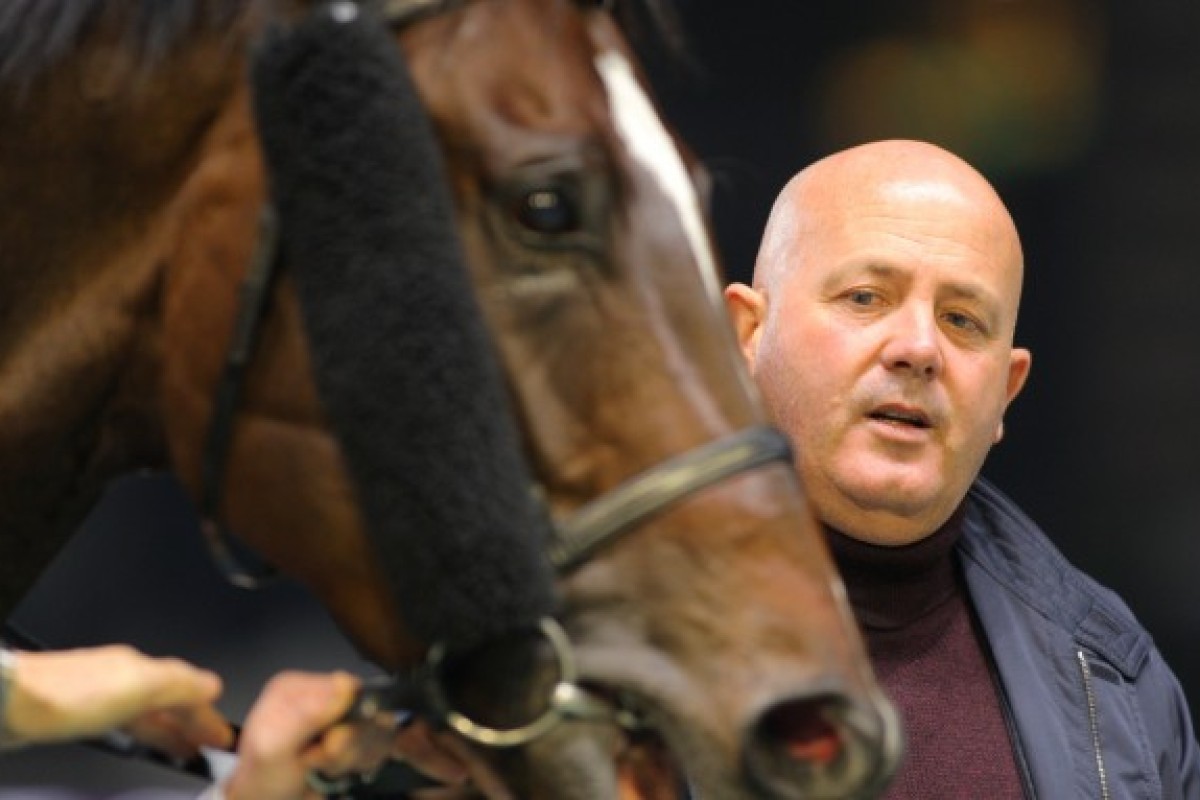 The Hong Kong racing season is a marathon, not a sprint, but as summer creeps up along with the temperature – the pressure will also rise on trainers, jockeys and horses. Even owners and officials might feel the heat.

In terms of meetings, the middle of Wednesday's Chinese New Year meeting represents the halfway point of season 2015-16.
A lot has already happened: most notably, Horse of the Year Able Friend being sidelined indefinitely, Joao Moreira riding at an even higher strike rate than last season and John Size already looking every bit an odds-on chance to secure an eighth title with a host of talented youngsters coming through the ranks.

Without a meaningful championship battle to keep track of, where will the drama be for the downhill run to July 10?
Well, there is plenty of intrigue within the trainers' ranks, but it's not at the top end – starting with a high-stakes game for Sean Woods and Andreas Schutz.

SHA TIN SURVIVOR AND WHO'S NEXT?
As far as a high-stakes situation is concerned, winning a championship is one thing, but what about just fighting for your job?

As the racedays are scratched off the list, the number of wins next to the names of Sean Woods and Andreas Schutz will come under increasing scrutiny.
The stakes are so high for this pair their lives should be made into a reality TV show – Sha Tin Survivor. It's either win or go home, or somewhere else at least, for the two trainers.

Woods, Schutz and Almond Lee all came into this season requiring 15 wins; if they couldn't reach the mark, they must face a licensing committee "show cause" hearing, where each trainer has to make a case of why they should keep their licence.
This could also make good television – hope you are reading, Jockey Club marketing people, you should be setting it up like The Voice, spinning chairs and all.

Lee seems safe – his double on Saturday took him to 11 wins, he has nearly 400 races to win four more and, somewhat surprisingly, he has nearly a full stable to do it with.

Woods and Schutz have five wins each going into Wednesday's fixture, but the most troubling aspect of the pair's predicament is the lack of horses they have at their disposal.
Woods has just 19 horses on his books, by far the least of any trainer, and a real lack of fresh blood with only one of his horses yet to race and having only just entered work.

Schutz is in a slightly more favourable situation – he has 35 in work, including a few newcomers with fresh legs that he can throw at the depleted races late in the term.

As the ratchet tightens on the trainers chasing another season, in turn, the pressure will fall on Jockey Club officials to play the delicate game of sounding out potential applicants for the roles, should they be vacated.

A Hong Kong trainer's licence might seem like a golden ticket, but winding up a successful operation and starting from scratch at Sha Tin is no small order – yet the club can't exactly open applications until it is known for sure somebody is leaving, which might not happen.
The less Woods' and Schutz's numbers rise, though, the more the conjecture will rise about who's next and the more serious discussions will begin with potential new trainers.

Would the club simply go with the apparent "like-for-like" policy and look for a northern hemisphere candidate?

An American could work, given the flat training tracks, and it could be a good public relations move with better-than-expected betting numbers from commingling coming out of the US.
Although the tax situation for a US citizen isn't favourable as it is for other nationalities, Hong Kong must still look like utopia for those not sitting on the very top rungs in the US.
Dale Romans has been mentioned previously, although given his recent successes with horses like Keen Ice, the fiery horseman has given up on dreams of Hong Kong glory.

Romans ruling himself out adds to the long list of trainers who have at some stage been linked to a move here, that are no longer available or, for want of a better term, eligible.
John O'Shea was one name bandied about at one time, but he is now Godolphin's head man in Australia, and countryman Peter Moody being embroiled in the cobalt saga probably rules him out.
Would familiarity count? Could Australian David Hayes make a triumphant return?
What about Gerald Mosse, a straight jockey-to-trainer switch?
Expect the rumours, and pressure, to grow as the clock ticks down. If the club requires two new foreign trainers it could leave officials scrambling.

TEST OF CHARACTER FOR GIBSON
This season seems a pivotal one for Richard Gibson and how he responds to his early-season struggles, results-wise, will be telling for how he fits into the future landscape.
In particular, the focus will fall on a recent stable transfer from a familiar source.

New trainers and jockeys all get something of a "free pass" early, they don't have a black mark and they get horses given to them by virtue of simply being new.
Gibson's golden boy aura was also helped by some early feature race success with Akeed Mofeed and Gold-Fun – both owned by Pan Sutong.

Early results in 2015-16, and a couple of nice horses taken from his yard, showed some of the lustre has been lost.
Gibson took the stable transfers of Got Fly and Dundonnell on the chin with a philosophical, "Gotta take the bad with the good".
And wow, what a difference a week makes: Gibson won another Group One for Pan with Giant Treasure, and all of a sudden a high-profile horse of Pan's walks in through the gates.

The transfer of Pan's expensive purchase Consort could easily be seen as blessing or a curse – but quite frankly, it seems like time is running out for the grey colt to show something, and Gibson really has nothing to lose.
The horse was purchased by John Moore's son George, but it will be Gibson who has to perform a miracle and salvage a Hong Kong Derby campaign that is quickly heading down the drain.
It is too late for a gelding operation for Consort – at least from a Derby perspective – and if Gibson can pull a rabbit out of the hat with the horse, his reputation will grow enormously.
Massive improvement in parade behaviour by Consort #coltwatch pic.twitter.com/tWvqbJnizN

— scmpRacingPost (@SCMPRacingPost) January 24, 2016
As far as the transfer is concerned, who would have thought we could ever write this next line and be serious? "John Moore loses a horse as a result of staying loyal to jockey Zac Purton."
It was around two years ago that Moore successfully lobbied Military Attack's then-owner Steven Lo Kit-sing to replace Purton with Joao Moreira, even after the Australian's tactical switch had unlocked the horse's true potential.
With Purton back in Moore's good books and aboard Consort, Pan requested Christophe Soumillon, who has become the billionaire's go-to guy, be brought in for the upcoming Classic Cup.
Moore refused, and the horse was on its way, or so the story goes anyway. Maybe it wasn't that simple, but whatever happens next in the Consort-Gibson-Pan story, it will be fascinating.

MOORE NEEDS TO KEEP WINNING MONEY
While we are on the Moore camp, we might as well ask, "What is happening there?"

After pulling out all stops to win the championship last season, Moore has battled through the first half of the term and has only 13 winners at a strike rate of 6 per cent, is in the process of replacing his assistant trainer and has lost his best horse to injury for the season.
His Group One ranks look a touch tired too, it must be said, with much the same look as last season and a lack of fresh superstar-level talent coming through.

Remember the John Moore rule? That was the one brought in to ensure any high-performing trainer (like Moore) could continue training beyond the compulsory retirement age of 65 should they reach certain performance benchmarks.

Well, the time is nigh and had the rule not been brought in, this season would have been Moore's last. Moore has to reach one of two benchmarks to keep his ticket – either finish top five in wins (he is currently 16th) or, luckily for him, top five in prize money.
Moore, it seems, is safely entrenched in the top five of earners with his runners collecting more than HK$34 million in stakes so far, behind just Tony Cruz (HK$47 million) and Size (HK$45 million).
But with Gibson ($33 million) breathing down his neck, and a few trainers lurking that are likely of snagging a big money race or two – like Caspar Fownes (HK$28 million) and Paul O'Sullivan (HK$24 million) – is it conceivable the big race trainer could be put under some pressure?

Probably not. Moore's glut of Class One and Two numbers should ensure safe passage for the next five years – or that's what we had always assumed.
One thing is certain: Moore might not know where he sits on the leaderboard for wins, but he will know exactly how much money his horses have won this season.