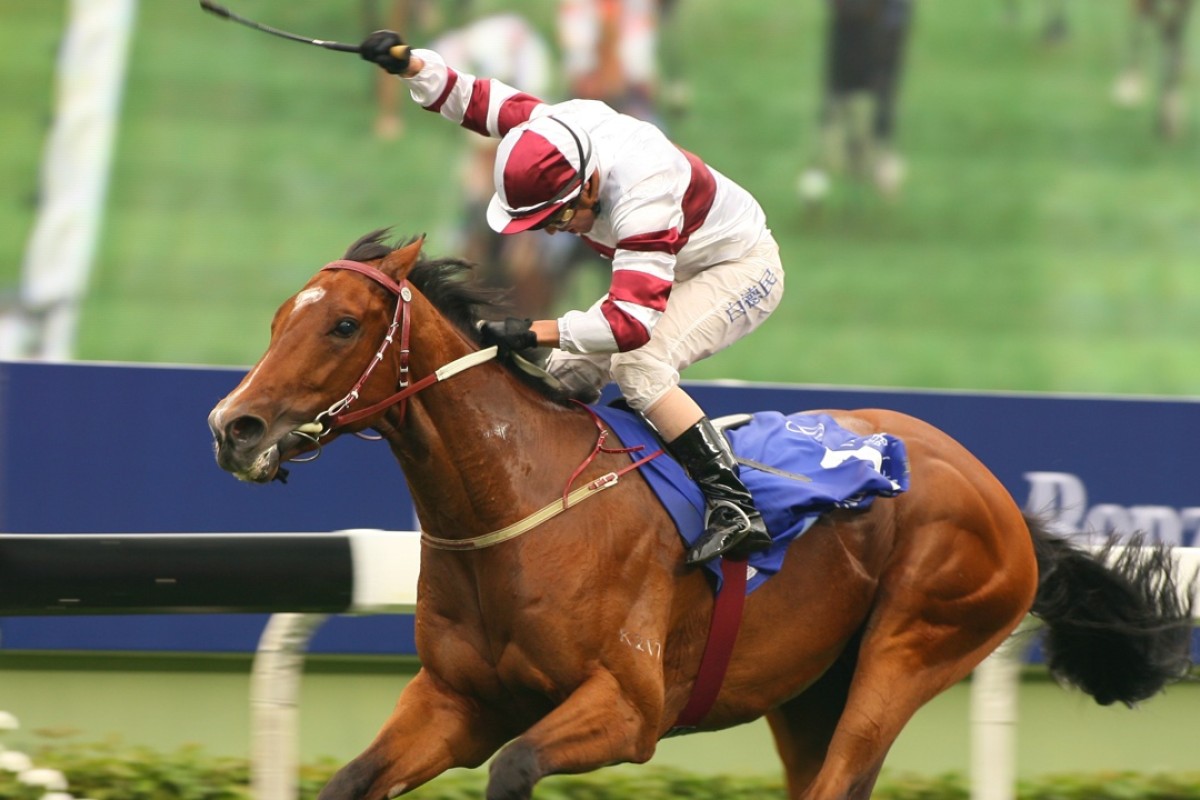 Time is running out if there are any Hong Kong Derby pretenders waiting in the wings to make their way to victory by another path but the overwhelming evidence of recent history is that the winner probably ran on Sunday.
The only lead-up of any significance that remains is the "Collection Stakes" on Sunday week, March 6 – the Class Two over 1,800m which John Moore famously persuaded the club to change from a 100-80 ratings band to 105-80 so that Collection would be eligible to have a Derby lead-up in 2009. Collection romped it in to make himself a long odds-on favourite in his Derby win and for good measure his runner-up was Mr Medici, who ran third in the Derby.
The only lead-up of significance that remains is the 'Collection Stakes' on Sunday week
Akeed Mofeed also won the "Collection Stakes" to make himself a warm favourite before taking the Derby in 2013 after he had disappointed with an unplaced Classic Cup run beforehand.
In fact, if you go back to Keen Winner in 2000, his lead-up was a Class One and Two over 1800m three weeks before the Derby that might have been the forerunner to the Collection Stakes.
Before the Classic Cup existed, 21st century Derby winners Industrial Pioneer and Elegant Fashion were dropping in grade from the Gold Cup when they won the Derby, and Vengeance Of Rain also came through the open age Centenary Vase.
Viva Pataca and Luger came through winning a Class Two mile race a month before the Derby but, by and large, the Classic Cup has been the preferred lead-up run for the winner since it was instituted 10 years ago. Seven of the last 10 Derby winners ran in the race, although only two of them won it – Designs On Rome and Ambitious Dragon.
So, while Sunday's bunched finish in the Classic Cup had the look of a group of horses ripe for a late comer from left field, it probably isn't and you'd have to think most of those behind the first five have got a bit to do, although White Magic gets a note from mum because he was caught wide.
And, from outside the Classic Cup, Victory Magic looks the most likely inclusion with claims on the race but, after Saturday's defeat, he has now had 13 career starts overseas and locally without ever being past the post first. He technically has a "win" in his record only because a horse that beat him in Melbourne returned a positive test and was disqualified some time later but that's not a scenario that tests his mental resolve – and that seems to be where the issue lies.
What has stood out about Werther and Giovanni Canaletto since they first turned up is that, yes, they will stay, but are they just a bit one-paced for a Hong Kong Derby?
It was interesting to hear Hugh Bowman's comments after Werther's run on Sunday, suggesting that what the horse needs is a true speed, because he got one on Sunday.
With Tony Cruz's runner Green Dispatch rolling along at a better than average tempo, the best suited in the race were those giving away a good start on Sunday – Sun Jewellery, Werther and Giovanni Canaletto, who all raced in the second half of the field.
Blizzard, who just continues to turn up, was much nearer to the warm speed and Eastern Express was even closer, chasing it in second place.
They were the two doing the work in the run and, when the favourites emerged, the dead-heaters should have been put away more comfortably than they were at the finish. Eastern Express will certainly stay the Derby trip and Blizzard is giving every indication that he will too on the evidence of the weekend.
Sunday's win under some difficulties confirmed Sun Jewellery as the best actual racehorse of the group, but it has also opened up the grand final on March 20.
A win by any of the Classic Cup first five looks possible but it won't surprise us if John Size's best chance of sweeping the four-year-old Group Ones turns out to be the horse most regarded as his second string.
Handicapper's hands tied over rating discrepancies
If you happened to be sitting back relaxing with the list of Jockey Club handicap rating changes on Monday evening, then you probably should be getting out more.
But what will have caught your eye is the difference in the adjustments made for Giovanni Canaletto and Eastern Express after the Classic Cup.
Everyone carried the same 126 pounds on Sunday under the set weights terms so ratings didn't come into that, but the ratings are still adjusted with an eye to any future meetings under handicap conditions.
With both horses finishing so close to Sun Jewellery, rated 110, Werther (106) and Blizzard (103), they had to be re-rated to reflect that and that's where racing fans might have been somewhat intrigued to find Eastern Express, who dead-heated for third, went up five points in the ratings from 81 to 86 but Giovanni Canaletto rose from 89 to 99 for finishing behind him in fifth.
For finishing in front of the other horse, Eastern Express now meets him 13 pounds better for Sunday and even five pounds better than he would have done last week.
They won't meet in a handicap as both go to the Derby – despite his relatively low rating, it would now be ridiculous to argue that Eastern Express doesn't deserve his place – but that's probably just as well.
The key to the ratings changes is buried in the arcana of handicapping rules and the different treatment of horses in their first and second Hong Kong seasons, and the handicapper has tied his own hands.
Eastern Express, as a second-season horse, can only be raised a maximum five points for a defeat, although a bigger penalty would have come his way had he won. Giovanni Canaletto, a first-season horse, can be raised a maximum 10 points in defeat so he also received the maximum to bring him more into line with the top raters.
We assume the thinking behind the different treatment is that the handicapper is conceding he has less of a handle on the first-season horse, so he has greater scope for adjustment to his