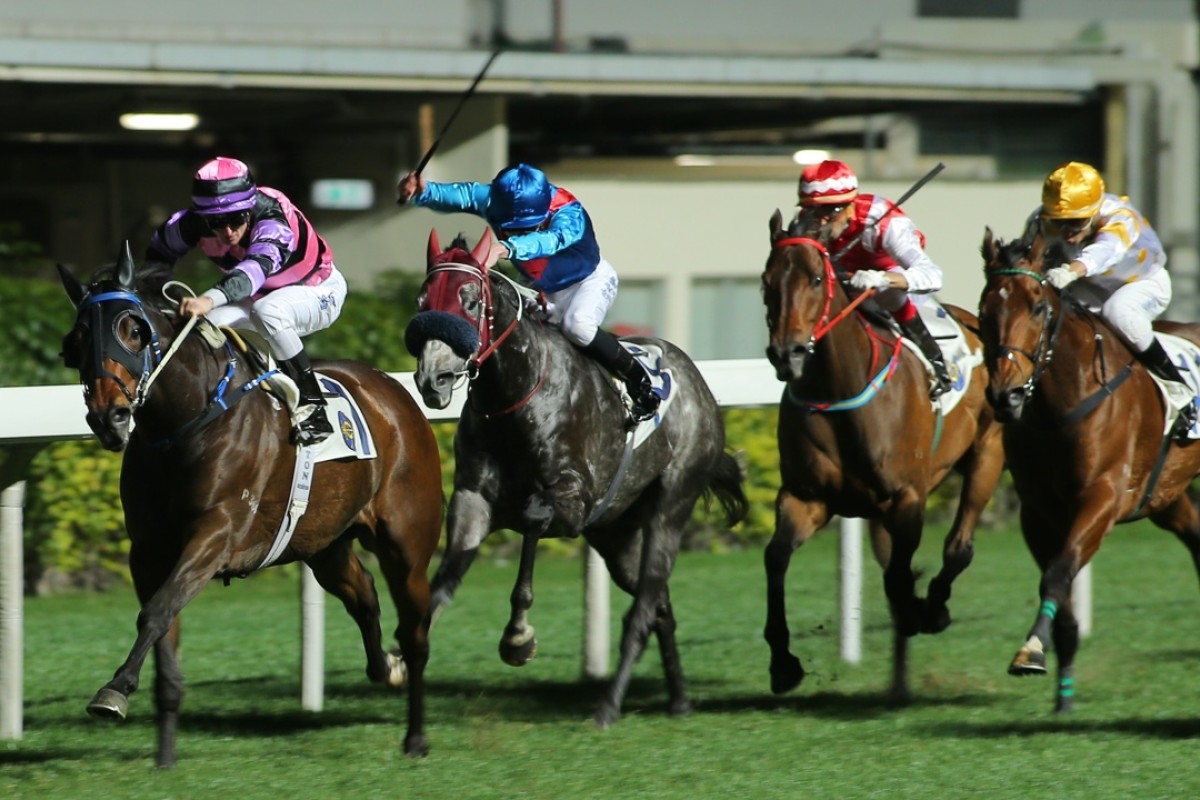 Trainer Caspar Fownes will seek an invitation for Domineer to run in the Dubai Golden Shaheen on World Cup night after the gelding returned to his very best on an eventful night at Happy Valley.
Domineer (Zac Purton) won his second successive Happy Valley Trophy, winning comfortably under top weight and Fownes said he would love to run the gelding in Dubai.
We know he is at least as good on the dirt, maybe even better, and I've got an idea he will also be a better horse racing left-handed
"We know he is at least as good on the dirt, maybe even better, and I've got an idea he will also be a better horse racing left-handed so I think he'd really be a chance there," he said.
Mauritian jockey Karis Teetan rode a personal Hong Kong best four winners on the card in anothe rhighlight, while the Jockey Club has been left in a tricky position after the conclusion of the annual Happy Valley Million Challenge on Wednesday night left Speedy Longwah the winner and first prizemoney frozen.
Danny Shum Chap-shing-trained General Iron needed a second placing in the eighth race to get past Speedy Longwah, his stablemate, but went agonisingly close to sparing the club's blushes when he finished third.
There is some mystery surrounding Speedy Longwah's owner, Tse Kwok Fai, who is rumoured to be facing legal difficulties and the club's executive director, racing Authority, Andrew Harding, said that the club had sought some clarity without success.
"When we first became aware there was an issue, we attempted to formally contact the Tse family to clarify the situation but to no avail," Harding said. "As a result, the entries of the family horses were suspended. Speedy Longwah has not been able to race but without racing he has now won the $650,000 first prize in the Million Challenge - and there is no ambiguity to that, he has won it - but in keeping with the club's course of action, that money will not be paid out, it will be suspended until we have a clearer picture of the outcome of the matter."
The unusual denouement to the contest, which has run since September at the Valley, overshadowed Shum's tremendous effort in training first, second and joint-third in the Million Challenge, and also a brilliant four-timer from jockey Karis Teetan.
Teetan won on John Size's exciting three-year-old Mr Stunning in the third race, added Horse Of Fortune in the next then claimed the last two races on Excel Oneself and Packing Dragon.
Trainer Tony Millard said that Horse Of Fortune was the flipside of what can happen with expensive purchases from overseas after he took the Class One mile for his third win from 12 starts.
"I thought he was unlucky last time, when the race didn't quite work out for him," he said. "He's a South African horse we bought for not much money and he's done the job. To be honest, his form didn't look all that great but you know some horses come here and don't bring their overseas form, some, like this one, just thrive here and they improve."
Master Viking (Joao Moreira) had provided Millard's first winner, and Paul O'Sullivan shared training honours with him as Pearl Warm Warm (Zac Purton) and Star Majestic (Neil Callan) scored.
"Star Majestic won four last season and they always pay a price for a good year like that so he hadn't won this campaign, but he is terribly honest and the race just broke for him tonight," O'Sullivan said.