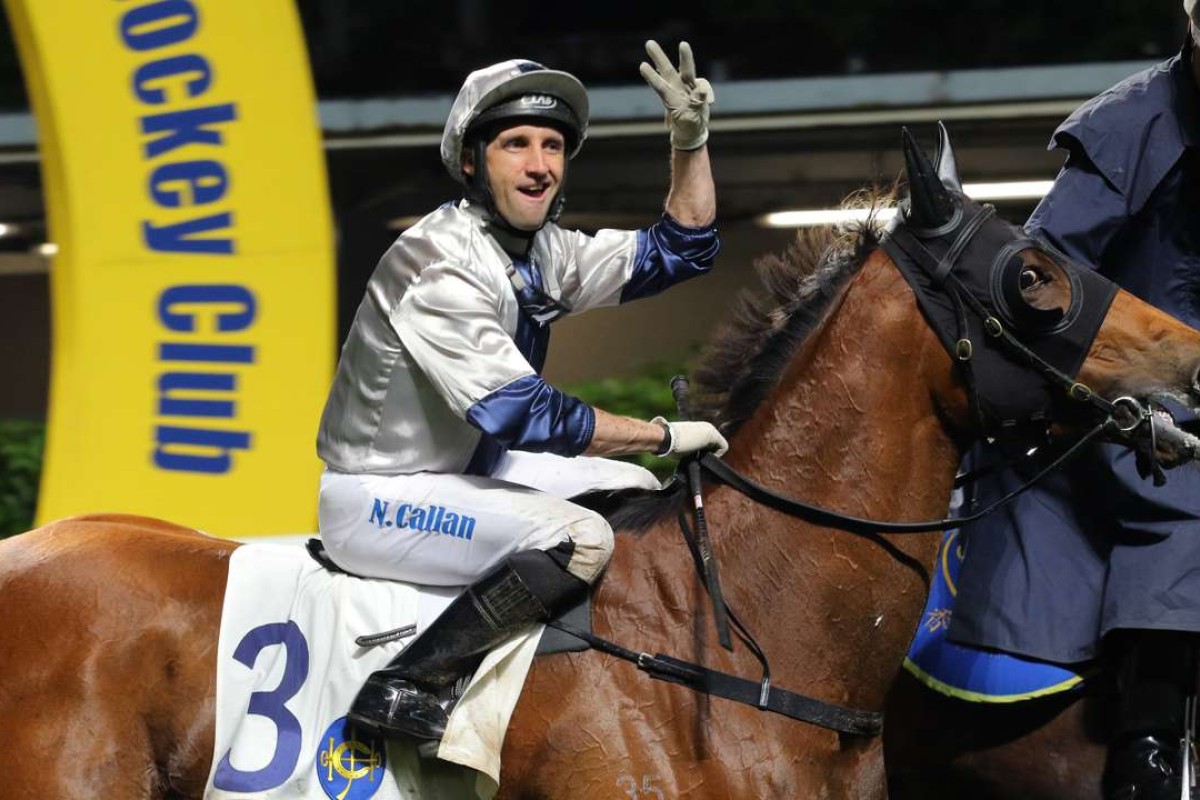 It was all about being inside or outside and no in-between at Happy Valley last night where outsiders rained down and Neil Callan reigned supreme.
The writing was on the wall for a night out of the ordinary when beleaguered trainers Andreas Schutz and Sean Woods, both fighting for their licences this season, collected the first two races to be followed by 113-1 winner Emperor Victory and there was no let-up for punters as double figure winner followed double figure winner.
In fact Schutz, moving to seven wins for the season, in quest of 15 to satisfy the Jockey Club's performance criteria and salvage his training ticket, saddled up the shortest-priced winner of the night, Forever Fun at 4.4, the first leg of a winning treble for Callan.
"This horse has missed a couple of chances to win this season but with the inside draw tonight, he made the most of this chance," Schutz said.
Callan followed up with Danny Shum Chap-shing-trained Lightning Pegasus in the fourth and Paul O'Sullivan-trained Archippus in the trophy race, the Police Cup.
"I just told Neil to give himself a bit of room to make his finish and to hope the leaders went too hard – if they ran along strongly, he had a chance," O'Sullivan said after the gelding arrived late to win after being bet down to 10-1 just before the off.
The night he won over 1,000m here, he gave every impression that he would handle 1,200m well
The winners drew in – Forever Fun and Archippus came from gate one and Brett Prebble's late pair with Country Melody and Dashing King came out of four – or out, with gates 10 and 11 providing the rest.
John Size-trained Country Melody showed that he has no aversion to 1,200m when he finished well to win the second last race at 13-1, even if he is picky about rain.
"The night he won over 1,000m here, he gave every impression that he would handle 1,200m well," said Size. "Probably not at Sha Tin, because he does run a bit keen there on the big track, but around Happy Valley I was confident he would handle the extra 200m.
"But the last time he tried 1,200m, the track here was quite rain-affected and we've seen in the past that he doesn't like that. He's done a good job but he's probably at the point now where races are going to be hard to find for him."
Obviously last night's drizzly conditions and good to yielding track didn't worry him too much but Shum and Manfred Man Ka-leung were giving the conditions some credit for their victories.
Wealthy Fortune (Derek Leung Ka-chun) had run into trouble in the early stages when he had his first run for Man two weeks earlier over 1,650m but, up to 1,800m this time, Leung had him outside the lead early and out of the way.
"This is more like his distance and I do think the rain helped him," said Man of the seven-year-old Irish-bred after the 16-1 victory.
It wasn't all roses all night though, with Nash Rawiller given a three-meeting ban for careless riding on Heroic Guru in the last that rules him out of the BMW Hong Kong Derby meeting on March 20.
But, whatever the merits of the double figure-odds wins all night, Emperor Victory (Jack Wong Ho-nam) was the one that really had punters scratching their heads after race three. He hadn't finished in the first seven in any of his seven starts but clung on to win under his light weight at well over 100-1.
It was that kind of night.