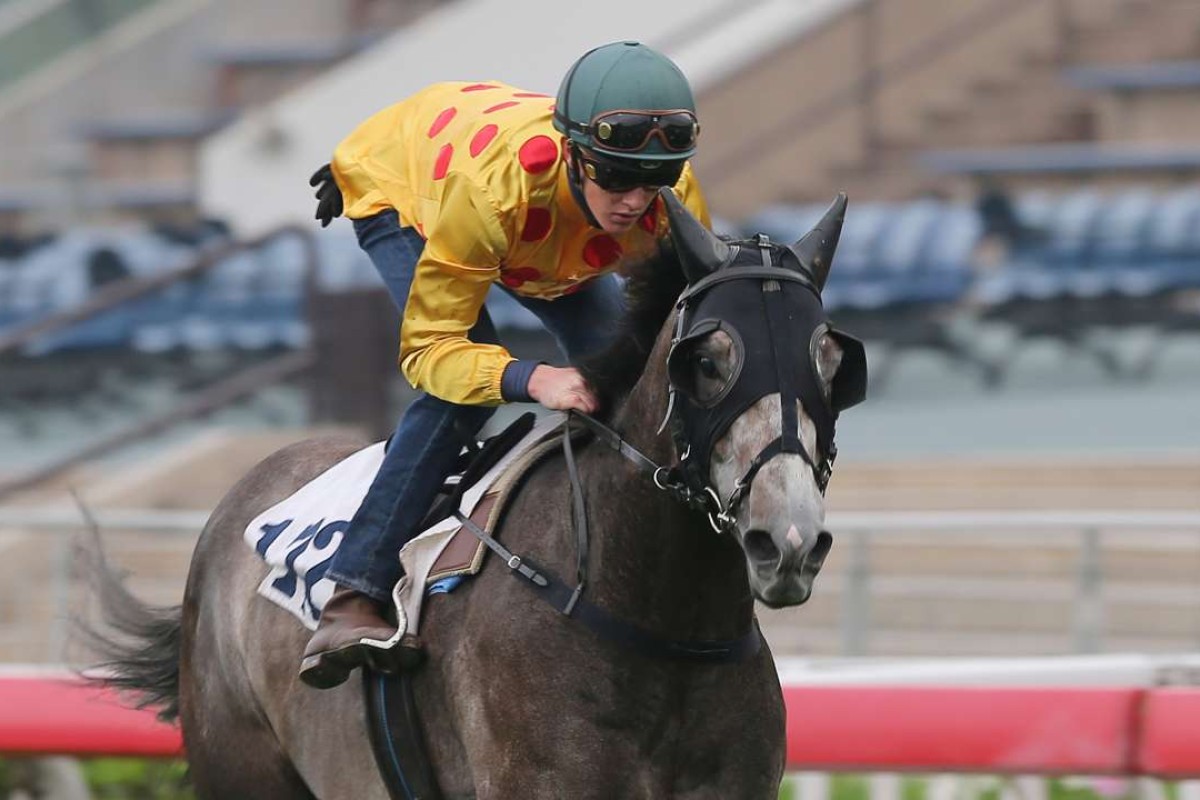 Trainer Richard Gibson may yet salvage something from the messy soap opera that has been Consort's BMW Hong Kong Derby campaign, but it seems nothing will save the expensive colt from castration, even if a tougher trackwork regime has taken the edge off the import's unruly racing manners.
Perhaps No 2016 Derby import arrived with as much fanfare or as much scrutiny as Consort, a Royal Ascot placegetter purchased by billionaire Pan Sutong for a price tag rumoured to have been upwards of £1.5 million (HK$16.5 million), and then initially sent to John Moore to train.
We've thrown the kitchen sink at him and, like good horses do, he has responded well and is thriving
This was despite the fact Gibson had captured the 2013 Derby and the Longines Hong Kong Cup for Pan with Akeed Mofeed, a stallion now standing at the owner's Goldin Farms in Australia, and that the trainer has won multiple Group Ones for the owner with Gold-Fun.
After two subpar runs for Moore and a squabble over which jockey would ride Consort in the Classic Cup, the blue-chip buy ended up with Gibson, but by then the colt was looking more like a bust with a preparation going nowhere and the horse gaining a reputation as a headcase.
"We didn't have much time to prepare him for his previous run, but it was clear to see after that last run that he was well short on fitness work," the trainer said, with Consort's eighth offering little in the way of encouragement, but providing Gibson a guide on the type of work that needed to be done.
"He has had a considerable increase in his work, and you look at his training over the last three weeks, I don't think there would be a horse in Hong Kong that has worked more than him.
"We've thrown the kitchen sink at him and, like good horses do, he has responded well and is thriving. It has helped him mentally and he is making excellent progress at the right time of the year. He finds himself in a Derby that I think is anyone's race – it is a good year to have a runner."
Regardless of the result on Sunday, it seems the son of Lope de Vega won't be standing next to Akeed Mofeed at stud and Consort's racing future will be as a gelding.
"I would still predict that outcome for him, but obviously we can't use the option of a gelding operation so close to the Derby," Gibson said. "So we have modified things accordingly with his work instead and the horse has responded very well."
Part of that modification has also been putting blinkers on in two trials, a shorter test over 1,000m and a searching hit-out over 1,600m last week, with the final pre-race touches provided through another solid gallop on the grass yesterday morning at Sha Tin with raceday jockey Chad Schofield aboard.
"He worked unbelievably well," Schofield said ahead of his maiden Derby ride. "The key with him is just being mentally in the right frame of mind, which he hasn't been so far. But all signs at the moment, and over the past two or three weeks, are that he is switched on and focused. Who knows, if the right Consort turns up on Sunday maybe we are in with a chance."
One thing that Schofield won't be doing, though, is reprising the on-pace tactics used effectively on Consort in his English starts.
"I would like to be in the front half of the field, but even if we wanted to lead, he hasn't got the speed against this group to get there," Schofield said. "And you can't be pushing him, because then he will start to over-race and become hard to control."