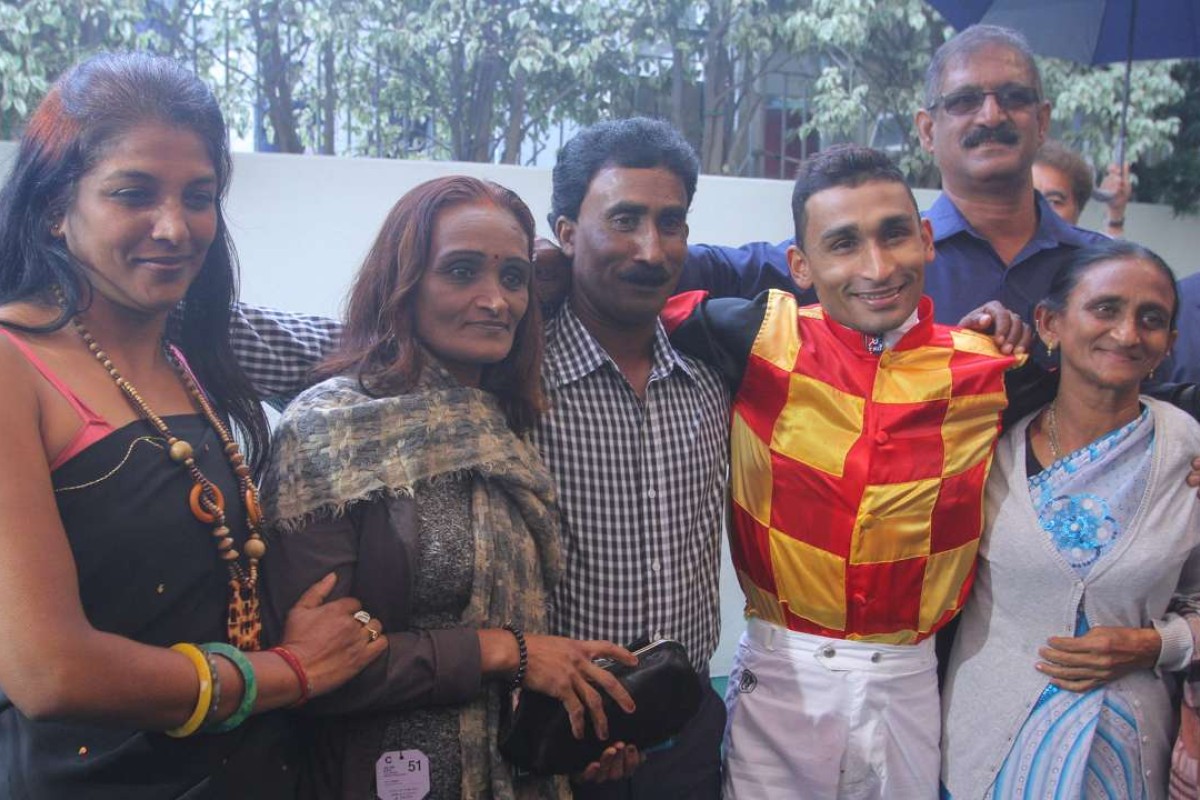 He has won bigger races, but last Sunday Mauritian jockey Karis Teetan labelled a win in a stock-standard Class Four handicap as a career highlight.
The reason? He had his beloved family there for the first time to see him ride in Hong Kong.
When Royale Elegance won, there were tears of joy and hugs and kisses from overwhelmed family members when Teetan returned to scale – the Teetans were instant celebrities when, for a few minutes, they were huddled together in an impromptu post-race photo shoot for Sha Tin's frenzied press pack.
It will be something else, it's just so special to have my family here
So imagine the scene if the ever-positive, always-smiling 25-year-old can land the HK$18 million Hong Kong Derby on Eastern Express today at Sha Tin.
"It will be something else, it's just so special to have my family here," said Teetan, whose parents Pravin and Rita Teetan will be joined trackside in a five-person extended family cheer squad led by the rider's still-effervescent 69 year-old grandmother Baswantee Budhai. "Mum and dad had seen me ride in South Africa before, but racing here is amazing – and it's hard to explain to someone who has never been before, especially if you come from our background."
Of all the storylines that would culminate with a Derby win for Eastern Express – a record third win in the classic for owner Larry Yung Chi-kin and a third Derby in five years for master trainer John Size – it will be the the rags-to-riches, underdog tale of Teetan that will bring the feel-good factor to what is still Hong Kong's most iconic race.
While Yung was once listed by Forbes as the richest man in China, Teetan has emerged from far more humble origins.
Sent to South Africa at 13 years of age with 150 rand (HK$75) in his pocket, his father having worked overtime to afford a one-way plane ticket, Teetan landed in Durban to pursue a dream of one day being a world-class jockey and then trained at the nation's famously tough jockey academy.
The dream has now been realised – Teetan is well established among the top echelon of riders in one of the world's most competitively cut-throat racing jurisdictions – and the young gun is intent on ensuring his hard-working family get to share in his success.
"I try not to spoil them, but to give them enough to live a comfortable life," Teetan told the Post in a 2014 feature. "I don't want to see my dad work like he had to before – wake up at 4am and cut sugar cane all day. I told him to give up work and open up a small business and I helped them out with that."
Pravis beams when asked how it feels to see his son's rise to fame first-hand.
"We are all very proud of him, and so happy to be here," he said. "It's a nice experience for us here. It's very different to Mauritius – everyone here is very focused and busy. Everything is so professional, we hope Karis stays here and keeps doing well."
A Derby win would be Teetan's biggest career victory to date and the still-maturing stayer he is riding represents a tremendous hope in a race considered extremely open.
"I feel like I'm on the best horse in the race," Teetan said. "I think any jockey would want to be on my horse, he will run the trip, which you can't say with confidence about the other main chances, and he is in the right hands with his trainer – John Size knows what to do when the big races come around."