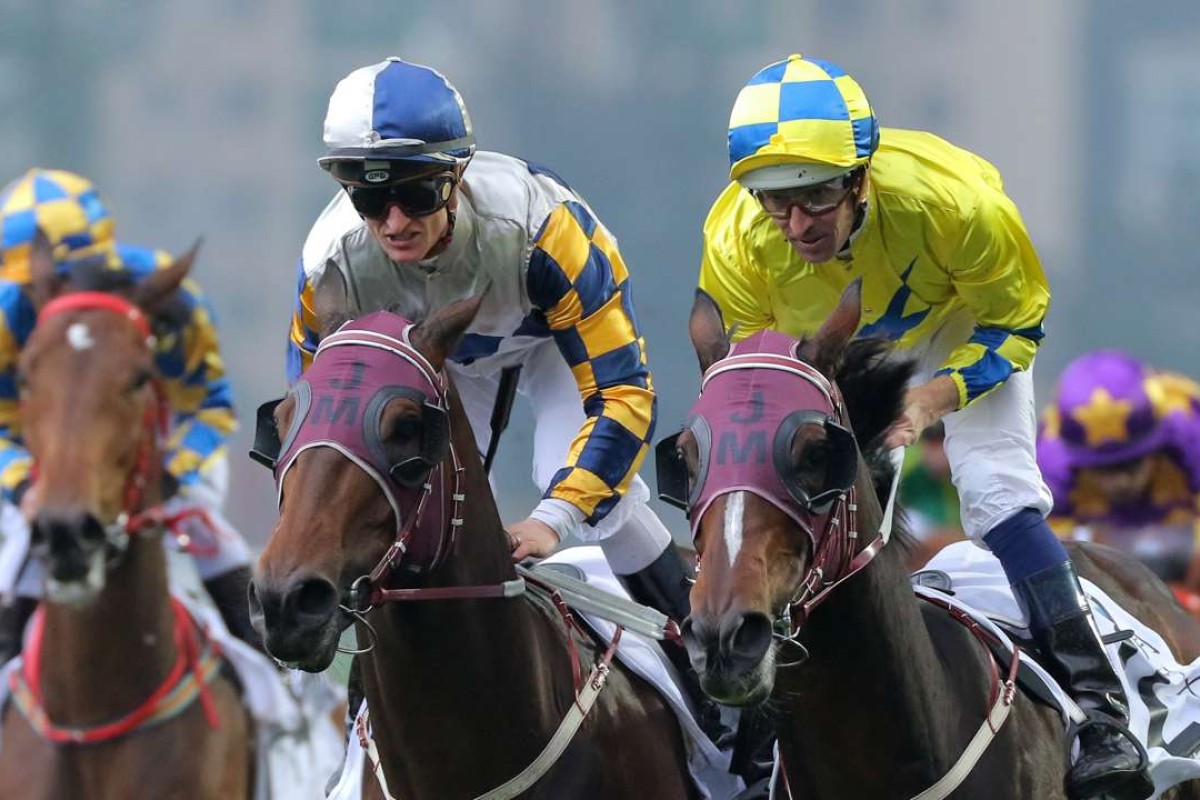 Champion trainer John Moore has often produced his BMW Hong Kong Derby imports on international day in mid-December but when the wrong one won in 2015, his path to classic glory with Werther was set and the plan came to fruition yesterday.
John thought Werther looked a bit too feminine and I told him he was a serious horse
Moore claimed his fifth Hong Kong Derby, this time saddling up the quinella as well when Werther (Hugh Bowman) held out a determined Victory Magic (Zac Purton) to win by a competitive head margin and they gapped the third-placed Giovanni Canaletto (Joao Moreira).
Gary Moore, who bought Werther for the stable, said that Victory Magic had been John's preference when the pair met over 1,600m in December.
"John thought Werther looked a bit too feminine and I told him he was a serious horse but he believed me when he upset the other one," said Gary yesterday.
And that surprise ensured that the very best of Werther wouldn't be seen until Derby day, Moore said yesterday.
"When he won that mile first-up, it was a bit of a surprise to be honest," Moore said. "He was more forward than I wanted him so far ahead of the Derby so I have had to keep a balance with him since and not really screw him down. We knew he was in the field, we knew he would stay 2,000m on his head and the trick was not to peak him before today.
"He was unlucky in the Classic Mile and close in the 1,800m, but he was a better horse today than he was for either of those races. He really peaked this week and even all the staff in the stable and Thomas Yeung [Kai-tong], who rides him every day, said, 'Boss, this horse has never been this well before.' It's been a great team effort."
There was a good battle for favouritism on the tote board before Werther won that round and the win on the track came somewhat more easily – at least until stablemate Victory Magic laid it down in the final 200m.
Werther prevailed by a head and Victory Magic was second for the eighth time in his 14 career starts here and Australia.
It was a great battle – I think Werther just wanted it that little bit more
"It was a great battle – I think Werther just wanted it that little bit more," said Purton after missing out on back to back Derby wins, and the Moore-trained pair drew almost three lengths ahead of the rest.
"It looked quite an even Derby on paper but my two have come away like that and really put them away," said Moore, who also saddled up Helene Paragon for fifth. "The winner goes to the QE II Cup now, Helene Paragon drops back to the Champions Mile and we'll see if Victory Magic can go back to the handicaps and win one."
Moreira said that Giovanni Canaletto was looking for 2,400m while Richard Gibson saw positives in the fourth placing of Consort (Chad Schofield), a horse transferred to him from Moore in mid-preparation in early February.
"He's run a great race and I am sure he can improve on that – there's something to work with for the future," Gibson said.
Jockey Ryan Moore had Sun Jewellery trotted up and inspected before going to start after the gelding had put in a misstep heading out to the track but was happy enough to take him around to the start afterwards and the club reported Moore was in full agreement with the vet at the start when the second favourite was passed fit to run.
He finished seventh.