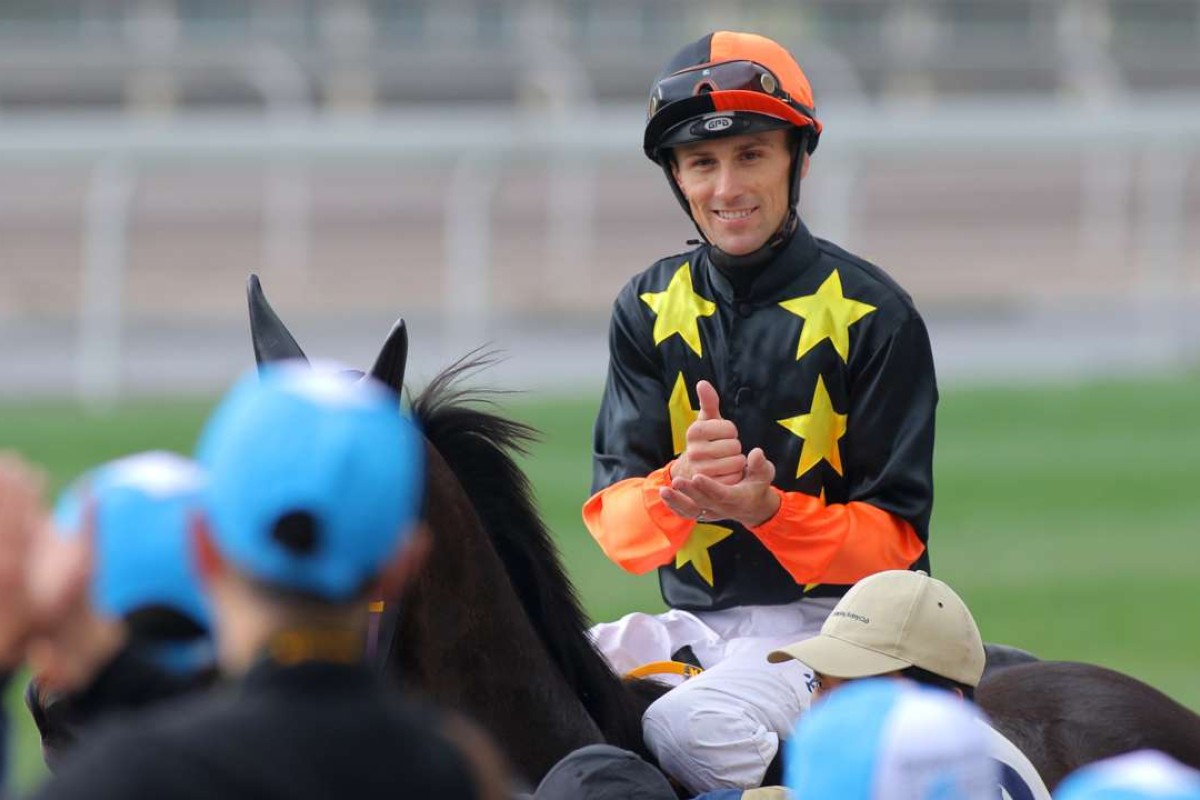 Australian jockey Tye Angland will limit his return visits to feature race cameos even after a successful day out for the Benno Yung Tin-pang stable where he rode two of the in-form trainer's three winners.
Angland had established himself as a top-five jockey in four seasons based at Sha Tin before moving back to his homeland in the summer of 2014, returning last year for a one-off Hong Kong Derby ride that returned a placing on the then-Yung-trained Romantic Touch.
That connection brought Angland back to town to ride Yung's Friends Of Ka Ying, a horse with a similar profile that finished eighth in yesterday's feature, but before that the 24-year-old had landed a race-to-race double for the stable on Friends Of Nanjing and Happy Cooperation.
"It felt like I had never been away, they were my first two rides and everything just fell into place and I was straight into my rhythm," said Angland, who said he and wife Erin are enjoying the blue skies of Sydney, where they have settled back with young daughters Lexi and Addison. "Life is good back home, so while it's great to be back riding here, for now I want to keep it at hit-and-run missions like today and I will try to get on some horses in the big races."
Friends Of Nanjing was far more convincing than his narrow last-start win as the four-year-old put himself deep into Class Three with a two-and-a-quarter-length victory.
"He has plenty left in him, and a step up in distance is going to help him," Angland said after the 1,200m win. "He will work through his classes and he will get 1,400m and a mile easily. He takes a little while to get going but once he gets sprinting he can sustain a run for a long time."
Happy Cooperation has been something of a handful for Yung's staff and is a horse the trainer says can be hard to bring back under control if he loses focus.
The four-year-old finally showed why he had been sent out either first or second favourite at each of his first three race starts.
"He was bombproof today, everything worked out well and he didn't get stirred up at all," Angland said. "Actually, behind the gates he needed a little bit of a wake up if anything. He jumped well but relaxed beautifully."
Later in the day Precision King gave the stable 20 wins for the season when Keith Yeung Ming-lun helped orchestrate an upset after gaining a one-off spot in the run from gate 11.
Precision King won three from five in his second season, but hadn't won for more than two years, with eight second placings last term pushing the horse's rating up towards 90.
"He has struggled with that rating, but the horse wasn't 100 per cent today either as he is just working his way back to fitness after a virus," Yung said.