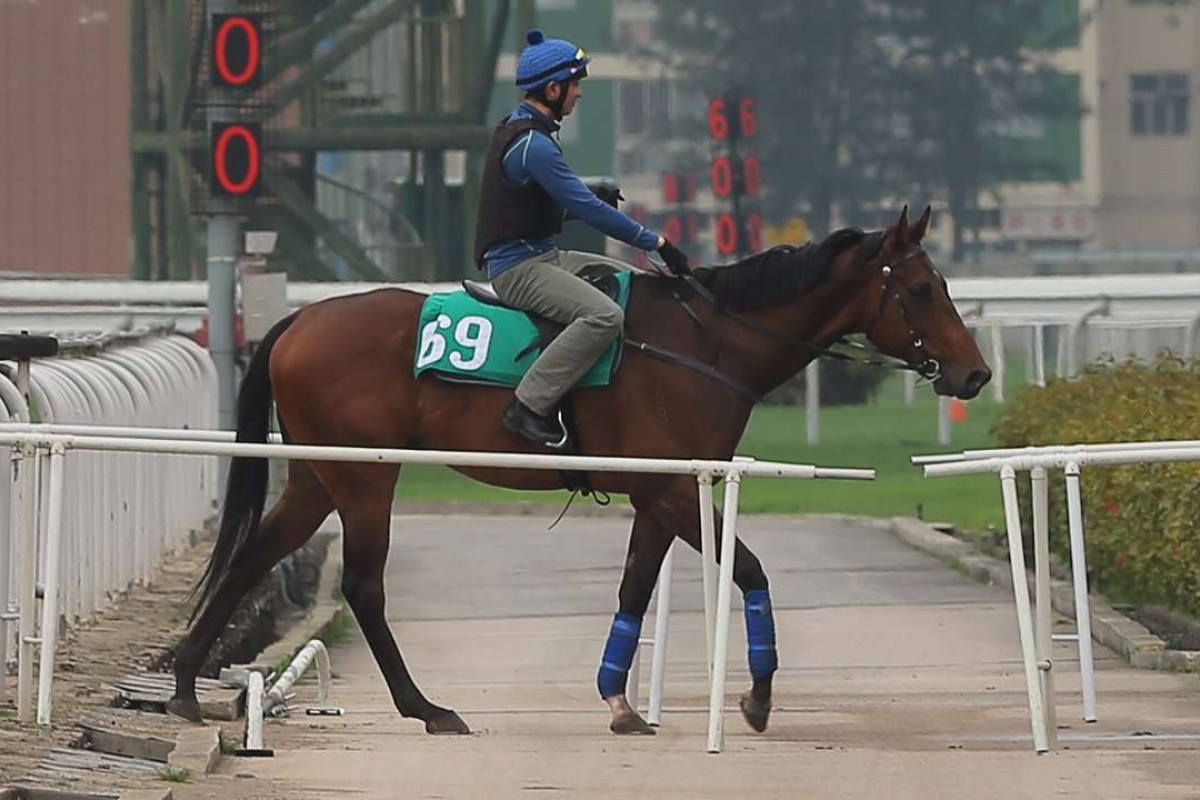 Trainer Paul O'Sullivan admits Aerovelocity isn't looking his usual robust self after an overseas ordeal but is confident the warhorse will put condition back on in time to withstand the Australian invasion in next month's Group One Chairman's Sprint Prize.
He has done a huge amount of travelling, he went to Japan, then he went to quarantine, then Nagoya, then Miho, and then another base before coming home – he has had a bit of a busman's holiday
Aerovelocity has returned from Japan, where a bout of colic caused a withdrawal from the Takamatsunomiya Kinen, and stepped out of Sha Tin's quarantine stables for the second time since then looking noticeably lighter than usual on Tuesday.
With in-form Australian sprinters Buffering and Chautauqua set to be officially announced as part of the HK$10 million sprint today, the locals look under siege, and even though the eventful trip away seems to have taken a toll on Aerovelocity, O'Sullivan hopes "home field advantage" will come into play.
"He looks a little light but he will put it back on quickly," O'Sullivan said. "And it is understandable given what he has been through, it's not so much the colic – it was a relatively mild case, we treated it and he recovered quickly – but it was the travel. It's not going to be an ideal preparation by any means. He has done a huge amount of travelling, he went to Japan, then he went to quarantine, then Nagoya, then Miho, and then another base before coming home – he has had a bit of a busman's holiday.
"He is the type of horse that can put on weight very quickly though – we can stack it on him and we have nearly one month with the race on May 1. And the one thing about international racing though is that the locals know every blade of grass. If we beat the Aussies it won't necessarily be because we are better than them, it's because of that home field advantage."
O'Sullivan was speaking from Australia, where he spent up big on the first day of Sydney's Easter yearling sales – the New Zealand-born trainer splashing a total of A$1.8 million (HK$10.55 million) on two yearlings on behalf of Hong Kong owners.
First O'Sullivan bid A$800,000 for a Snitzel colt for a yet-to-be-revealed client before a Hinchinbrook colt was knocked down for A$1 million – a record price for progeny of that sire.
"The first one was good value, the second one was maybe too expensive, but if you are sitting next to a bloke that employs something like 130,000 people, and he says keep bidding, you keep bidding," O'Sullivan said in reference to wealthy owner Yeung Kin-man, who races General of Patch with the stable. "Let's hope he can find a permit for this one because he is a guy who is prepared to put up a lot of money to race a good horse in Hong Kong – he is an absolute racing fanatic. We paid a lot of money today, and we bid on a few more as well, but we bought nice horses and it was for guys that can afford it."
Normally when a owner pays A$1 million for a colt at a yearling sale there is an expectation the new acquisition will stay a colt with a view to a possible stud career – although O'Sullivan explained that things work a little differently in Hong Kong.
"Oh, the Hinchinbrook will be gelded for sure," he said. "The thing is that they can win the money back in Hong Kong because the prize money is so fantastic."
Meanwhile, Buffering is due to join his soon-to-be rival in the Sha Tin quarantine barns early Thursday after flying out from Dubai late Wednesday night.
"He leaves around 8pm Dubai time," trainer Rob Heathcote said. "He has ran a career highlight when winning the Al Quoz Sprint but he has coped incredibly well."
It is Buffering's second trip to Sha Tin after he was sixth in the 2014 Hong Kong Sprint, despite an interrupted lead-up due to a foot abscess.
"I want the locals to see the best of Buffering and I think they will," Heathcote added.