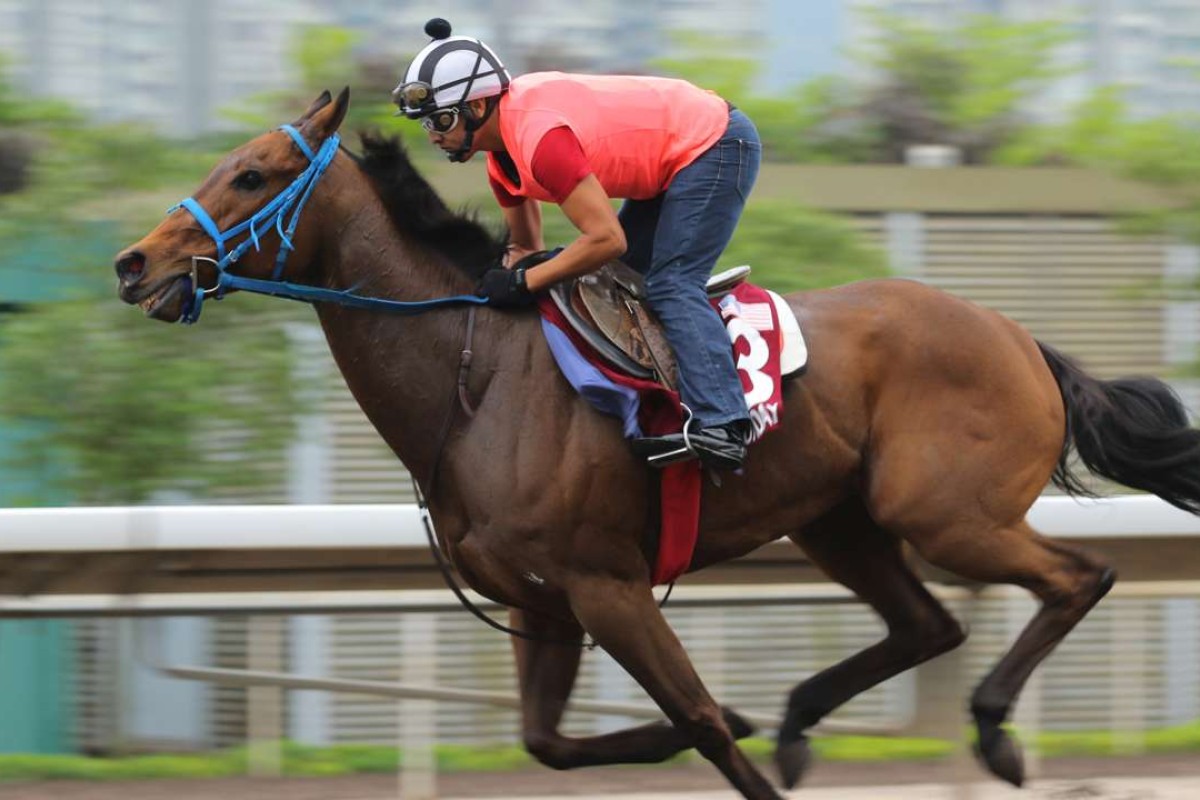 Douglas Whyte took it to heart when trainer Ganbat Enebish suggested he hadn't been going quick enough in his training work with Breeders' Cup Turf Sprint winner Mongolian Saturday – and the South African left little behind with a stirring hit-out on Monday morning.
Enebish thought Mongolian Saturday hadn't done enough last week in a workout for Whyte, but the trainer was ultimately happy enough with yesterday's 800m gallop, closing out the final 400m strongly out wide on the turf, with the Jockey Club issuing an official final split of 22.1 seconds.
"It looked a bit slow for me early in the work but he picked it up in the stretch. That should be his final fast work until the race and we will just try to keep him happy now," the trainer said afterwards.
Moving mountains for Mongolia: How two horse lovers have taken the racing world by storm
American-based Mongolian Saturday had turned up in December for the Longines Hong Kong Sprint as a query at 1,200m and a risk turning right-handed as well, which seemed to show up noticeably in his training.
But the six-year-old seems to have learned from that experience and Whyte, who will pilot him on Sunday, said yesterday neither aspect seemed a concern to him ahead of the Chairman's Sprint Prize.
WATCH: Mongolian Saturday's trainer shares his passion for horse racing
"Riding him, I wouldn't have known he'd had any issues with the turning. He hasn't indicated he wants to hang or go left – he's pretty kind going around the bend, the only thing is that he is a very enthusiastic horse and wants to get on with it," said Whyte, whose only win in the feature sprint came in 1998 on Oriental Express.
"He was having a good blow after the gallop but, compared to his work last week, I'd have to say he's really come on for it."
Whyte said the towering presence of the star Australian gallopers Chautauqua and Buffering and the usual solid home team line-up left him conservative on his expectations.
"I wouldn't stick my neck out and say he feels like a proper world-travelling Group One horse when you're racing these horses. But he is up to the mark – he isn't out of place in the race and with a nice soft run he could be thereabouts if they have a chink in their armour," Whyte said.
"I thought he handled the 1,200m pretty well in December, when he was stuck three wide all the way and he stayed on well in the circumstances to run fifth. So I'd love to see him draw a gate and get a cosy run and we'll see what happens."